Dagan in the Gan – What Makes him Run?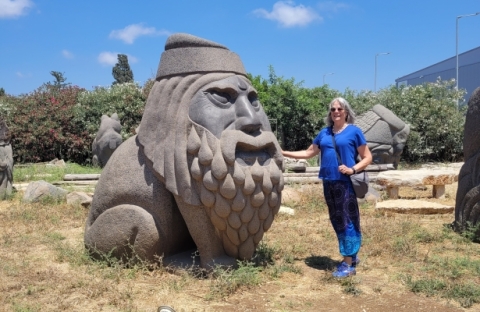 For years I have been stopping there. Taking friends and visitors from abroad. To see what's new, what has been added, how it has changed. Every time it is an experience. Finally, I needed to find out what motivated this artist to sculpt the biggest, hardest stone available into huge creatures spread out in a small field of dust and weeds at Kibbutz Ein Carmel.

Dagan Shklovsky, on the summer solstice of June 21, 1992, walked away from his computer science studies at the Technion and said he needed to dedicate his life to something of the spirit. There was no master plan, but two months later he found himself dragging a 6-ton stone of basalt from behind the cow shed to his yard in Kibbutz Merchavia, where he was born in 1965. Here his sculptor brother gave him some tips and he made an agreement with the neighbors not to disturb their rest hours.
With no background or studies in art and only an occasional mentor in Mordechai Kafri of Nahalal, Dagan applied himself with full passion and energy to the basalt. His first statue, of the smiling skull, took over six months to complete. Meanwhile, he completed certification as an electrician which enabled him to trade his services for a small field to work in at Ein Carmel. His younger brother helped him out at times, but two years later, their relationship changed after Dagan married.
"I didn't study at all, except for the year I was at the Technion and I never learnt how to draw or sketch."

What is your muse?
"It evolved that my muse and inspiration is Air, Water and Love. When I am at low ebbs of life, I cannot sculpt. I am now returning from six years of a living hell going through my divorce, in which I could not work at all. I am now working on an entrance gate for the Garden. I also made a bench for a municipality, but when I work for money, it is less exalted in my eyes than when I work on my own projects for love."
How did you come to Ein Carmel?

"I found it perchance and they agreed to give me space and let me sculpt and I worked as an electrician for them for nine years. Since then, I have been here 24 years and they allow me to continue sculpting."
Where do you get your inspiration for the sculptures?
"The desire for freedom, the willingness to take unknown risks and the connection with the stone have become soul-deep, they transport me to a stage of ecstasy - it is a spiritual awakening. It is sublime, something I would recommend to anyone seeking pinnacles of joy. Immersing myself and grappling with the stone has brought me to the zenith of happiness.
I remember when I worked as an electrician pounding into the concrete, it was dusty, sweaty and difficult, but then I would come home and deliver myself to the basalt, and although it was also dusty, I would have a smile on my face while I was working."
What made you choose basalt, the hardest of all?
"The idea was to find something that would be difficult and challenging and not yield easily so that it would not bore me, as humans have a tendency to be easily bored and take things for granted. And this has held me captive for over two decades. Only during the six plus years of my horrific divorce, which almost brought me to the edge, was I unable to work.
I choose the design of my sculptures by whim, whatever feels right in the moment and I do it with love, because I realized there is nothing that has more importance than something else."
What do you want people to take away with them when they see your works?
"The idea of the Garden is to improve a visitors feeling, forget his worries and clear his head when he sees it and wanders about. If I achieve this with the works, I feel I have contributed my part to the world. It is an open garden and for free, which makes people feel good. Only if they want me to guide them, it costs a bit."
Which sculptures are most important to you?
"The second sculpture that I did of a cat and the head of a woman. Also I am very attached to those of my three children.
The tall monolith tower is an exception which I brought here during my divorce and it is a cry to the heavens for help as I was hurting so badly. It hasn't been finished yet."
Where do you get your persistence and dedication from?
"The easiest explanation is that I am the progeny of three generations of swamp driers.
Basically, I want to spread free love and inspiration for people to forget their worries, even if only for a while, as this brings me real happiness."
Comments
No comments made yet. Be the first to submit a comment