Speak English? Share The Skill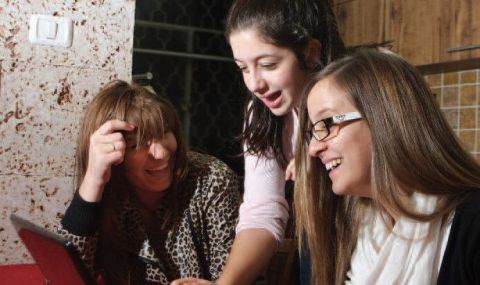 ESRA's English Tutoring Program (ETP) endorsed by the Israel Ministry of Education
Over 300 ESRA volunteers have discovered they have a skill they can share, a skill that can help Israeli schoolchildren – from elementary, through middle, to high school – succeed in school and in life! And these 300 volunteers have also discovered that in giving, they receive a great deal in return.
So what's it all about…
It all started in the early 1990's with the initiation by the late John Vernon of a volunteer tutoring project at Rishonim High School in Herzliya. Spurred by the positive reactions of all involved - tutors, students and teachers alike - the initiative blossomed into an ever-growing project. ESRA has been sending volunteers out into Israeli schools ever since, providing free tutoring to help Israeli children succeed in their English studies.
Success in English is no small matter in today's world where English is the recognized global language. It connects people from diverse countries, allows one to manage abroad, enables engaging with electronic media and is a gateway to global business, markets, and academia. In short, not only is proficiency in English a vital tool for managing in the wider world, but success in this school subject also opens the door to higher education and career opportunities. Unfortunately, our school system suffers from under-budgeting, understaffing and overcrowded classrooms where, in order to succeed, children often need the extra help of a private tutor. Not everyone can afford such extra help, and it is often those who need it most who must go without… ESRA to the rescue.
Over 300 volunteers tutor children in 90 schools nationwide
ESRA's English Tutoring Program (ETP) today encompasses over 300 volunteer tutors, working in 90 schools throughout the country. Such a large scope program demands the kind of well-organized management that ESRA knows how to put into its dozens of successful projects. Here's how ETP works.
Any ESRA branch – from the Golan to Eilat – can decide to take part in the program, as long as they've got volunteer tutors and someone to act as coordinator. The only requirement for becoming a tutor is fluent English. All volunteer tutors receive training and guidance arranged by ETP's Pedagogical Consultant, Lola Katz, as well as guidelines from the children's teachers. Tutoring takes place in the school, for one or two weekly hours, either in a one-on-one lesson, or in a small group of two to three students. Participating schools range from primary level to high schools.
Now in its 40th anniversary year, ESRA is very proud to have recently received recognition and approval of the Israel Ministry of Education, which has designated the program as an official 'Education Supporter'. This was largely achieved through the efforts of ESRA's CEO, Sunny Marshansky, together with ETP National Coordinator, Bernice Meyers and Pedagogical Consultant, Lola Katz. Sunny continues to attend the Ministry of Education's quarterly forum of leaders, working on promoting the National Initiative of Volunteers as Educational Supporters.
Designated ETP branch coordinators liaise with the area's English Inspector from the Ministry of Education and the local schools to arrange tutoring hours per convenience and availability of the volunteer tutors. Branch Coordinators receive guidance and support from ETP's National Coordinator, Bernice Meyers, with periodic meetings for training and sharing of experiences.
Everyone benefits
Tutoring in English achieves far more than just teaching a language. Our tutors deal with many children from disadvantaged circumstances. The tutoring experience, with devoted attention from a helpful adult, serves to motivate the children to learn. It improves their general communication skills, and through help with homework and preparing for tests, they are rewarded with improved results that give them the confidence to persevere and succeed. And indirectly, our tutors also greatly ease the burden of the school teachers.
Another benefit has been reported unanimously by tutors. They express their gratitude at being given a fulfilling and meaningful volunteering opportunity. They delight in being valued and appreciated by the children and teachers, and enjoy being a usefully contributing member of Israeli society. And all that at locations and hours convenient to them.
ESRA's English Tutoring Program (ETP) has experienced a 35% growth over last year and has seen many changes. The addition of new Branch Coordinators has enabled the initiation, revival and further development of ETP services through various ESRA branches around the country, including Karmiel, Haifa, Five Towns, Kfar Saba and Arad.
The need for English tutors is huge and the Ministry of Education continues to request our assistance. We encourage you to join this win-win program and share in its benefits, with just 2 weekly hours of volunteering near your home. Together, we can make a difference.
For more information and to join ESRA's ETP, contact ESRA's Volunteer Coordinator, Iris Regev: 09 950 8371
Comments
No comments made yet. Be the first to submit a comment