Scholarship Event in Honor of Lola Katz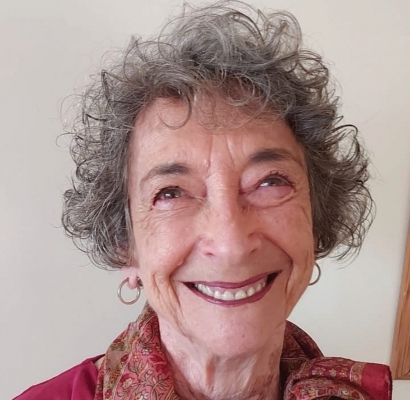 On February 24, ESRA held an online event in honor of Lola Katz, marking her retirement from years of devoted work as professional consultant to ETP, ESRA's very successful English Tutoring Program. In recognition of her dedication and significant contribution to the development of ETP, it was decided to allocate an annual scholarship in Lola's name, and so the event featured the presentation of the first Lola Katz Scholarship to an IDC student volunteer.

Emceed by ESRA CEO, Sunny Marshansky, the event included remarks from Terry Morris, ESRA Chairman; the scholarship recipient, Enrique Feinholz; former National Coordinator and today ETP Branch Coordinator for Tel Aviv/Ramat Aviv, Gill Teicher, and from Lola Katz herself.
Enumerating Lola's many contributions to ETP, Gill mentioned having seen the long and complex explanation of the new format for the Oral Bagrut (matriculation exam) posted on the Ministry of Education's website. When she compared it with the simple yet comprehensive guide booklet produced by Lola for ETP tutors, she said, "it made me realize all the more how lucky we are to have Lola on board, with her thorough and brief guidelines, concise and clear."
Now Lola occupied the event's center screen and opened with, "You can't whistle a symphony on your own." She then went on to give credit to the "lead musicians" in the ETP symphony. These included ESRA stalwarts, from Adele Rubin, who first got Lola involved in ESRA in the mid-80s tutoring Russian immigrant children, to office staff, including Anat Schifter who translated outreach letters to Israeli schools, Sandra Broza for tirelessly preparing workshop handouts and booklets, and Judy Copeland who, until her retirement, handled everything for ETP workshops from registration to refreshment.
Experienced in giving training workshops to tutors since 2009, it was after her retirement in 2011 that Lola joined the ESRA tutoring program, which at that time was called English for Schools. Sensitive to TLAs (three letter acronyms), Lola changed the name to English Tutoring Program and so, as she said, "ETP was born."
In 2013, Lola recalls, she and Juliet Rostowsky arranged a leadership course, which was attended by Mike Levinson, retired principal of the American International School in Even Yehuda. Not long after, Mike proved equal to Lola's job description and became the new ETP National Coordinator. Together, Lola and Mike developed ETP's infrastructure and principles providing the foundation that has allowed ETP to develop as it has. Three and half years ago, Bernice Meyers took over from Mike as ETP National Coordinator, proving to be "an amazing administrator who has taken ETP to places never imagined," Lola said.
Lola also thanked the ETP Branch Coordinators whose work enables the program to run effectively, and the recently formed Training Team of volunteers, all highly qualified retired teachers with whom, Lola said, "I had the opportunity not only to work and learn from their experience, but also to create new friendships."
Lola has also been an innovator. In April 2019 – note, that's before the arrival of COVID – Lola initiated the first online Zoom conference of her Training Team who were from all over the country. After the successful event, she recalls telling then ESRA Chairman, Baruch Tanaman, "Today we took a small step for ETP but a giant leap for ESRA. We can now actively include the periphery in our organization." Hers were prophetic words indeed. Following Lola's bold first step, today ESRA Zoom events are regularly attended by people from literally everywhere, and ETP even includes tutors from around the world!
Continuing the symphony metaphor, Lola's final words of praise were for ESRA CEO, Sunny Marshansky, of whom she said, "she built the stage that enabled ETP's musicians to perform,". Lola cited Sunny's pivotal role in getting the approval of the program by the Israel Ministry of Education as a provider of tutoring services, and promoting ETP through a variety of platforms and social media.
"And it was Sunny who initiated the idea of a scholarship in my name as recognition of my role in ETP," Lola said, "a huge honor and tribute for me. But no less a tribute to ESRA. An organization that acknowledges in such a meaningful way the contribution of one small cog, says more about itself than about the cog."
A SMALL COG with a very big influence.
Here's a riddle: What do IDC, ETP, Lola Katz, and Mexico City have in common?
Since ESRA first entered the IDC Herzliya campus four years ago, offering students the chance to volunteer and get involved in life in Israel, over 300 students have availed themselves of the opportunity. The student volunteers have helped out in the ESRA office, assisted in organizing events, and become involved in various projects, most particularly in ESRA's ETP.
Enrique Feinholz, recipient of the first Lola Katz Scholarship, also spoke at the online scholarship event, which was attended by over 100 ESRA members and friends, including IDC Vice President, Jonathan Davis. It was even attended by Enrique's parents, all the way from Mexico City! And now you have the full answer to the riddle, and an understanding of the continued and extensive influence of Lola Katz. Volunteering with ESRA enriches the Israel experience of IDC students, and the Lola Katz Scholarship is an added incentive to do so.
"My day to day in ESRA is pretty cool," Enrique told the event participants. "I get to learn a lot from all the staff in the office… but mainly I am busy welcoming new volunteers to the English Tutoring Program, entering their information into the ESRA system, and coordinating activities. I try to be a mentor for them, and make the volunteering experience something memorable and meaningful."
Enrique went on to say that, inspired by how ESRA works, he hopes to start his own non-profit one day focused on sustainability. "With this scholarship," he said, "I am one step closer to funding my university education, which is the next step in becoming the person I want to be."
Today ETP has close to 500 volunteer tutors working online with children from over 90 schools across the country. The tutors also hail from throughout the country, and even some from overseas, and more are joining us every day. Both tutors and children are enjoying and benefitting from the experience. ESRA is grateful for volunteers such as Lola Katz, who have made this program such a success, allowing so many to realize that they have a gift they can share with Israeli children – the gift of improved English.
Lola Katz retires as ETP Professional Consultant
Honoring her huge contribution to ETP, the Lola Katz Scholarship has been inaugurated at a special online event. ESRA counts itself lucky to have had Lola Katz as professional consultant and leader of tutor training programs.
Lola has been involved with English language teaching since 1971, when she was a founder member of the English department at Beit Berl teacher's training college. She holds an MA from Tel Aviv University in teaching English as a Second Language, has written course books for high schools, and has taught Hebrew speakers English at every level.
Comments
No comments made yet. Be the first to submit a comment