Let The Bells Ring Out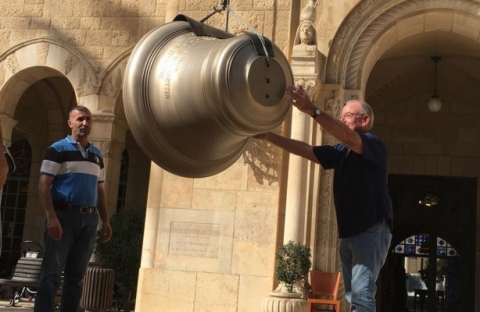 Text and photos by Ruth Corman

Less than five minutes' walk from our home in Jerusalem is one of the most interesting buildings in the city – the YMCA (Young Men's Christian Association)
It was around 100 years ago when Dr Clinton Harte worked tirelessly to raise funds for a magnificent new complex designed by Arthur Loomis Harmon, from the architect firm Shreve, Lamb & Harmon who designed the Empire State Building in New York. In April 1933 this new home for the Jerusalem YMCA was completed and dedicated by General Edmund Lord Allenby. It was he who had commanded the British troops to a decisive victory against the German commander of the Ottoman forces culminating in the 1917 Battle of Jerusalem. At the ceremony he declared, "Here is a spot whose atmosphere is peace, where political and religious jealousies can be forgotten and international unity be fostered and developed."
The YMCA is today one of the landmarks of Jerusalem, with its beautiful architecture and a magnificent tower rising to 50 meters. I had passed it hundreds of times and often entered the building but never thought of ascending the tower.
However, in November 2019 whilst walking by, I heard music coming from on high – "Somewhere Over the Rainbow" from the Wizard of Oz. My curiosity was aroused by this choice of repertoire, so I decided to enter. At the reception desk I was advised that for a five-shekel entry fee I could climb the 195 stairs or take a very small lift up to the Bell Tower. Neither option appealed – I didn't fancy the idea of walking up and sadly have never been able to travel in an elevator since, aged 16, I was trapped alone in one for three hours until I was rescued. I explained my dilemma to YMCA's lovely receptionists Sabreen and Alalyan, who both readily agreed to accompany me holding my hand tightly in the coffin-sized lift as it whisked us up towards heaven.
It was certainly worth the effort! On arrival we climbed up a winding stairway to reach an open-air observation platform giving spectacular views over the whole city and beyond. Below this was the real treasure I had come to see – the Bell Chamber. This houses a Carillon comprising 36 bronze bells – varying in size from 8 to 1,500 kg. These were cast at Gillett & Johnston – a traditional foundry based in Croydon, London from 1844–1947 – and were dedicated in honor of King George V. This Carillon is the only one of its kind in the Middle East.
The floor beneath the Bell Chamber is the playing room, in the center of which stands the bell console which looks like a mix between a weaving loom and an organ. An oak frame houses 36 pegs and from each peg a metal cable rises up through a hole in the ceiling to the bell chamber where it connects with a bell clapper. Sounds are created by knocking the peg with a clenched fist and also by using foot pedals that produce sounds from other clappers in the bells. It is evident how physically demanding it was for the musician who had to beat down on the wooden pegs with his fists. When I entered the playing room it was filled with students and their teacher, from a local school. They were playing some notes which they obviously found to be lots of fun – perhaps encouraging them to become professionals.
On the door I noticed an Armenian decorative tile with a name written in Hebrew, English and Arabic, Gaby Shefler – Carillonneur. He was renowned for his expertise in playing the Carillon. I was intrigued to find out what type of person would choose to play such a rare instrument.
I discovered that he was born in Jerusalem in 1947 to a family of music lovers and had studied the piano since the age of 5. He also attended the Hebrew University, receiving a B.A. (1972), an M.A. in 1977, and a Ph.D. in Clinical Psychology. He also found time to be a Captain in the Israel Defense Forces from 1974-99.
He began work as an intern at the Hadassa and Eitanim hospitals, being appointed Clinical Psychologist at the Herzog Ezrat Nashim Hospital and clinics (1976) and Chief Psychologist there in 1983. He served until he retired after 44 years of service. He is today Professor of Psychology and Psychoanalysis and served as the Head of Clinical Psychology Training at the Hebrew University, Jerusalem where he was nominated as Freud Professor in Psychoanalysis.
Over the years he has served in senior positions of most of the leading organizations and committees both in this and allied fields of research which continue until today. He is currently Dean of the School of Advanced Studies at the Achya Academic College.
How on earth, I wonder, did such a dedicated, committed individual in the medical field find the time to engage in other activities such as becoming an expert Carillonneur, someone who masters the art of playing this complex instrument. For Gaby it began in 1973 after attending a course for Bell players at YMCA. He developed a passion for the instrument, travelling to bell towers in Europe and the US demonstrating his skills. He has never looked back.
Since 2006 he has given regular concerts at Jerusalem YMCA. His enthusiastic audiences gather outdoors in the gardens from where the sound of his bells can be heard for kilometers away. He has played at Bach and Chamber Music festivals plus many other major events such as the Jerusalem Festival and the Israel Festival. His eclectic repertoire includes popular Israeli songs and well-known French and Russian melodies. A highlight of the year is Christmas when regulars come to brave the cold and join in singing Xmas carols. A unique event that I hope I can attend this December, Covid permitting. After almost two years of being isolated in London it gives me something special to look forward to.
It takes a virtuoso like Gaby to produce such a wide range of melodies and create ethereal otherworldly and delicate sounds, particularly as the bells are sensitive to climate changes. Heat and cold both affect them and unlike other instruments, there is no way they can be protected from this or re-tuned.
In 2018 the keyboard underwent a complete overhaul since its installation in 1933. Originally it had 35 bells instead of the planned 36, as the money available at the time ran out. However, three years ago YMCA renovated the instrument and it was the Dutch foundry ROYAL EIJSBOUTS (founded in 1872) that undertook the huge project of casting the missing bell which they generously donated to YMCA. It weighed 850 kg, was shipped to Israel and hoisted up to the bell tower by an enormous crane. It was this same company that restored the bells at Notre Dame Cathedral, Paris, on the occasion of its 850th anniversary.
Gaby was honored for his years of devotion, by having his initials G.S. engraved inside the bell. Apparently, according to the cognoscenti, the sound is now infinitely better and it is also easier on the fists of the players to produce the subtle range of sounds that they seek.
Over the years I have been privileged to meet quite a few inspirational people. One common thread that is identifiable and intrigues me is how they can be at the top of their profession and can then add to this by branching out in a completely different direction with great success.
In Gaby's case, for years he has made a huge contribution to the well- being of his many patients through his practice and research enabling them to lead happier lives. Added to this he does the same, but this time by playing the carillon and bringing his music to his many audiences.
Lately I saw a short YouTube video called MAKING JERUSALEM HAPPY and there was Gaby with his warm and welcoming smile saying: "Good evening to everybody from the Jerusalem International YMCA Bell Tower. We decided to play some beautiful music for you in order to knock down the coronavirus! Good health to everybody."
When I watched this, it gave me a warm glow and made me smile.
We need more people in the world like Gaby Shefler…
Comments
No comments made yet. Be the first to submit a comment