Inspirational People: Ze'ev and Joseph Bau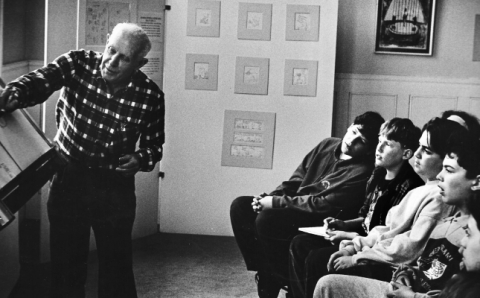 Joseph Bau was born in Poland and later became known as an Israeli artist, only one of the many hats he wore during his lifetime. Ya'akov Farkash was born in Hungary and became known to Israelis and to the world of cartoonists as Ze'ev. But their birth dates in the early 1920s, their East European backgrounds and their similar talents were not the only ties between them.

In 1994 I met Dafna Naor, a talented art consultant and curator who introduced me to Ze'ev. He was by then something of an institution in Israel, having worked 40 years for Haaretz, and for the evening paper Ma'ariv, producing daily cartoons on politics, sport and theater. In 1993 he was awarded the coveted Israel Prize for his contribution to journalism. The Times said of him "one of the world's finest political cartoonists… his work is a crowded masterpiece of caricature and draughtsmanship, presenting Israel's view of the world's leaders…"
Dafna and I joined forces to bring the first exhibition of his work to London. There the British Israel Arts Foundation, where I was Director, together with The Cartoon Art Trust, presented a major show of his work called "Ze'ev: Eyewitness with a Smile" at the National Museum of Cartoon Art.

This exhibition was an undoubted hit. Dafna curated the show, which illustrated world events such as the oil crisis, Gulf War, the first man on the moon, plus a section on personalities from the world of entertainment. More visitors attended this show than any of their previous exhibitions.
However, Ze'ev's work did not stop there. We visited the Houses of Parliament where he met MPs. He gave illustrated lectures to many groups, drawing as he talked, fascinating his audiences with his skill and warming them with his charm and personality. In addition, he led a seminar with two of Britain's leading cartoonists, John Byrne of the Irish Post and Nick Garland of The Telegraph. This exhibition, supported by Haaretz, continued to Leeds, Manchester, Glasgow, Toulouse, Marseilles, Delhi and Bombay.
An equally important part of his visit was the special competition sponsored by the Jewish Chronicle and called 'Drawing Together for Peace'. It was organized by our Foundation and backed by the Israel Government Tourist Office and companies such as Artline, Daler Rowney and Longwood Holidays. Some 50,000 schools were invited to take part by encouraging their pupils to create cartoons on the theme of PEACE - between countries, neighbors, families - anyone. There were three groups; under 7 years, 7-12 and 12-18. We had thousands of entries, not just from the UK but also from abroad. Ze'ev judged the entries and an exhibition entitled 'Drawing Together for Peace' was displayed at the Cartoon Museum for three months. Prizes included holidays abroad, painting equipment, bicycles, and so on. I still have photographs of the 100 shortlisted artists whose work was exhibited.

Ze'ev was one of the most delightful, gentle, modest people I have ever met and to have him and one of his daughters staying with me whilst they were in London was pure joy.
Although I never had the pleasure of meeting Joseph Bau, I was introduced to his life by his daughters Clila and Hadasa, both of whom have dedicated their lives to running a small museum in Tel Aviv about their father's life and works.

Recently I rang to tell them about the Ze'ev story and was delighted to learn that their father had taught Ze'ev caricature drawing. What a wonderful connection between these two great artists.
Hidden in Berdichevsky Street in central Tel Aviv is the Joseph Bau House, now a museum. Joseph was a unique individual who survived the very worst of times but somehow managed to bring a beacon of light to others through his optimism, talent and wit.
As a young student Joseph showed great artistic promise and was accepted at the Krakow Academy of Fine Arts, where his studies included Graphics and Gothic lettering. Little did he realize how these skills would guarantee his future.
His studies were interrupted when he was forced into the Krakow ghetto where the Nazis, learning of his talents, coerced him into drawing all their signage and maps. Joseph was blessed with the ability to bring joy to others. Jews would crowd into his small room to hear him play the mandolin and listen to him read his poetry. He lit up their lives, providing a brief respite from the desolation of ghetto life. He also began forging documents for the Jewish underground, thanks to which many Jews managed to escape to safety.
In 1943 he was transferred to the Plaszow death camp. By day he worked for the Nazis, but in secret continued forging documents to help Jewish prisoners. When asked why he had never tried to escape, he replied, "If I had left, who would have remained to help them?"
He said he never regretted being taken to the camps, for it was there that he met and fell in love with Rebecca Tannenbaum, who became his dear wife. Their romance reads like a movie script. One memorable night, dressed as a woman, he risked death by smuggling himself into the women's camp. His mother, also an inmate, performed a marriage ceremony for Rebecca and Joseph and this episode was later featured in the Spielberg film 'Schindler's List'.
On the night he was married, two other men were caught and shot whilst entering the women's camp. Joseph survived by lying across a bunk covered in rags. Women lay across him pretending to be asleep and he was not discovered. He then had to leap over an electric fence to return to the men's section in time for roll call. Unbelievably, he survived though his father and brother were murdered in the camp.
In 1944 Joseph was placed on Schindler's List and transferred to a factory in Czechoslovakia where he remained until the end of the war. Rebecca was sent to Auschwitz but survived by talking her way out of going to the gas chambers on three occasions.
Joseph told his daughters: "Two weeks after we arrived, Oskar Schindler called me and handed me some of my personal possessions, which he had recovered from Gross Rosen, the concentration camp where I was sent from Plaszow. Among them was a book of poems written on cigarette butts as well as hundreds of jokes and drawings produced during 1943-1944. Joseph told how all this, plus other paintings he produced, was hidden in an artist's case that his parents had bought him for school. In this he made a secret compartment where he hid his art and his family photographs.
He told his daughters that even though he was a total stranger, Schindler saved this case and presented it to him. "What kind of special human being would do this?" Joseph always felt he was something of a right hand man for Oscar Schindler because of his ability to produce for him the forged documents needed to save Jews.
When the war ended Joseph found Rebecca in a miraculous way, and they returned to Krakow. Joseph returned to university to finish his studies. They married officially in 1946. They had always wanted to have a picture of their first wedding, but in the camp there were no cameras. Instead, Joseph used their new wedding portrait and made a second copy of it, but this time with the painted stripes of the inmates' clothing.
In 2020 Joseph and Rebecca were honored to receive certificates of "Jews who saved Jews" from Bnai Brith International.
Rebecca saved many people in her own way. Neither of them knew that the other was engaged in such activities. She had persuaded Oscar Schindler to replace her name on his list with Joseph's name but she never told him about it for fifty years. When he was eventually told and asked why, she replied "I did it because I loved you".
They immigrated to Israel in 1950. He opened a studio in Tel Aviv where he created graphics and became the first person in Israel to work as an animator on cartoon films. He later made short films and commercials for TV often using fonts that he had designed, and he became known as the Israeli Walt Disney.
Exhibitions of his paintings were held worldwide. Among the venues were the parliament building in Madrid, the UN building in New York, the Tolerance Centre in Moscow, both London and Cambridge Universities, the Weiner Library in London and the Israeli Knesset in Jerusalem.
Joseph loved the Hebrew language and his book 'Brit Mila' expressed his love for the logic and humor in the language, each word being accompanied by a drawing.
In the Joseph Bau House Museum you can see his original movie screen, projection room and dark room. He built everything from scratch using anything available - in this case a sewing machine engine and parts of some x-ray equipment.
He also worked for many years for the Mossad, Israel's secret service, forging documents for notable spies, including Eli Cohen, and for the team that went to catch Adolf Eichmann in Argentina and brought him to Israel. Joseph's family had no idea that he was engaged in this work until after he died.
His daughters Clila and Hadasa have kept his memory alive through exhibitions and performances both in Israel and abroad. The walls of the Bau House are covered with Joseph's artwork and the books that he wrote and illustrated.
Joseph demonstrates the creativity, humor and optimism of an extraordinary talent. However, today there is a grave risk that this remarkable archive may be forced to close. This must not be allowed to happen, for it is a dramatic testimony to a man who saved hundreds of Jewish lives, was the father of animation in Israel, and a great writer, humorist and artist. His contribution to the culture of the country is of inestimable value, not the least being his unacknowledged work over so many years for the Mossad.
The museum is located at 9 Berdichevsky Street, Tel Aviv (beside Rothschild Blvd. and Habima Theater). Visits are by appointment www.josephbau.com. This email address is being protected from spambots. You need JavaScript enabled to view it.;
054 430 1499; 054 421 2730.
Comments
No comments made yet. Be the first to submit a comment