Lea Goldberg 1911-1970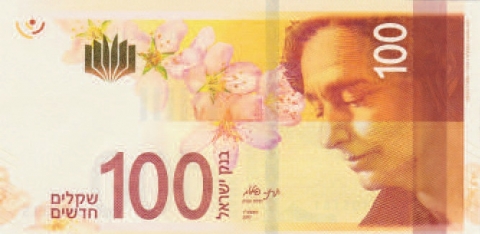 Next time you whip out a 100-shekel banknote take another look at the portrait of the woman whose image is on it.
Lea (or Leah) Goldberg is one of four great Israeli poets to be depicted on our currency and one of only four women to be so honored. Lea is in good company with Golda Meir, Henrietta Szold, and Rachel Blaustein, Rachel the Poet.
Lea, poet, playwright, translator, began writing poetry in Russian as a young girl in her native Konigsberg in Germany (today Kaliningrad in Russia). Her work was published by the time she was age 11 and when she was in high school she began writing in Hebrew. She received her elementary education in a Jewish Hebrew-language school and began writing in her diary in Hebrew at age 10.
In 1930, she went to the Universities of Berlin and Bonn, where at the age of 22, she earned her doctorate in Semitic languages and German. In 1932, she returned to Kaunas in Lithuania and became a leading figure together with a group of young poets who founded the publishing house and literary organs Petaḥ (1932) and Pa'am (1933).
In 1935, she went to Palestine, where she collaborated with Avraham Shlonsky as an editor and translator and became acclaimed as a writer and literary scholar. She joined the staffs of the newspapers Ha'aretz and Davar and became the children books editor of Sifriyat Po'alim publishing house, as well as literary consultant to the Habima theater and theater critic for the Al Ha-Mishmar journal.She founded the Department of Comparative Literature at the Hebrew University of Jerusalem, and lectured there from 1955 to 1970. Goldberg wrote Hebrew poetry, drama, and children's literature. Goldberg's books for children, among them "A Flat for Rent" ("דירה להשכיר", Dira Lehaskir) and "Miracles and Wonders" (ניסים ונפלאות, Nisim Uniflaot), have become classics of Hebrew-language children's literature.
Many of her poems have become popular songs, such as The Flute (Hakhalil), Songs of My Beloved Country and so many more.
Lea lived with her mother, first in Tel Aviv and later in Jerusalem where she passed away in 1970.
Toward Myself
The years have made up my face
with memories of loves
and have adorned my hair with light silver threads
making me most beautiful.
In my eyes are reflected
the landscapes.
And paths I have trod
have straightened my stride –
tired and lovely steps.
If you should see me now
you would not recognize your yesterdays –
I am walking toward myself
with a face you searched for in vain
when I was walking toward you.
Comments
No comments made yet. Be the first to submit a comment