From Rundown Shelter to Wartime Haven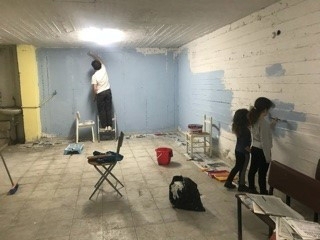 Our shelter (miklat) was in bad shape. It was dirty and strewn with broken chairs that residents had discarded years ago; parts of old bikes, a battered mattress. The walls were a grimy white and the floor a dusty grey. But the space was perfect and it had great potential.

The idea began to germinate when I went to buy a present for my grandson. A lot of money for the short life of a plastic toy. I thought of his closet full of toys that were once new and now lay abandoned, unused and forgotten. But maybe the toys he no longer wants would make another child happy. And vice versa.
TOY EXCHANGE - BRING ONE TAKE ONE! That's what the poster said. Which poster? The one my friend Esther, the graphic artist, made for the project. She donated her time and talent ‒ and what a hit the pictures made. "What can I do to help?" asked Debbie, who had access to paper and printer. "Easy," I replied. "You can make copies."
Oh, but the place needed a good painting. And so, with the help of handy and helpful relatives and dads, we set out to buy materials and recruit workers. I brought two artists, Debbie brought three painters. Tables were set up and the neglected boxes of puzzles, games, dolls, balls and more, that had been taking up storage place in various closets throughout the building, soon began appearing in our renovated miklat. We wrote a post on our street's WhatsApp group, and more items came rolling in… I received two calls from nursery schools who were in search of toys and games. They dropped by with empty baskets and returned gratefully with a new supply of goods.
Then came May 2021. Missiles were falling in and around Ramat Gan, the sirens bellowed; quick, down to the miklat. Little ones awakened from sleep, wrapped in blankets and dressed in pajamas, stepped into a wonderland and forgot all about the booms and the thuds and the anxious looks on their parents' faces. Fortunately, the booms ceased and the thuds were heard no more. But our miklat remains a neighborly haven where one can "bring one and take one".
Comments
No comments made yet. Be the first to submit a comment