Jewish Art Returns to Jerusalem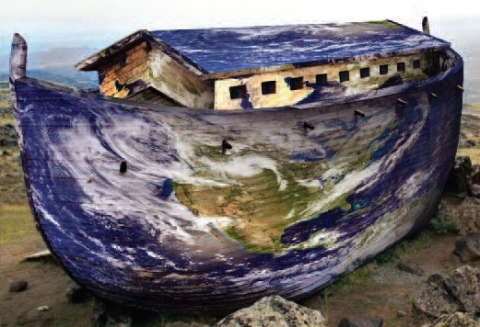 Photos: Yithak Mizrahi

The 4thJerusalem Biennale for Contemporary Jewish Art, showcasing the work of 200 professional artists, Israeli and international, Jewish and non-Jewish, in 30 exhibitions around the city, will take place October 10 through November 28 under the banner For Heaven's Sake! (LeShem Shamayim).
According to Jerusalem Biennale Founder Rami Ozeri, "The Jerusalem Biennale offers a unique encounter between contemporary art and Jewish thought, spirit, tradition and experience. This year's theme, inspired by the famous verse in Ethics of the Fathers, explores discourse and discord that lies at the heart of creativity, through the multi-layered language of the visual arts."
A ticket to the Biennale will allow entry to all 14 venues over the seven weeks of the festival. These include the Jerusalem International YMCA building, which will host three exhibitions. Ziara, Moroccan Common Wisdom, will showcase the work of primarily Muslim Moroccan artists, highlighting the historical and contemporary links between individuals and places in Jerusalem and Morocco. Through contemporary Moroccan art and fashion, Ziara explores the Hebraic foundations that have been formally recognized as being at the heart of Moroccan culture.
In the former YMCA indoor pool, visitors can immerse themselves in the hypnotic environment of Waterfall, a video installation by Marina Abramović with sounds and images of a chanting Tibetan monk or nun. In the Absence of Writing features the work of award-winning Indian artist Astha Butail which focuses on the Zoroastrian Avesta, the Jewish Oral Torah and the Indian Veda.
Visitors to the Wolfson Museum for Jewish Art at Hechal Shlomo, can take in several Biennale exhibitions including Living Under Water. An artistic conversation about climate change, the result of a residency by five Israeli artists in Venice; Feminine Waters, a solo exhibition by Chani Cohen Zada that tells the stories of women from the Bible painted through a mystical perspective, and Table of Content/Table of Contact, a video installation and selection of original artist books that represent multiple voices of American Jewish artists. One exhibition, Heaven is All Around Us, showcases street art woven into Jerusalem's urban fabric between Hillel and Shammai streets.

Information about gallery talks, panel discussions with artists and curators, music and dance performances, as well as private and group tours guided in English and Hebrew, can be found on the website: https://jerusalembiennale.org/home