Seeing The Bigger Picture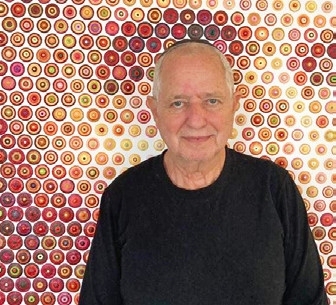 Prime Ministers in Perspective – Jerusalem Biennale Gallery, April 23 to May 7

When former businessman and passionate Zionist Myron Zaidel began his preparations for his aliyah from Johannesburg, he decided he wanted to add something extra to the regular mix of clothing, furniture and personal items.

"I wanted to create something of value, that was unique and transportable, in the international language of art," explains Zaidel, who moved with his wife Shelley to Ir Yamim, Netanya, in March 2021. After encountering the pointillist style of Cape Town-based artist Gavin Rain and arranging a personal meeting with him in 2019, Zaidel knew that he had met the artist who could bring his vision to life. Rain is one of the world's leading pointillist artists, painting with circles of color that merge to form an image when viewed from afar.
"As a Zionist, I wanted to take a period of Israel's history, to focus on Israel's first twelve prime ministers up to the end of 2020. The art form itself was appealing to me – you can look at the picture many different ways and if you look at it the right way, you see the full picture", continues Zaidel.
Rain, whose previous contact with the Jewish community was a commission of the Lubavitcher Rebbe for Chabad in Johannesburg, was inspired by Zaidel's project to create a portrait collection of Israel's first twelve prime ministers that would both educate and inspire the viewer. The entire collection took a year to complete, as both artist and collector worked together to research the twelve prime ministers.
Zaidel brought the twelve canvases with him to Israel, waiting for Israel's 75th anniversary year as the catalyst to exhibit them to the public for the first time. Approaches to private galleries with the idea of an exhibition were unsuccessful, as he was not willing to sell the works.
However, a timely introduction to Rami Ozeri, founder and creative director of the Jerusalem Biennale which promotes contemporary art with Jewish content, was certainly on point. Ozeri, who had been searching for appropriate material for an exhibition to honor Israel's 75th Independence Day, was delighted to collaborate with Zaidel.
The exhibition, entitled Prime Ministers in Perspective, will be displayed for the first time to the public, opening in time for Yom Ha'atzmaut, in the central space of the Jerusalem Biennale gallery in the historic Sha'arei Tzedek Hospital on Jaffa Road.
The exhibition points the spotlight on the twelve prime ministers in Israel's 75-year history who have shaped the country up to 2020 – David Ben Gurion, Moshe Sharett, Levi Eshkol, Golda Meir, Yitzhak Rabin, Menachem Begin, Yitzhak Shamir, Shimon Peres, Ehud Barak, Ariel Sharon, Ehud Olmert and Benjamin Netanyahu. All the portraits are acrylic on canvas, one meter square, except for Ben Gurion, which is nearly twice as tall to accommodate his iconic hairline.
While the multi-layered and multi-colored concentric circles on Rain's canvas have intrinsic beauty, the full picture can only be appreciated when the viewer steps back. "Art is about creating a visual narrative" notes Rain, who combines his love of art and mathematics into his own neo-pointillist technique. "It is a metaphor for life – we should all step back to see the bigger picture, the people who help, guide and shape us."
These great personalities are themselves small dots on the canvas that makes up the Jewish people and the Zionist vision. We can lean in and appreciate the many layers of complexity that make up our lives – or we can step back and appreciate their role in the sweep of history.
Rain's unique painting technique, which he continues to develop after years of experimentation, involves deconstructing an image into its simplest parts, a set of dots. He creates a grid of blocks, determines tone with a numerical rating depending on how light or dark it is, converts each number into a circle, plots the color application, creates a stencil with string, and only then begins to paint. "Most of my art is in the preparation, the decisions I make before I even go near a paintbrush."
A 50-page coffee table book, with text in English, Hebrew and French, was created to accompany the exhibition and to make the collection more accessible. Double-sided color posters of the portraits, with explanations, will be available at nominal cost at the exhibition.
It would appear that Zaidel has not only achieved his dream of living in Israel, but he will also make his own mark on Israel's 75th anniversary celebrations, by sharing his personal collection with visitors and tourists to Jerusalem. And the next dream? "Eventually the collection will be of great value. It is not intended for a private home. I hope that the entire collection will one day hang in a major institution in Israel."
Comments
No comments made yet. Be the first to submit a comment