Herzl's Vision Today - Book Review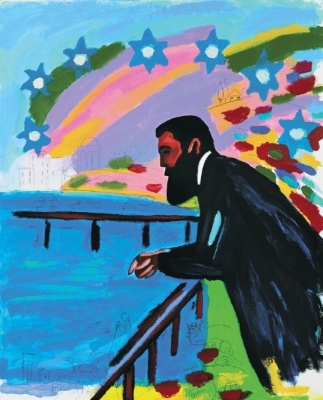 Published by Carol Manheim, Artists Choice Editions, 2022

132 Pages
Reviewed by Maia Aron

Theodore Herzl's utopian novel Altneuland truly has fulfilled the blessing to live for 120 years.

And to commemorate its 1902 publication, Carol Manheim brings us Herzl's Vision Today, a beautifully crafted compilation of commentaries – both essays and artwork – that prompt us to consider how closely or remotely today's Israel matches Herzl's vision.
The 43 mostly whimsical illustrations by Israeli artists make the book a joy to page through. They were curated by Shosh Nomberg Averbukh, with design and production of the book by Nadav Shalev.
The eight essays, which relate Herzl's vision to Israel today, are by contemporary authorities in art, design, history, current events, science, technology, cinema, city planning and preservation, and wine. The authors are Yosef Israel Abramowitz, Dr. David Breakstone, Dr. Shmulik Duvdevani, Gol Kalev, Yossi Klein Halevi, Nicole Levin, and Chemi Peres. Shosh Nomberg Averbukh contributed an article about the art that was chosen and Uri Zaki, Chair of the Herzl Center in Jerusalem, provided the introduction.
Perhaps the chief impact of Herzl's Vision Today is that it motivates the reader to pick up Altneuland and become directly acquainted or reacquainted with Herzl's vision by reading his own words.

In doing so, one re-experiences the sense of wonder of Herzl's two visitors to Israel in the "future" year of 1923, where they encounter an advanced technological society based on a social and economic system called "mutualism" – a blend of socialism and capitalism.
Here, a peaceful and happy people live on an electric grid that would still be the envy of most of the world. Business and industry are booming, medical advances abound, an abundance of food is cultivated, and blissful nights are spent at the opera.
One is amazed at Herzl's prescience in forecasting many aspects of the Start-Up Nation and Start-Up Economy that are familiar to us today. The essayists in Herzl's Vision Today offer many interesting parallels, while the artists provide visuals of Herzl's presence among us in 2022 that bring a smile.
While the areas where Herzl hit the mark are fascinating, the two major cases where he missed the mark are telling and tragic.

In the first case, Altneuland describes a paradise of mutual tolerance among Jews, Arabs and Christians in their "New Society", with those who are intolerant pushed to the political and social sidelines.
Altneuland's Jews are welcomed by the Arabs because they are seen as improving the land's social and economic conditions for all its inhabitants, without taking anything from them. There are no Arab uprisings against the Jews and certainly no equivalent of the 1948 war.
In the second case, the explicit plan for Jewish immigration is to bring people from Europe and the United States. There is no thought given to bringing Jews from Eastern or African countries, and it's doubtful whether "European Jewry" included anyone but the Ashkenaz.
While every essay in Herzl's Vision Today was interesting, it would have been nice to read more of substance on these two glaring examples of Herzl's departure from our current reality, since he was so on-target with most everything else.
What's offered, for the most part, is regret that Jewish Israelis don't do more for their Arab neighbors, as if being more accommodating were a magic wand that would wave Herzl's vision into existence today. Israel's most recent failed government, with its inclusion of Arab parties, was cited several times as a step toward fulfilling Herzl's dream. Meanwhile, none of the essays addressed the second case, namely that Israel was not settled exclusively by the Ashkenaz of Europe and the U.S. and how that affected "Herzl's Vision Today".
Maybe these are gaps that can be filled on the 150th Birthday of Altneuland. On the other hand, if we have achieved Herzl's vision of peace, harmony and mutual understanding by then, maybe we won't need to.
Comments
No comments made yet. Be the first to submit a comment