Ephraim's Bones - Book Review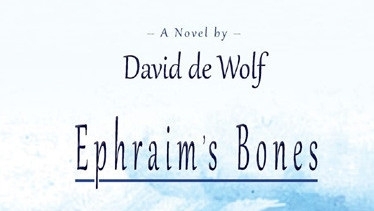 Ephraim's Bones, a Novel by David de Wolf
Mazo Publishers, 2022
416 Pages
Reviewed by Maia Aron

Joseph Shachar, the protagonist of Ephraim's Bones, walks through a small Parisian art gallery in the 1880s and stops to consider a painting by upcoming artist Claude Monet. He's surprised that when he draws near, he sees only stripes, dots and splotches of paint; when he steps back, gaining perspective, he sees the beautiful expanse of Le Havre harbor glittering in the sunlight.

"From a distance you could comprehend it, from close up it resulted in disorder," he thinks.
So it is with reading the beautifully crafted Ephraim's Bones, whose characters inhabit the tumultuous span of 19th century Europe and Israel – an era rife with contradictions and conflict for Europe in general and Jews in particular.
David de Wolf brings us close-up into the particulars of life in the ghettos and streets of Frankfurt and Cologne, the cafes and salons of Germany, Italy and France, and the dungeons that imprison the Risorgimento – members of the nationalist unification movement in Italy. He brings us close-up to Jerusalem, Jaffa and the Judean Hills, with their conglomeration of Zionists, rabbis, and communities of Ashkenazim and Mizrachim who struggle amongst the Turks, the Arabs and each other.

Then he takes us a step back. With perspective, we see the stripes, dots and splotches of the 19th century reshaped as the entire canvas of Jewish history. His characters' discussions, arguments and life choices continue to be ours: Ghetto Life vs Enlightenment, Particularism vs. Assimilation, Zionism vs Host Country Loyalty, Personal Identity vs Jewish Identity, Observant Judaism vs Other Variations.
Thus, we see Jewish history as a living Monet.
Ephraim's Bones presents a truly sweeping narrative. The stage is set with the introduction of our protagonist, who was named Joseph Socher at birth in the Frankfurt Ghetto. He yearns to break free and immerse himself in the Haskalah, the era of Jewish Enlightenment, when Jews could join German society through baptism or might marginally participate by adopting a secular lifestyle. However, his father is against assimilation. He remembers the Bavarian Hep-Hep riots of 1819, which were a backlash against a previous Jewish Emancipation. Experience tells him that Jews will never be accepted, no matter what accommodations they make, and it's best to live as Jews and among Jews in a perpetually anti-Semitic world.
We accompany Joseph on his journey as he first works as a laborer building the Cologne Cathedral and eventually, rebranding himself as Johann Lichtman, becomes an acclaimed cultural correspondent based in Italy and France. Later, caught up in the nationalistic fervors of the time, he drifts toward Zionism. He rebrands again as Joseph Shachar as he makes aliyah, lives in Jaffa and helps build both the first and second Petah Tikva.
Ephraim's Bones is an intellectually demanding page turner, which in itself is a major achievement. The physical descriptions of each location are detailed and artistically rendered. The intellectual arguments are voiced by true-to-life characters, many of which are literally true-to-life.
We're introduced to Schopenhauer, Jacob and Edmund de Rothschild, and Moses Hess. We participate in discussions about Spinoza, Mendelssohn and Heine, and attend the premiere of Tristan and Isolde. We celebrate with Peretz Smolenskin as he launches HaShachar in Vienna and gives literary voice to supporters of Haskalah and Zionism. In Israel, we encounter archeologist Charles Warren and participate in the building of Nahalat Shiva, Mishkenot Sha'anim and Petah Tikva.
The fictional characters – Joseph, his family, friends and associates – seem as true to life as the historic figures. We empathize with them as people. We understand the issues they grapple with, largely because we are continuing to grapple with the same issues and their derivatives. It causes us to consider what we would think and say if we were arguing among them. It causes us to wonder how we might guide young people today, knowing the consequences of our forbearers' choices in advance.
Ephraim's Bones succeeds as three books in one: a Bildungsroman of Joseph's story; a tale of historical fiction, and a work of futuristic impressionism that prompts us to view today's headlines as something we've seen before.
All of which brings us back to the sparkling waters of Monet's Impression Sunrise. As we consider the painting with Joseph Socher-Lichtman-Shachar, we're reminded that historical currents, like ocean currents, have no endpoint. They continually recycle, and our experiences recycle with them.
If we're concerned about Jewish and Israeli survival, we study the past. If we're honest, we learn from it. Ephraim's Bones motivates us to do just that, while informing and entertaining us with a beautifully written, captivating narrative. And therein lies the beauty and significance of David de Wolf's masterful book.
David de Wolf was born in the Netherlands, made Aliyah in 2011, and lives with his family in Tel Mond. He studied Dutch language and art history and earned a Master of Arts on the architecture of the Italian Renaissance at the University of Nijmegen.
Comments
No comments made yet. Be the first to submit a comment