5 Communities, 1 Pandemic, & ESRA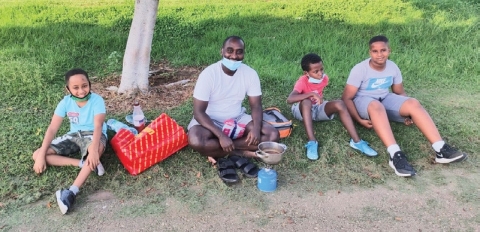 How ESRA kept students & school kids going even when schools were closed

Based on a report from Project Chair, Nina Zuck

Students Build a Community (SBC) is ESRA's flagship project. Over its 14 years of operation, it has proven to be wonderfully effective in no less than 3 directions!
Students receive free housing, enabling them to continue their studies and introducing them to community activism.
Schoolchildren are given a student tutor/mentor, helping them succeed in school and providing them with a role model.
Communities have become revitalized and rehabilitated.
No wonder the project has the cooperation and support of municipalities, and has expanded to five communities in two cities, with others lining up to join.
This year's challenge
This past year, SBC was sorely challenged by COVID-19, with its lockdowns closing schools and community centers. Lessons over Zoom became the norm. But not every child had the patience for it, and more to the point, not every child even had a computer.
ESRA to the rescue with computers & tablets
Determined to keep SBC going, ESRA made sure that every child in the project, as well as every student, had a laptop or tablet. With the help of technical instructors, the students taught their schoolchildren how to use Zoom, and how to use their computers for schoolwork and even for interactive games.
We are so grateful to the many donors who enabled us to supply these laptops and tablets, ensuring that no schoolchild is left behind. And so SBC kept going through the lockdowns, maintaining the very positive contact between children and their student mentors.
An unexpected extra benefit
During lockdown, the student-child contact took on an extra dimension and became even more important. The stress of families closed in together in their homes 24/7 occasionally had disturbing outcomes. Students began reporting to their SBC coordinators that they noticed signs of abuse. Immediately responding to the problem, ESRA arranged workshops for the students – often the children's sole contact outside the home – on recognizing signs of abuse and emotional distress. Any observation of these was immediately reported by the students to teachers and social workers.
Another big challenge - the pandemic & the pocket
The pandemic has resulted in job loss and economic havoc everywhere, including among our SBC students. Continuing ESRA's policy of student scholarships for extra volunteer hours, new volunteering opportunities were arranged. Students worked with the municipality to deliver food packages to the needy, and to assist the elderly. Each student maintained contact with an elderly person or Holocaust survivor, taking them shopping, to the doctor, or just to chat. ESRA is proud to say that, in partnership with Mifal Hapayis (National Lottery), which provided vital additional funding, we managed to provide all the SBC students with scholarships during this challenging year.
Municipalities were also affected financially, and Netanya reduced support of its 4 SBC projects by 25%. Nevertheless, ESRA managed to keep all four community projects going with just a small reduction in number of students and schoolchildren. In Akko, on the other hand, the municipality was so pleased with results after its first year of activity that it has decided to increase the number of participating students.
ESRA looks forward to expanding its SBC projects, with operations set to begin during 2021 in South Tel Aviv, and in Rishon Lezion.
So how have we managed…
ESRA's Welfare Fund has been working round the clock and overtime to relieve the stresses of this year's challenges. But our most fervent thanks is down to you, our readers, our members, and our donors. Every shekel, dollar, or pound donated, makes a real difference in people's lives and in Israel's future.
We look forward to your continued support, and our continued shared feeling of pride in the results of the SBC project, as we see distressed communities recover, children succeed in school, and students complete their degrees and become social activists, following the ESRA tradition of volunteering for the community.
Comments
No comments made yet. Be the first to submit a comment