Women Have to Sit at the Back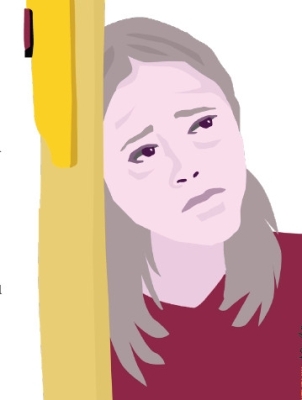 One Thursday evening I took the Dan bus no. 292 from Bnei Brak to my home near Bar Ilan University.

On entering the bus an inspector confronted me and said "this is a Mehadrin bus – women have to sit at the back." Speechless, I just stood there and didn't answer. The inspector said in a loud voice: "maybe she doesn't speak Hebrew; she doesn't understand."
There was a gentleman sitting opposite where I was standing; he had his shoes off and his feet were up on the seat.
I asked the inspector where it was written that I have to sit at the back. He replied "it's written in the Torah. Everybody knows." He turned to the driver who agreed "everybody knows."
Meanwhile at every stop where groups of Haredi youth got on the bus, they greeted the inspector as an old friend, obviously familiar with him and the arrangement.
Nearing my stop, I went from the front of the bus to the doors, where the inspector was laughing and joking with the youths. I asked him why he hadn't said anything to the man with his feet up. He replied, "you see! I told you you'd be better off with the women."
I photographed him. He looked shocked and asked: "are you going to the police?" As I got off the bus he shouted "there's no one like the Haredim."
The Dan Bus Company haven't replied to my complaint, although they promised to answer within 14 days. To an enquiry from Israel Hayom newspaper they replied that I had asked the inspector to speak to the barefoot passenger, and he had recommended that I sit elsewhere for my comfort.
Comments
No comments made yet. Be the first to submit a comment