Winning Moment for Brit in Israel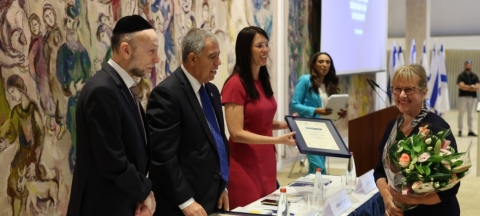 On 28 June, London-born Jane Krivine and long-time ESRA member, was honored with second place in the Knesset Speaker's Prize for Quality of Life 2022 in recognition of the Freddie Krivine Initiative's work to break down stereotypes and hatred by bringing together Jewish and Arab children through the sport of tennis.
The prize ceremony was held in the Chagall Hall at the Knesset in the presence of MK Mickey Levy, Speaker of the Knesset, and the prize committee members including MK Uri Makloub and MK Yael Ron.
The late Yorkshire-born Freddie Krivine, Jane's father, was President of the Israel Tennis Association for 12 years, and there began his campaign to introduce Arab children to tennis, and Jewish and Arab children to each other through the sport.As Jane explained, "I effectively inherited a project which my father had initiated in the late 1990s.It only became an official amuta, after he died in 2005. It has been an amazing experience for me, and I am forever grateful to my father for showing me the way to make a real impact in Israel."
While introducing Jane and the Freddie Krivine Initiative (FKI) to the audience, MK Yael Ron noted that she had been moved by the fact that last year during Ramadan while the streets were full of violence and hatred, FKI went against the grain to organize a community tennis meet and Iftar meal, bringing families and children together from Jisr a Zarqa, Faradis and Binyamina. She made a passionate appeal that all of us should be like FKI and work to create a truly shared society.
While accepting the award, Jane introduced to the audience Dr Sireen Mohsen who, in 2000, aged eight, started with the first-ever FKI program.She was there to celebrate the prize together with Mohamad Rashwan, who was also in that first group and is today the FKI's head coach.
The audience was also interested to see tables full of FKI supporters and children from Jisr a Zarqa and Faradis. It was for most of them their first visit to Jerusalem, let alone the Knesset.
Jane thanked the Speaker of the Knesset for recognizing the impact of the Freddie Krivine Initiative. "I believe that we can change society through the sport of tennis, bringing together Jewish and Arab children and their families," she said.
Today, 20 years after its foundation, FKI's small staff of five is managed by London-born Lee Wilson and runs three afterschool homework and tennis clubs for Arab children, summer camps for Jewish and Arab children, tennis twinning meets between Jewish and Arab clubs and their families, and in-school programs for at-risk children.
"I was a small child when FKI came to Faradis to bring Jews and Arabs together through tennis, it changed my life, and I believe it can change the lives of many more children," says Dr Sireen Mohsen, who is still very actively involved with the FKI club in her home village of Faradis.
"We had a most amazing experience at the Knesset, "Jane said. "The arrangements for the award were perfectly organized. The Knesset staff took amazing care of us, and everything was timed to the second. I loved my fifteen minutes of fame, and I'm only sad that my father wasn't there to enjoy it with me,"
Jane, ESRA and the Freddie Krivine Initiative
Jane, who made aliyah in 2003, has had a parallel voluntary career with ESRA. She was chair of the then newly-launched ESRA branch, now known as Five Towns, for more than a decade, and in her capacity as Chair of the Northern Branches, she was also on the Executive. She stepped down from both roles in 2017 as the demands of the FKI amuta were growing, but remains on the committee with Laurence Jacobs and Lucille Cohen as co-chairs. ESRA is in partnership with the FKI, with English-speaking volunteers tutoring the children from Jisr az Zarka at the afterschool homework program held twice weekly.
Comments
No comments made yet. Be the first to submit a comment