Thou Shalt Innovate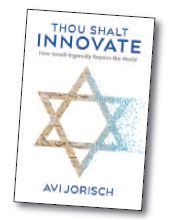 Thou Shalt Innovate - How Israeli Ingenuity Repairs the World
By Avi Jorisch
Gefen Publishing House Ltd, 2018
Hardcover, 284 pages
NIS98 in bookstores; $21.60 from Gefen or Amazon
Many books have been written about the Israeli start-up scene, notably Start-up Nation by Dan Senor and Saul Singer (Twelve - Hachette Book Group, 2009), which details how Israel achieved economic success.
The Israel Innovation Authority keeps a website with all innovations that have been granted R&D funds at their initial stage. The list includes some companies which started as early as 1948 and does not really give a good picture of the background to the development of the ideas behind the innovations. This book closes that gap and focuses on innovations that have had a great impact on making the world a better place.
Avi Yorisch, isn't the type of writer you would expect to write a book on innovations. He is a Middle East policy expert, being a Senior Fellow at the American Foreign Policy Council and a member of the Council of Foreign Relations. He also served as a policy advisor at the Treasury Department's office of Terrorism and Financial Intelligence, and in 2010 wrote a book entitled Iran's Dirty Banking. The book and the publicity surrounding it were instrumental in getting German banks to withdraw from cooperating with their counterparts in Iran, due to "their special responsibility to Jews across the globe; seventy years ago, their ancestors committed one of the worst atrocities in human history …. Now, wittingly or not, they were helping Iran threaten the lives of another six million Jews." Other European and Asian banks followed the German lead and this severely limited Iran's ability to utilize the international banking system before the nuclear deal.
Thou Shalt Innovate starts with two chapters. one explaining the inherent DNA in Israel, chutzpa—not taking no for an answer, always questioning the "common wisdom," - and the second exploring why Jews can't remain indifferent to social problems globally. Then, in fifteen chapters, it covers the most significant innovations in the eyes of the author, from Hatzalah's First Responder Geolocator and Ambucycle medical emergency system, to Netafim's drip irrigation system, to Check Point's firewall, and to the development of the Iron Dome missile defense system. A separate chapter extensively covers Given Imaging's revolutionary Pillcam, an ingestible camera that can travel through the gastrointestinal tract to take photos of your insides. Each innovation is described from the conceptual idea, its history, until fruition. Nearly all innovations emanated from an event the main protagonist had experienced himself; a pilot whose plane was hit by a bird and crashed, convinced the Air Force to hire a leading ornithologist, Yossi Leshem, to develop a system that could predict bird migration flight paths over Israel and thereby prevent bird and aircraft collisions; another was Avi Yaron, who had a motorbike accident and during the subsequent MRI discovered that he had a brain tumor that was too difficult to operate on. This put him on a search for a solution through his company VisionSense, eventually developing a new type of operating scope modeled after the structure of an insect's eye.
The author conducted extensive interviews with the key innovators and documented the source in some thirty pages of notes and twenty pages of bibliography. The book also has an extensive index of all the leading names and buzzwords on the Israeli innovation scene.
Inevitably, all books on innovation become obsolete within a short time span. Thus, this book does not cover the latest development, such that MobilEye was bought up by Intel, or WAZE by Google, or that Given Imaging was literally "swallowed up" in 2014 by the Irish-based company Covidien which in turn was purchased by the world's largest medical device company, US-based Medtronic, in 2015. But, the book is very well researched and would warrant a second updated edition in a year or two to update on the latest development in the dynamic Israeli innovation field.
Recommended.
Comments
No comments made yet. Be the first to submit a comment