"The Wine Interview" with Guy Haran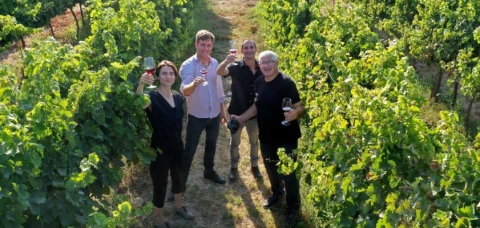 Guy Haran is one of Israel's most dynamic, entrepreneurial and creative professionals in the wine trade. Sommelier, educator, oenotourism (wine tourism) brand ambassador for the Riedel family and their famous glasses and crystals, podcaster, consultant to the promotional organizations representing Israel's Judea and Negev wine regions, and wine writer. He is also disarmingly charming and movie-star handsome.
Where did you grow up?

I grew up in Kiryat Ono.
How and when did you become interested in wine?
We always had wine on the table at home. When I turned 18 I took a bartending course and worked as a bartender at a restaurant. But the major step I took, when I moved to Jerusalem to study law, was to work as a bartender and wine waiter at the King David Hotel.
Tell us about your experience as a sommelier.
When I started working in 2005, the Israeli wine industry was small and I started in kosher restaurants - in the King David Hotel, and the 1868 restaurant etc. I wanted to learn more about wine and created a group of wine professionals which used to meet once a month to taste and learn together. (The Jerusalem Sommelier Club).
How have the Israeli wine consumer and the Israel wine scene changed since you began working in the wine trade?
The change in the Israeli wine trade and scene over the past two decades has been nothing short of a revolution. When I started there were very few producers. Today there are hundreds of producers in Israel and the selection of wines from Israel and from around the wine-producing world is huge. I opened a wine bar in Jerusalem in 2008, well before it's time, and the concept was new to Israelis. Today there are wine bars all over the country and wineries have opened their doors for tastings and visits.
Tell us about your podcast.What do you discuss and where can it be found?
"Wine is Basic", my podcast, began in 2019, with winemaker Rea Prince and myself, in order to make wine easy to understand and more approachable in Hebrew. Rea moved to Sonoma, California, after his child was born, and Roni Saslove (one of the writers of our book Wine Journey-An Israeli Adventure and one of our Vinspiration hosts to Portugal) took his place. We host interesting wine figures from Israel and around the world, mostly in Hebrew, and chat about different topics that interest us, such as high-tech and wine, food pairing, sustainability, leading wine regions around the world and much more. We've produced almost 100 episodes so far, all available on our website www.WineIsBasic.Com and on all the podcast apps.
Your company, Vinspiration, principally organizes visits to wine regions and top producers in those regions. Tell us about Vinspiration. How can readers find Vinspiration and sign up for one of your guided visits?
Vinspiration is an oenotourism (wine tourism) company that I created to bring wine lovers to some of the most interesting and beautiful regions in the world. Through the glass and the table, people connect. They are the basics of culture. When our clients meet with Italians for lunch, they will probably talk about what they'll all be eating for dinner. Our clients visit, discover, connect and experience wineries and wine regions through their eyes, noses and mouths. Our tours are tailor-made for couples and small groups, guided or self-guided. We organize everything: flights, hotels, cars and restaurants but mainly we focus on experiences: meeting winemakers and their families, hunting truffles, then learning how to cook with the truffles and, of course, eating them.
For more information: www.vinspiration.wine
With educator Roni Saslove, photographer David Silverman, graphic designer Itamar Gur and wine writer and editor Adam Montefiore you created and wrote Wine Journey – an Israeli Adventure focusing on all the wineries you can visit while in Israel. Tell us more about the book and about the wineries featured. How did you select them? How should readers use the book? How can readers find and purchase the book?

Roni, David, Itamar and I created the book. Adam and Mira Eitan edited the text. We started work on the book during the first months of COVID 19. The aim was to do something good for the wine industry of Israel. All of us in the wine trade are asked constantly about wines and wineries: where to visit while on vacation in the north? Which wineries have accommodations? Which wineries welcome children? And of course, what should I drink? So, we decided to put it all in one book.
The book provides information about almost 200 wineries that are open for visitors in Israel. The text is organized around the six main wine regions of Israel and the book includes original regional maps, lists of delicious places around the wine regions and lots of other valuable information.
We've also created easy-to-navigate mini-sites for each producer there with links to social media, websites, email addresses and phone numbers. The text and features were written by us without any financial contribution from the wineries. The reception has been amazing: we have sold more than 11,000 copies to date. The book is available in Israel at wineries, wine shops, delis and bookshops and online at: www.IsraelAdventure.wine
The wine regions of Judea and the Negev have asked you to help them develop tourism to their regions. What are you doing for each of these regions?
Judea is the first recognized wine region of Israel. It received its certificate in August 2020 and now use of the name "Judea" is restricted by rules that specify winery and vineyard location. More information is here: tour-yehuda.org.il/judea-wine-region/
Wine region certification requires analysis of viticulture, wine making, terroir (nature of the soils and climate) uniqueness of the region, tourism and much more. I was actively involved in the process.
The Negev wine region work is and was different from the work we did for the Judea region. When I started working with Merage Foundation on establishing a wine region in the Negev, we found almost 40 producers but no unity. The first task was to establish the Negev winery club where winery owners, vintners and wine tourism managers now meet once every two months, each time to discuss a different subject related to wine and the region. But, perhaps, the most important result of these meetings is how they nurture collaboration, cooperation and unity. At the last Sommelier exhibition (The most important and largest wine exhibition in Israel) the Negev Winery Club stood together, for the first time, as a region, in a large, united stand.
Last February, representatives from the wineries visited Barolo in northern Italy in order to learn about an established and famous wine region.
Research about the typicity and uniqueness of the wines coming from the desert is taking place at Ben-Gurion University of the Negev and Ariel University and other places. The boundaries are not yet set but they will likely extend to Arad in the north east to Nir Akiva (Galai winery) in the north west south to Eilat (the Red Sea winery and its vineyards).
For more information: https://negevwine.co.il/
Which wine have you selected for this interview and why you selected it?
I selected the Blanc Sec 2020 from Chateau Suduiraut. The wine is a blend of Sauvignon Blanc and Semillon in equal parts and is made by a famous (classified growth) Sauternes estate (part of Bordeaux) which traditionally produces sweet wines. This wine is completely dry. The wine itself has a pale lemon color and medium intensity with the aromas of yellow flowers, nectarine and a hint of spice. This is a wine to drink now! And have extra bottles on hand as it is disarmingly easy to finish a bottle. This wine represents what we do at Vinspiration: it comes from the old world of wine, where tradition is important, but at the same time it shows the innovation in fashion, winemaking and culture occurring throughout Bordeaux. At the end of the day, wine is a prism for understanding culture and this wine is a perfect example of that.
Author's Note on Blanc Sec 2020 de Château Suduiraut
Full disclosure: this wine is represented by the author and imported to Israel by the author's customer, IBBLS. The wine is available here for approximately NIS 150. Availability is limited. Guy Haran's description is spot-on in all ways. Guy, his colleagues and I opened a bottle for lunch recently, quickly finished it and looked for a second bottle right away. A delicious summer white wine perfect with salads, mezze, grilled or fried fish, goat cheeses or anything and everything else on your lunch or dinner table.
Comments
No comments made yet. Be the first to submit a comment