The Moosewood Cookbook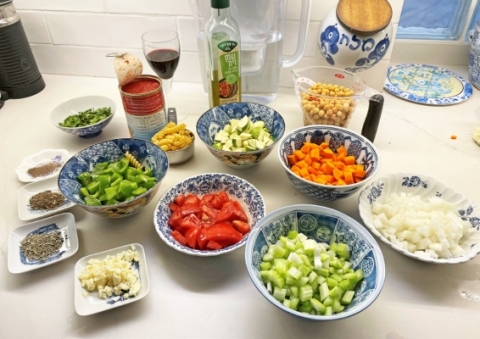 Photo credit: Sharyn Weizman
I often make soup in the winter and I always turn to my beloved, dog-eared copy of The Moosewood Cookbook for a winning recipe.

In 1974, Mollie Katzen hand-wrote, illustrated and published a spiral-bound notebook of vegetarian recipes. She was inspired by the vegetarian dishes she and fellow cooks, of various culinary backgrounds, prepared and served at the Moosewood Restaurant cooperative in Ithaca, New York.
The Moosewood Cookbook is one of the top ten best-selling cookbooks of all time by the New York Times and has received many awards and accolades.
We are grateful to Mollie Katzen for allowing ESRA Magazine to include two of my favorite Moosewood Cookbook soup recipes.
In a soup kettle or large saucepan sauté onions, garlic, celery and sweet potatoes in olive oil for about five minutes. Add seasonings, except tamari, and the stock or water. Simmer, covered, fifteen minutes. Add remaining vegetables and chickpeas. Simmer another 10 minutes or so – until all the vegetables are as tender as you like them.

Note: The vegetables in this soup are flexible. Any orange vegetable can be combined with green … For example, peas or green beans could replace the peppers. Carrots can be used instead of, or in addition to the squash or sweet potatoes. Etc.
Note: This recipe calls for cooked pea beans or garbanzo beans (chickpeas). If you use chickpeas, begin soaking them 31/2 hours before you make the soup. After 2 soaking hours, cook them in boiling water for about 11/2 hours — until comforatably chewable. If you use pea beans, you needn't soak them, but give them 11/2 - 2 hours to cook. In either case, if you cook the beans in plenty of water, save the extra water to use as stock for the soup. You'll have a fuller-flavoured, higher-proteined minestrone.
In a soup kettle, sauté garlic and onions in olive oil until they are soft and translucent. Add 1 tsp. salt, carrot, celery and eggplant.

(If you use zucchini, add it with the green pepper.) Mix well. Add oregano, black pepper and basil. Cover and cook over low heat 5-8 minutes. Add green pepper, stock, purée, cooked beans and wine. Cover and simmer 15 minutes. Add tomatoes and remaining salt. Keep at lowest heat until 10 minutes before you plan to serve, Then, heat the soup to a boil, add pasta, and boil gently until pasta is tender. Serve immediately, topped with parsley and parmesan.
Comments
No comments made yet. Be the first to submit a comment