The Defeat of Henry Ford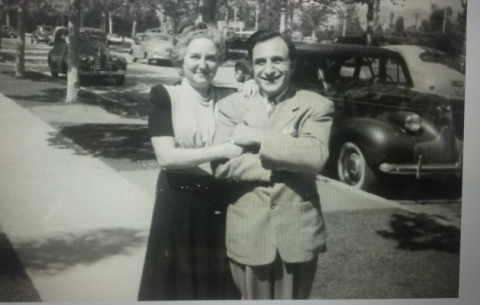 This article was first published in The Forward on December 18, 2013

What possessed a small-town Jewish immigrant family to defy the demands of the anti-Semitic corporate owner of their car dealership franchise? And not just any corporate owner, but Henry Ford Sr.
In 1916, my grandfather, Max Barish, along with his brothers and father, opened a Ford dealership in Sioux City, Iowa. The business provided them with a good living and reputation. But the distance they were willing to go to continue their success was tested in 1921, when Henry Ford instructed all Ford dealers to disseminate his anti-Semitic magazine.
My grandfather was 14 when the Graf Waldersee ship docked in New York on August 15, 1901. Having escaped Czarist Russia, Max, his eldest sister, Molly, and their father, Ben, made their way to the American Midwest. The three immigrants joined the homesteaders of North Dakota, where they herded sheep on horseback, slept on hammocks for fear of deadly snakes and suffered through the frozen winters.
After farming 660 acres (~2,670 dunam) for 18 months, as required by the government under the Homestead Act, they sold the land and used the $3,000 profit to get the rest of the family out of Russia. Everyone settled in Sioux City, where the Barish brothers, Max, Enchul, and Hyman, opened their Ford franchise on the corner of Fifth and Pearl in a brick building that is still standing today.
Six years later, Henry Ford was running out of materials to produce his cars. According to the January 1921 story in the Sioux City Jewish newspaper, the Lion's Roar, "When the Babson, Bradstreet and Dun reference guide to main Gentile connections, a reference that Ford always turned to when he needed a contact, failed to come up with a helpful name, he took a bound volume of The International Jew and discovered the name Barish Bros., Ford distributors, 'the boys who do things'."
The Barish brothers contacted a local Jewish junk dealer, who was able to transport enough raw materials to Michigan to prevent a plant shutdown. Ford may have been an anti-Semite, but business was business. He had nothing but praise for my grandfather: "Mr. Max Barish and his firm deserve honorable mention for their valuable assistance and you may look for me to provide them with more publicity in the columns of my magazine," Ford said, according to the article.
The magazine that Ford was referring to was The Dearborn Independent, the publication he ran starting in 1919 and used as a vehicle for his anti-Semitic opinions. Articles collected from these publications were later bound in book form to become the four-volume The International Jew (available on the Web, and still used by hate groups). I can't imagine why my grandfather and his brothers were even mentioned in The International Jew. If they knew about the reference to their existence in this journal, it probably didn't matter to them at the time; they were focused on providing a decent living for their families.
So, thanks to the Barish brothers, the assembly lines kept running, and new Model Ts rolled off to dealers across the country. But, The Dearborn Independent continued blaming Jews for "nearly all the troubles in American society," despite the fact that thousands of Jews and non-Jews wrote letters pleading Ford to stop. In the early years of The Dearborn Independent, dealerships served as passive distribution centers for the magazine. Surely, many dealers happily encouraged their customers to take home a copy. Others may have just put the publication in a dark corner, hoping no one would bother with the anti-Semitic rag.
But Ford wasn't happy with the passive dissemination of his magazine through his dealerships. To enforce mass distribution, he declared that The Dearborn Independent was as much a Ford product as his cars, and that his dealers were obligated to convince customers to subscribe to it.
My grandfather slammed on the brakes and refused to comply with the decree. His self-respect as a Jew and a Zionist came before his business and his livelihood, even though he was married with two children: my mother and aunt. The brothers wrote a letter to the Ford Motor Co., clearly stating their position. They reprinted the letter in a full-page ad in the Sioux City Daily Tribune on September 5, 1921.
"Please consider this our notice of cancellation of the Ford Sales Agreement to take place immediately," they wrote. "If trying to discredit the Jewish Nation before the eyes of the American Public by prejudice, hatred, and intrigue is what you conceive as 'knowledge,' then the saying 'Ignorance is Bliss' is quite appropriate. Since you choose to classify your magazine as one of the Ford Products you are welcome to all of the Ford Products and you may count us out. None of your honey, and none of your sting!"
According to their contract with Ford, the company had the option to buy back any products still in stock.
"Advise immediately," the brothers wrote Ford. "Unless we hear from you not later than October 5, 1921, we will take immediate steps to dispose of the goods by offering them for sale to the public."
The brothers made sure everyone knew exactly why there would no longer be a Ford dealership at Fifth and Pearl. The name Barish would remain in brick on the corner of the building, but the name Ford would not.
The brothers stayed in the car business by operating the service garage and selling automobile accessories. The family moved to Omaha, Neb., in 1929, before the Wall Street crash, and Max opened a Dodge-Plymouth dealership. It was there, in the late 1930s, that a Zionist organization approached Grandpa Max about buying land in Palestine. Max chose Afula, the capital of the agricultural Jezreel Valley, with its abundance of collective and cooperative farms. But he never relocated there.
During World War II, Grandpa Max and the family moved to Los Angeles, where he opened a Chrysler-Plymouth dealership on La Brea in 1949. His son Howard (Bud) and his son-in-law Barney E. Miller — my father — worked together until we moved to Palm Springs, Calif. Father and son ran the business until Max retired, and then Bud continued until his retirement in 1991. No relatives were able to take over the business, so the family's 75-year affair with cars came to an end.
Although I had been in Israel for twenty years by then, I felt strangely depressed, as though a precious family heirloom had been lost. The dealership had been there since I was born, and it held so many memories. It had been a constant in my life. While my brother and I and our cousins grew up and moved to different cities and a different country, the building and the business remained part of the family. Now it wasn't "ours" anymore.
There was, however, another "constant" in our lives, although not a place most of the family had ever visited: that land in Afula. The two acres (~8 dunam) have belonged to the family for seventy-five years. Each time I pass through Afula I look at it with silent pride for my Zionist grandfather, or I point it out to friends and say, "I'm a land owner!" This agricultural land will eventually be rezoned and become more valuable. It's right next to a main intersection and a Magen David Adom (Israeli Red Cross) station. Nice place for a car dealership. But definitely not a Ford one.
Comments
1 Galia, What a wonderfully written history of your family! I had heard some of it before, but now I can appreciate more of your family's life. Keep writing and submitting articles and stories. Fondly, Marsha
Galia, What a wonderfully written history of your family! I had heard some of it before, but now I can appreciate more of your family's life. Keep writing and submitting articles and stories. Fondly, Marsha