Tel Aviv Benches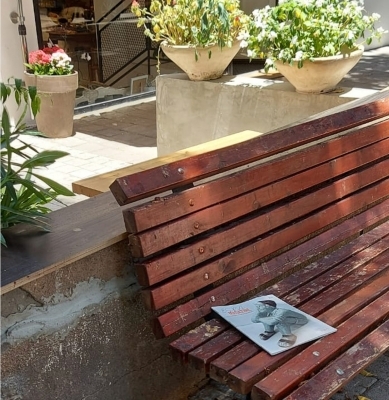 Tel Aviv benches have a life of their own, and give life to so many residents. Of course they also give rest to residents, and serve as meeting places for others. But they have added value, they give renewed life to clothes, household items, books, toys, and whatever – a recycling of all this which has environmental value.

We in ESRA had a very moving experience with distribution of our last ESRA Magazine #209, our June 2021 issue. I found myself with extra bundles of magazines to distribute, some 80 magazines. What to do with them? My mind and sub-conscious started working. It suddenly dawned on me – Tel Aviv benches. Why not put ESRA Magazines on Tel Aviv benches? What was there to lose? No lack of benches where I hang out in the heart of Tel Aviv. Each time I went out I would take a few magazines with me and deposit one on a bench. It took weeks, but so what? At least the magazines were distributed in this great new a la Tel Aviv way.
One day Sandra called me from the ESRA office. She said that a gentleman named Avi had called to get permission to reprint one of the articles that was published in ESRA Magazine #209. So as Editor, I contacted Avi.
Avi, it turned out, is an Israeli who barely reads English. He had seen on a bench the ESRA Magazine with the cover of Srulik, a sculpture by Lapid. He was very excited as he, Avi, is an active collector of Lapid ceramics and belongs to a group of Lapid collectors. He asked for permission to reprint the article on Lapid ceramics which Sharyn Weizman had written. He told me that after seeing the cover and article, he had phoned a very close friend S.M., formerly from South Africa, to tell her about ESRA Magazine and she promptly told him that she knew ESRA Magazine very well, in fact she had been over many long years an active volunteer in ESRA.
Serendipity? Whatever, a Tel Aviv bench, an ESRA Magazine, a Lapid collector, and an active ESRA volunteer – all came together.
Comments
No comments made yet. Be the first to submit a comment