Splendiferous Kinneret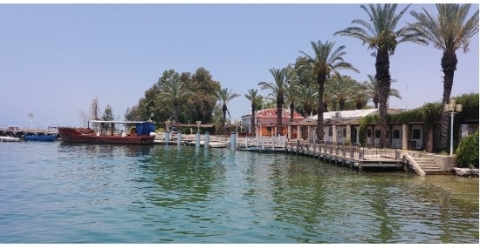 What an exhilarating experience to see our beloved Lake Kinneret overflowing with water kissing the shoreline, engulfing young bushes and trees that had proliferated during the 17 years of continued water loss, and bringing new life and hope to Israel's only natural water lake.
On a bright spring day in early June, shortly after lockdown regulations were lifted, our party of four - comprised of two veteran olim and two more recent olim - left Modiin and headed for Tiberias for a day at the lake. We wanted to see for ourselves the glorious transformation that beneficent winter rains had brought to the area. We were not disappointed.
Taking the scenic drive down from Poriya Junction, we viewed the new neighborhoods en route in this once sleepy hamlet now the bustling city of Tiberias. As we entered, we headed southwards anxious to get our first views of the raised water levels. Imagine the mood in the car when we all broke into squeals of sheer delight at the thrilling sight of water lapping at the old shoreline.
For years our visits to the area had been wrought with sighs and tongue clicks about the depressing level of the receding waters, which required an increasingly longer walk out just to reach the water's edge. We would listen nervously to newscasts following every rainfall about the level of the lake, how much water had been added, yet how much deficit remained beneath the infamous "red line".
Eager to stop at the first opportunity, we soon rounded the southern tip and turned northward along the eastern shore to find a shaded, albeit unkempt, parking area. There were a number of people milling around, some even swimming among the reeds and bushes that poked out of the water, in clear violation of the large sign stating "swimming not allowed". One chap flapping around like a turtle said it was "glorious". I didn't think so looking down at the "schmutz" that had collected at the shore and bobbed up and down in the water. Although we had brought our bathing costumes, we were disinclined to swim – something related to our Western culture of actually following regulations - in spite of the heat of the day.
Hopping back in the car, we headed for Ein Gev in the hopes of being treated to a mouth-watering lunch of fresh grilled crispy St. Peter's fish (amnun in Hebrew) for which the restaurant is famed. However, we were most disappointed to find the establishment closed (what were we thinking - the restaurant depends heavily on foreign tourism). Walking along the small but rather dilapidated-looking development close by, we came upon a guy walking his hamster in a cage (quirky bedfellows), who was more than happy to pose for photos.
We found a cafeteria overlooking the lake that served small grilled St. Peter's fish (of the frozen kind), after which we decided to retrace our steps and visit "Hatzer Kinneret" at the southwest corner of the lake. Kinneret Courtyard represents one of the most important and interesting sites in the history of Jewish settlement in Eretz Israel. Established in 1908 with the goal of training Jewish agricultural workers for permanent settlement, it was a sort of laboratory, a melting pot in which the first buds of social ideas appeared, such as the Kvutza, Kibbutz and Moshav. Central figures in our history lived there most notably A.D. Gordon, Rachel the poet, Berl Katznelson, Zalman Shazar and others.
We toured the reconstructed buildings of dark basalt rock (prevalent in the region), watched a short film about Rachel the poet, and viewed old photographs of times and eras past. Most fascinating was learning that Hatzer Kinneret produced the first group of female farmers/agronomists who themselves taught the menfolk. All told, a pleasant interlude in our planned day in the outdoors.
By this time, we were ready to try an "approved" swimming area, but alas, each section was chock-a-block with cars fighting their way in or out, and people, people and more people in or out of the lake, camping with huge awnings and piles of paraphernalia that made entry a challenge. Undeterred, we finally managed to squeeze our way in and hobbled over rocks and stones to the water's edge. More schmutz, which I gingerly fished out before going in the water up to our knees. Some quickie photos for posterity and back to the car.
Indeed, it was a thrilling experience seeing our splendiferous Kinneret so full and brimming with precious waters. Schmutz and crowds notwithstanding, we had an amazing and fantastic day, we accomplished our goal, and we headed for home with smiles as broad as we could muster.
Comments
No comments made yet. Be the first to submit a comment