Short Cut Led Us Here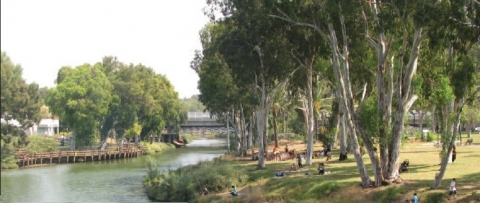 In our walk along the main road passing Tel Aviv University, Ruti and I came across a short cut which led "somewhere"!So we turned south at the Yitzhak Rabin Institute, along a short street, and found a small, steeply-curving bridge.From the top of that bridge (with the fumes and noisy traffic of Rokach Boulevard far below us) we saw – in all its beauty – the Yarkon River and the tremendous park which runs along it on both sides (aka Ganei Yehoshua).
That short cut saves at least an extra hour in a walk to the Yarkon River.
Had it always been there? Why hadn't I known about this short cut before; why didn't anybody mention it? Eighty-four wasted years!
Well, maybe I exaggerate (oh really!) but from that high point I looked in wonder at the vista of green lawn stretching away into the distance.The river itself was hidden from our gaze by tens of thousands of trees.I took a guess that the "picnic" lawn areas on both sides of the river are at least two-hundred meters wide, and they run eastwards in a continuous green stretch for at least twelve to fifteen kilometers.
The river itself – surrounded by gigantic eucalyptus trees and families of picnickers, plus ducks, geese, and sundry other birds – is fairly wide.Taken together, the width of the lawns, trees and river must be more than half a kilometer.
Today all this area, including the water, is clean and clear.Don't take my word for it: just look at the ducks, geese and their "babies" blissfully swimming along.
Cycling and pedestrian paths run for kilometers on both sides of the river.The paths are crowded mainly in the evenings (and probably early morning – I've never managed that one!)While we were there, runners and groups of people on bicycles passed by: we saw two cyclists (father and mother) followed by three small children (on three small bicycles of varying size) flash past us.And towards evening "young" people (i.e. about sixty or under) work out on various exercises (think Tai Chi) on the lawns and under the trees.
And if the story is true that Ben-Gurion, in those early days, saw a map of northern Tel Aviv (which still didn't exist) and drew a loop around the river, saying: "This area will be a park" – then all we can say is: 'Thank you Ben-Gurion'!
Some years back we had paid a visit to the western part of the river, where it empties itself into the Mediterranean near the old Tel Aviv port.Built by the Jews in 1936, the port has become a stimulating tourist attraction today – with a wealth of restaurants, shops, a boardwalk and other places clustered around a small elongated harbour where people sit and drink tea and coffee.Events are often held at the port, including a magician who entertains the children, and a weekly food fair.
Trekking inland (eastwards) from this point, one passes kilometers of playing fields: football, baseball, rugby (well, they look like rugby posts) and "others" (probably hockey) along the northern bank of the river, while most of the southern bank is home to children's playgrounds and lots of trees.
Still further east (once past the bridge which spans the main road to Haifa) one finds even larger stretches of open green fields and trees.These are mainly along the north bank of the river, with plenty of palms and eucalyptus – wonderful picnic areas.The south bank (also quite wide) is, as usual, given over to the kiddies – playgrounds, a small enclosure housing animals and birds, and places where you can buy ice cream and other necessities of life.One can cross the river over a small wooden bridge at this point.
We didn't go further east, so we missed out on the botanical gardens, lakes and a small, interesting section where the river splits up.
However, we did once get to see the source of the river.This happened in 2012 (we were still quite young – in our seventies) when Ruti and I decided to walk to the source of the Yarkon River, at Tel Afeq.
We began our journey at a halfway mark along the river (about twelve kilometers inland from the sea) at Ramat Hahayal.From here onwards the river became narrower with, after a while, much less water, some parts being quite muddy.We criss-crossed, walking along small beaten paths thickly overgrown with rushes and bush, and some citrus fruit groves, for most of the way.I don't particularly recommend this trip, especially on a hot day.
Comments
No comments made yet. Be the first to submit a comment