Readers Letters - January 2020 Issue 203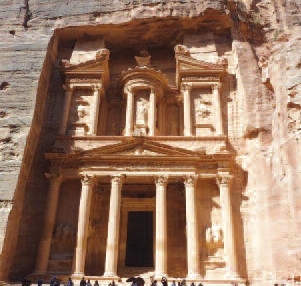 Anything to say? Comments about this issue? We'd love to hear from you. Send emails to This email address is being protected from spambots. You need JavaScript enabled to view it. or write to: Letters, ESRA Magazine, PO Box 3132, Herzliya 4613002. Letters will only be considered for publication if you include your name, address and phone number. The Editor reserves the right to trim letters where necessary.
Jordan was impressive but I felt unwelcome
I wish to pay tribute to the many who contribute to the ESRAmagazine on a regular basis, not the least of whom is its feisty and energetic editor Merle Guttmann.
The latest edition # 202, December 2019, was another great read from cover to cover and for me, particularly, the article about the trip to Petra.
I had visited Jordan two years ago, following more or less the same route taken by the ESRA group. As impressive as Petra is, I was continually reminded that I was Jewish, from Israel, and an unwelcome guest. Although the guides were polite, the word "Israel" was never mentioned. Eilat, the "Jewish", and Palestine were frequently used.
The writer's description of Jordan as a third-world country was an understatement. Other than Amman which is crammed with buildings, noise and dust, the outskirts and the rest of the country was highly undeveloped, even primitive. Towns were isolated spots carved into the desert, greenery was sparse if at all, and even Aqaba, into which millions of dollars were poured to raise the level of tourist services, was distinctly messy, crowded, and unappealing.
We will probably have to wait for peace "until kingdom comes" (no pun intended), but should it ever arrive in the form of mutual acceptance and respect, both Israel and Jordan would benefit greatly because we Jews love to help, and boy, do they need it.
Cynthia Barmor
Modiin
ESRA be proud of your achievement
​
From an Ethiopian embroidered mezuzah project started by ESRA at the Kfar Saba Absorption Center in 1992, to an Ethiopian Sewing Center in Sderot funded by ESRA (the Applebaums), to an embroidery group run by volunteers from the neighboring kibbutzim and Moshe Ash, a volunteer from Tel Aviv, preserving the Ethiopian tradition and providing a small income to the embroiderers, to an exhibition celebrating the 2019 Sigd Festival at the Knesset in Jerusalem, ESRA can pride itself on this most remarkable achievement,

Adele Rubin,
Chairperson ESRA Sderot
Left: Desta "Gadi" Yevarkan (left), a member of the Knesset for the Blue and White alliance, was born in Ethiopia in 1981. Alongside is Moshe Ash, a Tel Aviv product designer, who goes weekly to the Sderot Ethiopian Embroidery Center and chooses embroidered products which he laminates, all on a voluntary basis.
When mum threatened us: No eggplant – no aliyah!
"Jews Don't Eat That!" in your ESRAmagazine (#201 September 2019) struck an interesting note with me. We grew up in a very small town in upstate New York, the only Jews in a rural village. Being ardent Zionists, we were all waiting anxiously for the day when we would make aliyah to the new country of Israel.

One day my mother returned from grocery-shopping with an eggplant, which none of us had ever seen before. Mom was overjoyed with it, and announced, "Look at this. It's what everybody in Israel eats!" Being an unimaginative cook, Mom treated it like any other vegetable for supper - she boiled it in a pot of salted water. Needless to say, it was disgusting. But Mom insisted, "You have to eat it, otherwise you can't come with us to Israel. This is what they eat there."
Had I only known how many delicious ways eggplant is cooked and served here, I would have been much less apprehensive when we finally came on aliyah. How lucky Mom was wrong!
Mimi Semuha
Yokneam Elite
A memory of Geula Cohen 1925 - 2019
Early 1980s: On the occasion of a heated Knesset debate, 17 Tehiya members entered into an equally heated debate in Geula Cohen's Jerusalem hotel room. Although surrounded by rooms of other MKs, they were astonished to find that Kol Israel was broadcasting the substance of their debate on the midnight news! The hotel management made the insulated management offices available to Ms. Cohen and members of the Tehiya Center to continue the debate, which passed quietly as far as the other hotel guests were concerned - and with no further leaks.

May Her Memory be Blessed
Siri Jones – Rosen
Eilat
Says Siri: I was working on a late night shift at the hotel.
Alzheimer support group for English speakers
In the last issue of your magazine (No. 202, December 2019), the writer of the article about dementia stated that "support groups are desperately needed.......".

For the benefit of your readers who may have family members with the symptoms she describes, please note that my husband and I have been running an Alzheimer's support group in the greater Tel Aviv area for English speakers for over 20 years.
During these many years, we have been listed under support groups in the classified sections of The Jerusalem Post, Haaretz English Edition, as well as ESRAmagazine. Please note that my name and phone number appears in your current edition on page 101. Anyone who contacts EMDA (the Israeli branch of the Worldwide Alzheimer's Association) in search of an English speakers' support group will be directed to me.
Paula Felberg, Petach Tikva
054 423 7797; 077 324 0639
email: This email address is being protected from spambots. You need JavaScript enabled to view it.
Baruch Spinoza a Sephardic Jew, not a Litvak
In ESRAmagazine (201, September 2019), it is claimed by the son of Abel and Glenda Levitt that Baruch Spinoza was an "outstanding Litvak". As a direct descendant of his brother - Baruch never married and has no known children. I can tell you he was Sephardic through and through.
His family's journey was from Spain to Portugal to Holland and not via Lithuania.
Jackie Klein
Johannesburg, South Africa
Emily's poems 'are mystic and Chassidic'
Poet Emily Dickinson's verses in Eli Libenson's article (ESRAmagazine #202) are mystical and even Chassidic. The highest form of expression is a tune without words. Listen to "The Song of Grasses", words written by Reb Nachman of Breslev with the melody composed by Naomi Shemer.
The essence of the song is that every blade of grass has its own melody. The combination of all the melodies of the grass creates the melody of the heart. It's sung by both religious and secular people.
Reb Nachman also said that one should never despair because it means that there is no hope and consequently a loss of faith in God. He also said that no matter how sad a person is, he or she should always have at least a drop of happiness in him.
מצוה גדולה להיות בשמחה תמיד .
Sometimes a person has a lot of happiness within him, but there are times when he is very sad. Nevertheless, he should keep some happiness within him to prevent him from succumbing to despair.
I like Emily Dickinson. She lived a quiet life looking through a window and had a rich imagination. She would have liked Reb Nachman, I think.
Judy Shapiro

Kfar Saba
In my neighborhood there is an assisted living facility that is very grateful to get my already read ESRAmagazines. It is a good way to spread the word and to give pleasure to older persons.

Honey Stollman

Givatayim
I enjoy reading the ESRAmagazine and its many wonderful stories about life in Israel.
Akiva Hertzfeld
Modiin-Maccabim-Reut
Thanks, Yael, for all your tech help
Yael Rubel was the ESRAmagazine website technical support person for the past eight years and it was always a pleasure to work with her. She helped us add various features to the site in 2012, and then went on to be our main technical support. Many was the time I would call her when things went wrong or we needed urgent help to change or add features to the site, and Yael was always there for us. With her professional ability and very pleasant and gracious manner, she would manage to solve all our problems.

We have now launched our new website https://magazine.esra.org.il and have moved to a different support system so we will no longer be working with Yael, but in the name of all the ESRAmagazine team we would like to say "Thank you" to Yael for all the years of support and cooperation. We are most grateful to her.
Myra Olswang
ESRAmagazine Webmaster
CENTER Stage, Israel's first all professional English language theater venue, is situated in Raanana and not Tel Aviv as we stated in a photo caption in the letters pages of ESRAmagazine
#202. Apologies for the error.
Comments
No comments made yet. Be the first to submit a comment