Ray of Light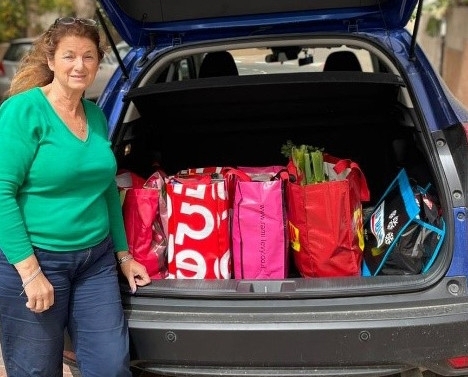 Bringing joy and excitement to Israel's needy
The nearly 100 families living on or near the poverty line, who received food parcels for Pesach this year through the Ray of Light project, had an extra element of joy in their packages – a pair of beautifully crafted festive table mats, created by Israel's quilters to make the festival even more colorful and enjoyable.

The recipients, living in Raanana, the Sharon area and Bat Yam, included the elderly, Holocaust survivors, single mothers and poverty-stricken families. Many had been reduced to insecurity during the past year by the ravages of COVID‑19, which left many unemployed, unable to even imagine a festive Pesach.
The Ray of Light project, the personal initiative of Madeleine Schwarcz of Raanana, has been reaching out to needy families and individuals for the past 14 years. Together with a willing band of volunteers, Madeleine ensures that the needy in the community receive food packages for Chagim and cooked meals for Shabbat. For many years she has been helping about 25 families from the Haredi community in B'nai Brak, Kiryat Sefer, Ramat Beit Shemesh and Afula with toys, baby clothing and women's clothing. This past Chanukah she distributed gifts to 50 children.
At the height of the COVID‑19 lockdown, she initiated the "Shabbat of Flowers", in which she gave a bunch of flowers for Shabbat to families who had never received a flower in their lives.
"There were tears of joy, because up until then just being able to feed their families was their main concern. The flowers showed they were loved as well," Madeleine explained.
For Pesach this year, each family received five bags of groceries worth more than NIS500.00. Each color-coded bag contained chickens, eggs, matzoth, fruit and vegetables, chocolate, jam, biscuits, plus NIS100 vouchers for dairy products – with the table mats adding an even more festive tone.
Close to 200 handcrafted table mats – a pair in each parcel – were distributed with the packages. The mats, actually "mini-quilts", were created by quilters recruited by Marlyn Butchins, who put out the word to her quilting circle. The project went viral and the goal of 196 mats was soon reached.
"This is what quilters the world over do, "Marlyn commented. "They love to be involved in projects to help the less fortunate. This one was a perfect match."
Madeleine is a junior high school remedial teacher by profession, and runs a clinic to meet the challenges of dyslexia, ADHD and other learning issues. From 1992 to 2007, she also ran an ESRA Support Group for parents of children with mild learning disabilities.
Madeleine named the project after her late husband Ray, who died of cancer in 2006.
"He was a man of smiles and a friend to all: he only wanted good for everyone. This project is a tribute to him, reflecting his desire for Chesed – giving to others," Madeleine added.
Madeleine runs the project with the help of a friend and colleague Asher Azoulay, a coordinator of academic projects and a junior high school teacher of "Tanach" and "Tarbut Israel" in Bat Yam. The recipients find her through word-of-mouth, through social workers who identify needy families, while the Shabbat project is run in collaboration with a Raanana synagogue.
She uses a WhatsApp group of women from the Chesed organization who donate food or cook for families. For her Pesach project, she enlisted 21 drivers to deliver packages to recipients, apart from the 15 volunteers who helped her pack the parcels. Her Shabbat group consists of 15 active women.
Madeleine coordinates everything, purchases the food herself, delivers Shabbat parcels on her own, seeks out donations and helpers using her personal Facebook page and WhatsApp groups. Her greengrocer in Kiryat Sharet donates fruit and vegetables at the end of the day every Friday; she receives challot and pastries from a French patisserie in Raanana, and often shares excess produce with another similar group in Raanana.
"Sometimes it's sheer luck," she relates. "Recently I was in the grocery store buying fruit and veg for one of the families. When I came to pay, the owner started telling a husband and wife in the queue what I was doing. The husband spontaneously offered to pay the bill. "That's Chesed," she said.
Why does she take this enormous responsibility and intensive work on her own shoulders?
"I've been a volunteer all my life. It's what I do. The families I help have fallen through the cracks. They just have nowhere else to turn. Poverty has no creed, no race, no demographics. People need help and we try to help: it's that simple."
Comments
No comments made yet. Be the first to submit a comment