Pottering Around in London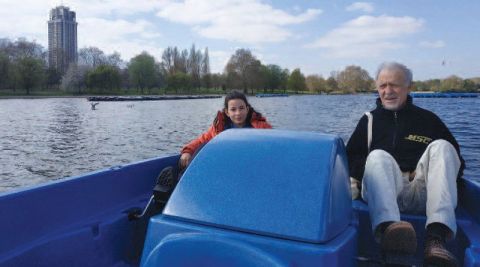 Barmitzvah treat for grandson
Some months ago Yirmy turned 13, and Ruti (his grandmother) is planning to take him on a short visit to London. Yirmy has been to quite a few places in his young life, having travelled with his family (mother, father, a younger brother and two older sisters) since the age of 4. Amongst other places, he has been to Sinai, Portugal, France and even India. London (my favorite city) is one of those places he still has to see.
Grandma buys him a London guide book (in Hebrew of course). We enquire a few weeks later and find out that he has read through the book about five times, deciding on a few museums (Natural History, Science Museum, and the British Museum – among others) that he wants to see; twice we visited the Natural History Museum, with its skeleton of the largest mammal that ever lived hanging above us – the blue whale (still around today). We also got to the Serpentine Gallery – after a bout of rowing on the lake.
By mid-April it had warmed up a little in London - 8/9 degrees during the day.
We stayed in Kilburn High Road, a good (but not central) place: small, but the rooms are well planned out – each being part of the other – and one doesn't really feel crowded. There is a view from our windows of a tremendous green space, and every morning we see people, young and old, running, walking or exercising around it. Once morning we see a jackal stuck on a rooftop of a nearby building – but he must have found some sort of way out, because when I next looked he had vanished.
Rather late each morning (my fault) we open the front door of the building and begin walking – and we walk, and walk, and … That first day we find ourselves in Abbey Road (it's a long road), and I'm sure you know where we are aiming for.
There aren't many high buildings in London (something I like), and we see a lot of one or two-storey buildings built in the "old style" – with dark wooden beams embedded in the thick white-washed walls, and inverted red "v" roofs.

On another day we catch the 98 bus into town. It is three and half miles to Oxford Circus, and here we walk past interesting shops. There are unusual buildings, and we also discover the Islamic Centre, where food and drink are being given out. We gratefully accept their offer.
Whenever we need to ask directions, there is always someone available – besides officials – who are only too willing to pull out their guide-books (usually not necessary). They include immigrants, mainly from India and the Arab countries, who kindly stop to share their knowledge of the city.
Besides the London Underground, there is also an "overground" – these are trains which run along the high ground (with a view of the surroundings). And there is the efficient double-decker bus service.
One evening we spend a "must go to" musical evening at St. Martin in the Fields. First we descend to the crypt, which has become a restaurant, where we have a good meal. Then, once upstairs, we sit in our pew and listen to three Brandenburg concertos. However, be warned that those long wooden benches are not considered as being part of the church after 6:30 pm, but belong to whoever rents the building for the musical evenings. So Yirmy, who thought he would change seats to an empty bit of bench nearby, was firmly told to return to his place.
Other dismays! Big Ben is undergoing renovations and is mainly closed off to viewing ("for a few years only"). The British Museum's temporary exhibition about Japan – Samurai – is closed for the few days we are there. The tours of the Albert Hall have been temporarily closed, and the old musical instruments museum has been demolished. "In a few months we will be reopening", we are assured. Meanwhile, the Westminster Abbey building closes at 3:30 pm, and we're way past the time. The doors are locked. Ditto with St. Paul's Cathedral, which closes at 4 pm. Oi vey!
So instead we make do with Buckingham Palace, and pedaling a boat on the Serpentine. Yirmy proves that he is not only good at mental but also physical activity. He is a young man who becomes totally immersed in everything he sees, and we have to be on our toes to ensure that he doesn't go wandering off on his own. The streets of London are, as usual, crowded.
Other places we go to: Hyde Park and Kensington Gardens; St. James Park, with its cheeky squirrels, plus birds and colored spring flowers. Almost everywhere there are trees bearing the most beautifully-colored blossoms.
We walk through the city center and Oxford Street, pass Piccadilly Circus, and then pop into Hamleys (a tradition with me), probably the world's biggest toyshop.
One day we travel in the opposite direction, to Camden Market. This proves to be an amazing "city" (both indoors and out) of shops, stalls, places to eat and sit, plus which we have our first taste of rain. Fortunately, we came prepared: I sit outside at a small table, chewing waffles coated with chocolate, while holding an umbrella over my head.
Still later we catch the tube to London Bridge, walk along the Thames until we reach the Globe Theatre, where we go on a tour of the Wooden O of Shakespeare's plays; unfortunately, the guide ignores this most important writer of "theirs" and he isn't even mentioned.
On our last evening in London we buy fish and chips, which we take "home", and here we celebrate the end of a really packed holiday.
It was only six days but we appreciated coming back to Israel to rest.
Comments
No comments made yet. Be the first to submit a comment