Personal Scrapbooks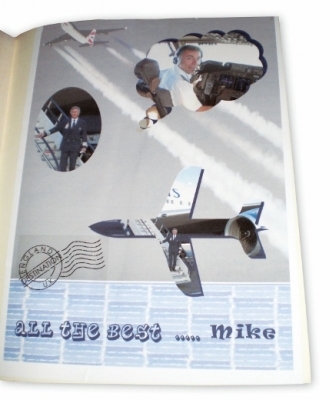 Corinne Harris was out of work and short of money when her brother David celebrated his 50th birthday in November 2006. "I was desperate to give him a special present, but I couldn't afford very much. Then suddenly I had the idea of making a personal scrapbook of his life." She worked on the project for two months and surprised him with it at his birthday party. My tough brother, who came on aliyah on his own when he was 17 and spent his working life at the Ministry of Defense, shed tears of emotion when he looked through the book."
The scrapbook generated a lot of interest among guests at the party and Corinne began to think about ways of developing the idea as a business. She put a posting on the Raanana list (a local Yahoo group) and immediately received a commission to produce a similar 50th birthday gift. Several more commissions followed and she now has an impressive portfolio of albums she has created for birthdays, anniversaries, bar/batmitzvah celebrations and for business people on their retirement. What began as a one-off necessity six months ago, has turned into a burgeoning cottage industry for the English-born Corinne.
She begins her research for each project by speaking to family members, friends and colleagues in order to build up an understanding of the person whose life she is about to represent in a scrapbook. "I have composed a questionnaire to elicit details, such as pet likes and dislikes, hobbies and any other information particular to that person so I can really get under his or her skin. One individual was a Scrabble addict who collected apple-related keepsakes, so those were themes that ran through her book."
Corrine scours reference books, newspapers, magazines and the internet for appropriate illustrative material, sayings and quotations to include in the scrapbook, in addition to looking through family memorabilia. "It's amazing how many people have photos stashed away in boxes, undated and unsorted," she notes. "I'm often told that a by-product of commissioning me to produce a scrapbook is that it provides a good excuse to sort things out."
The scrapbooks range in size and take between two weeks and a month to produce. Sometimes clients provide their own book for her to fill, such as the exquisite pink leather album provided by the parents of a Bat Mitzvah girl in Corinne's native London. In that instance, all the photographs and messages were sent to her by email. She also produces montages and collages for special occasions.
The scrapbook is usually a surprise gift and Corinne recommends that the recipient should open it immediately in front of the people who commissioned it. "Recently I made a scrapbook for a long-serving British Airways executive. Her colleagues wrapped it up beautifully but when they presented it to her she was embarrassed and decided that good manners dictated that she should open her gift at home in private. This defeated the object somewhat as the whole project is for everyone to see the surprise and emotion that each recipient experiences while looking through the album."
There have been two exceptions to the surprise rule so far. When Corinne's twin nieces saw the scrapbook that she produced for their father David's 50th birthday, the each commissioned a personal album from her. "That was a real labor of love," she quips.
Comments
No comments made yet. Be the first to submit a comment