Outstanding Results for Bagrut Students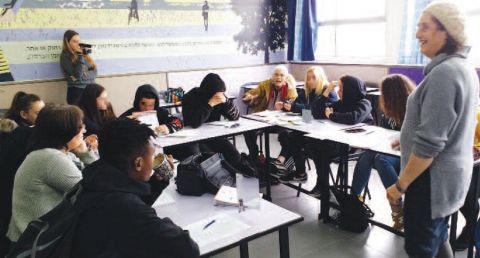 By Harry Hiller and Sandra Simenhoz
Kfar HaNoar, a religious youth village, was established in 1937 and is adjacent to Kfar Hassidim, near Tivon in Northern Israel. Among the founders of the village are Dr. Aharon Brett, Henrietta Szold, and Avraham Eugen Michaelis, who then served as its first Director. The educational vision of the village is Torah and Labor. Today the village teaches about 350 pupils, some in boarding school, and some external students.
The students are of Ethiopian, Russian and French origin, as well as native Israelis and some recently arrived immigrants from the Bnei Menashe community in India.
The ESRA Haifa Branch, together with the Talia Trust, are working together on a project to help the pupils with their studies towards the bagrut examinations. After assessments arranged through the Talia Trust, the selected pupils are then provided with a special private teacher, paid for with funds from ESRA Haifa. Next year will be the third year of this project, and so far the results achieved with this special help for the pupils have been outstanding.
Recently we visited the school and participated in one lesson. The 14 pupils, all in 10th grade, were sitting quietly and respectfully during the class, and working on an exercise given by the teacher.
The exercise was in Spatial Orientation, whereby students were requested to prop up a mirror perpendicular to the table and to a drawing of a 3D representation of a star. They were also required to hold up a card, so that the only way they could see the star was through the mirror. The students were asked to draw a line within the boundaries of the star only by looking at the image of the star through the mirror. This required re-orienting the brain into seeing a reverse image of the star. The teacher asked the students how they were able to do the exercise and elicited that what helped them the most was verbalizing, either out loud or to themselves what they needed to do.
During a short interval we conversed with the children. They all said how satisfied and grateful they were for the help they were getting from this ESRA project.
We were very impressed with the school, the classroom, the pupils and the special teacher. And the ESRA Haifa committee is very satisfied that the funds we collect at monthly meetings, outings and other events, are put to such good use in the education of our youth.
Comments
No comments made yet. Be the first to submit a comment