Once Upon a Time in the Galilee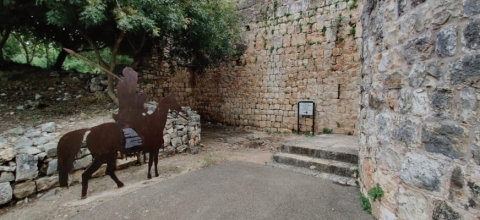 In the eighteenth century, there lived a Bedouin sheik named Daher el-Omar who had a vision of Moslems, Christians and Jews living together and prospering in the Galilee. He built churches in Nazareth and synagogues and houses of learning in Tiberias. He banned highway robbery and instead encouraged his people to farm and trade, to support themselves. He was so popular he declared himself the King of the Galilee.

So, how did I meet this Daher el-Omar?
Quite a few years ago, when my husband and I were hiking in the Galilee, we came upon this old Crusader fortress in Kibbutz Yechiam. And we decided to go up and take a look. We bought our tickets, and received two little pamphlets with the history of the place.
To make this old site "come alive", the Antiquities Department had put up metal figurines of Bedouin, donkeys, etc. to give you an idea of what went on in this fortress during the Ottoman period. One of the figurines was a Bedouin sheik, named Daher el-Omar. He used this fortress as his military headquarters.
Daher el-Omar was responsible for building the ports of Acco and Haifa, and many serayas (castles) and protecting walls in Tiberias, Tzfat, Nazareth, Tzippori and other places in the Galilee. He had a lot of wives, many sons, and he even killed one of his brothers for getting in his way. He had a huge army which allowed him to conquer the Galilee.
But the real reason I love Daher el-Omar is because he was the first ruler to invite Jews to come back and settle the Holy Land in over 1200 years.
A swashbuckling military leader, he was a thorn in the side of the Ottomans, making them very unhappy. He bought weapons from pirates, and hired mercenaries to help him conquer the Galilee, while trying to push the Bedouin into the 18th century. He wanted the people of the Galilee to raise cotton and olive oil for export to France, so they wouldn't depend on stealing for their livelihood.
The Jews loved him, the Christians loved him, pirates loved him, and most of the Bedouin loved him. The only ones who didn't like him were the Ottomans. They suffered his presence in the Galilee, but when he began keeping the taxes he collected for his own empire and didn't pass them onto the Ottomans, they started to get annoyed. Especially the Pasha Suleiman, who was supposed to be in charge. History books report the Pasha Suleiman lay siege to Tiberias on a few occasions, demanding el-Omar's head. Each time Daher el-Omar was saved by external circumstances and emerged victorious.
There are letters that attest to the Jews of Tiberias declaring one of these victories a second Purim, because they were saved from the wicked Pasha.
I began writing about him while we walked around the fortress in the margins of the pamphlet they gave us. Daher el-Omar is a fascinating character in his own right. Tamar, the fictional Jewish protagonist I gave him, is his equal in daring, determination and chutzpah. I eventually filled five notebooks. The result of this labor of love is a 400-page novel called Galilee Gold – a novel by Susie Aziz Pam, now available on Amazon and Kindle
Comments
No comments made yet. Be the first to submit a comment