Of Friendship, Dinners and ESRA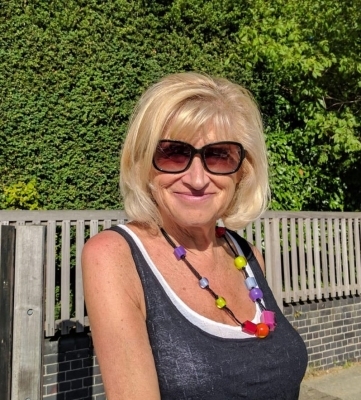 It was through my late husband, John, that I first met Judy and Stephen Samuel. John, an architect by profession, thought his days of architecture were over when coming to Israel to retire in 1998. However, he soon discovered there were many Anglos who had apartments and houses requiring renovation and remodeling. Judy and Stephen became clients of John and today they are dear friends.

Although based in London, Judy and Stephen spend many months in their Israeli home which they acquired in 2006 when their Israeli-based eldest daughter was expecting her first child. Recently a second daughter, with four children and a dog, decided to make Israel their home. No doubt we will be seeing more of the Samuels with two thirds of their family now in Israel.
What attracted Judy to ESRA? Without doubt it was ESRA's flagship project Students build a Community. The scheme enables carefully chosen students to receive rent-free accommodation (thanks to ESRA) in areas of severe deprivation, in exchange for mentoring the kids on the block.
Judy's late mother, as chair of a Youth Aliyah Committee, devoted her life to supporting Israeli youngsters with varied challenges; it was not surprising that when Judy and her brother Laurence decided to honor their mother's memory they chose to donate two scholarships to the SBC project, knowing that their mother would have been overjoyed to witness Israeli students (many of an Ethiopian background) who were the perfect role models for the youngsters they mentored.(See story on the "An evening to cherish")
Stephen too became closely connected with ESRA. How did this happen? He and Judy were at London's Covent Garden Opera House when they bumped into their longtime friend Richard Stein, a former chair and fundraising chair of ESRA. Richard interested Stephen in the possibility of starting a "Friends of ESRA" in the United Kingdom. Before long Stephen became both the Hon. Treasurer and Trustee of the UK fundraising arm of ESRA.
Fast forward a few years when the Samuels were at a dinner party in Herzliya, hosted by dear friends and neighbors (and amazing cooks) Barbara and John Nathan; seated around the table was another neighbor - Irene Gee - as well as Dena Laufer, chair of ESRA Herzliya. It was here that the idea of an ESRA cookery book was conceived. The conversation ran: "We are having a great time enjoying delicious food and wine - we are all good cooks - let's do something for ESRA; with our knowledge we can use our recipes and ask our friends (both in Israel and London) to help." Irene agreed to become Judy's co-editor and together they set out to find sponsors to cover the cost of the book, with Irene donating her "special birthday" gifts towards the sponsorship. As the total expenses in producing the book have been covered by the generous sponsors, every book sold means a 100% donation to ESRA.
Judy describes how the concept was launched: "It took place at our Herzliya home where we hosted some 40 guests. The 'price' for attending the evening was to bring samples of their signature recipes for possible inclusion in the forthcoming book."
What is so special about this new cookbook? "First and foremost it isn't just about food and the accompanying wine," says Judy. "This cookery book includes mouth-watering recipes for our vegan, vegetarian and gluten-sensitive friends, with a number of recipes giving alternatives to milk product ingredients for those who are lactose intolerant. Trends in healthy eating show a strong increase in the consumption of plant-based proteins replacing animal proteins."
ESRA's 2021 cookbook "Food, Wine and Company" is now available. It makes a great gift for friends and family especially at this time of the year. The most important point is that every copy sold results in a NIS 100 shekel donation to ESRA's Students build a Community project.
By purchasing a book you are contributing towards a better tomorrow for the youngsters benefitting from this project thus ensuring a better tomorrow for our beloved Israel.
To purchase your book contact Dena Laufer at This email address is being protected from spambots. You need JavaScript enabled to view it. or Brenda Katten at This email address is being protected from spambots. You need JavaScript enabled to view it.
Comments
No comments made yet. Be the first to submit a comment