Nat Shilco 1921 – 2010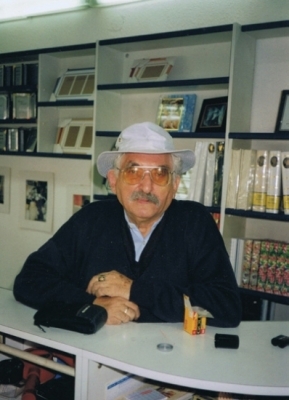 aprilEvery visit to Nat Shilco's Raanana workroom encompassed far more than the garment alteration that had ostensibly brought you there. Clients usually had to set aside some extra time when they came to be measured and fitted because they would invariably be treated to fascinating reminiscences about life in pre-war northern England and the Far East in World War Two, anecdotes culled from the many years he worked as a tailor, and then, just as you were leaving, he'd tell you a couple of jokes.

Nat was born in Manchester in 1921 and grew up in Waterloo Road. He was very active in the Jewish Lads' and Girls' Brigade youth movement and was a talented table tennis player. Like so many boys of his generation he left school at 14 to start work - in his case alongside his father who was a bespoke tailor. Nat volunteered for the Royal Air Force in 1940 and was posted to India and Ceylon (now Sri Lanka). The war years broadened his experience of life by taking him away from the narrow world of northern England to faraway, more exotic places. Apart from the war years, he worked continuously as a tailor until the age of 87. Incredibly, this included more than twenty years spent working in Israel after he made aliyah.
He married Freda in 1951 and they lived in Prestwich with their two children, Phil and Ann. Nat now had his own workroom in Thomas Street where he made suits, did the alterations for many of Manchester's major stores, and altered stage outfits for actors who appeared in local theatre productions. Private customers for whom he altered suits to fit included the Chief Constable of Manchester, the British Ryder Cup team, and Manchester United football club. He also made Purim costumes for the local Jewish community, something he continued to do when he came to Raanana.
Phil made aliyah in 1976, followed by Ann who came to Israel with her husband, Colin Marks, and their three children in 1986. Freda and Nat decided to sell the business and move here as well, settling in Raanana in September 1986. Nat decided from the outset to carry on working in Israel, so he went straight to the Hamashbir store in Herzliya and asked if a tailor was needed. He worked there for two years. He then worked for several years in Nati's men's store in Ramat Gan.
Eventually Nat decided to set up a workroom in his apartment and concentrate on his growing private clientele. His workroom was a treasure trove of cotton reels, needles, thimbles and assorted materials. He was still able to thread cotton into the tiniest of needles without his glasses when he was already well into his 80s. He loved his work and it was a hugely important part of his life. He believed he had the perfect profession: in good times people would bring their new clothes for alteration; in more difficult times they would ask him to alter and remodel their old clothes. No job was ever too big or too small and he usually found an ingenious solution to everything. He even managed to repair the leather straps on my sandals – something the local shoemaker had been unable to do.
He was a proud member of the Association of Jewish Ex-Servicemen and Women (AJEX) and attended Remembrance Day services each November in the British military cemetery in Ramle. He enjoyed recounting how he was now helping Israel's armed forces when he was called upon to alter the uniforms of new IDF recruits.
I was always impressed at how Nat and Freda had adapted themselves to their new life in Israel. They took great pleasure in their children, grandchildren and great-grandchildren. I last saw Nat in December at the wedding of his grandson, Dov. Although by then very frail, he was as convivial as ever and it was wonderful that he was able to be there.
Nat came to Israel knowing hardly anyone, yet thanks to his work he came to know countless people from all walks of life. Those same people will miss him and will always remember him with much affection.
Comments
No comments made yet. Be the first to submit a comment