My Eye-Opening Visit to Dubai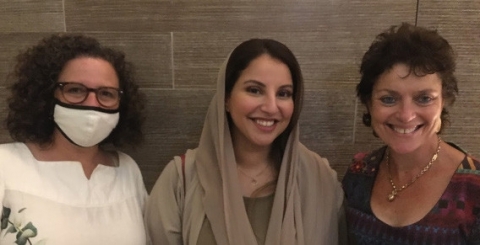 As a life coach and educator, I'm driven to explore every possible opportunity to talk to people, to connect with them and learn about them in their own environment. So when I was invited to Dubai in November 2020 to the opening of a photo exhibition of synagogues and other Jewish community sites around the Arab world, it didn't take long for me to accept the invitation.

From the moment I landed in Dubai, I felt a sense of inclusion. An Emirati gentleman offered to help install an app on my phone for me to scan the barcode to be tested for the coronavirus. This was my first opportunity to say salaam to a local. I was so excited. Not only had I come into the country with my Israeli passport instead of my Australian one, as would have been the case up until the new Abraham Accords were signed, but I was welcomed with genuine acceptance as an Israeli Jew.
Our tour guide on the first day explained about the Emirati traditions, culture and attitude towards people from all religions. He answered my many questions, for example, about intermarriage of Emiratis. There are very harsh consequences imposed in such situations, which happen rarely in the police state. However, he explained that people in Dubai are open-minded about many things, and that people from Abu Dhabi are stricter than Dubai in terms of tradition and clothing worn by women. I asked him about the blue Emirati gown he was wearing and he explained that he only wears it for work. He showed us many large billboards of Crown Prince Mohammed bin Zayed that demonstrate the respect, support and positivity that the locals have for their leaders. The Emiratis are law-abiding people, whether it is because there are cameras on every building, which brings a certain level of fear, or out of respect. There is decorum everywhere with little crime and poverty.
This was my first opportunity to really get a sense of how open-minded Emirates are from a male's point of view. As a tour guide, he had met people from all around the world, but had hardly met any Jews and was extremely excited to meet more Israelis after meeting us. He felt sincerely confident that Jews and Israelis will be welcomed, and said that he, in turn, cannot wait to come to Israel.
The Emirates have always been open to all religions and nationalities, because they have always been on the trade route of the world. The difference between the past display of acceptance towards Jews and that shown today is demonstrated by the mere fact that prior to the Abraham Accords, a religious kippa and tallit-wearing man would never display these garments publicly; they had to be hidden. Today, a kippa of any description and tallit are worn in public proudly with total acceptance from everyone around. This is unbelievable! I was told by a religious Israeli businessman that he can now sit at the breakfast table with an Emirati man, eat kosher food, recite grace after meals in front of him, and conduct a serious business meeting with respect and acceptance. This does not happen in many parts of the world today.
In contrast to the hatred we know of in the Arab world: war, fighting, competition, no tolerance, no conversation, and no acknowledgement, in Dubai we experienced a welcoming embrace, a warm smile, inclusion, cooperation, accepting attitudes, and good listening to all opinions and stories.
Our Kabbalat Shabbat prayers and dinner was the first large event catered by a new local Moroccan caterer, who has become kosher ‒ one of a number of kosher caterers that now exist to cope with the daily events such as Israeli groups of people coming for weddings and bar and bat mitzvot, and conferences of organizations such as Bank Leumi and El Al. It was held at the Renaissance Hotel so there would be enough space for the 50 guests to be comfortable. The community comprised of mainly expats; some special guests, including Rabbi Dr. Elie Abade, the chief rabbi of the community, and May Albadi, an Emirati woman who was so inspired by the Jews and Israel that she is now learning Hebrew, and hopes to work in the future at the UAE embassy to be opened in Israel. Dan Shaham, the first Israeli diplomat in the UAE, who has been working in Abu Dhabi for the International Renewable Energy Agency, spoke excitedly about his work in Dubai and the – literally ‒ wonderful energy he is feeling around him.
I was very moved by the Shabbat service, the number of women that attended, and the drasha (talk) delivered by the rabbi. Ross Kriel, the president of the Jewish Council of the Emirates, told us about the fast pace of growth in the Jewish community and the work that is being done and needs to be done to cope with this expansion. He announced that a new kindergarten and school will open, based on the design of one of the best schools in the world. He also declared that there is a complex being built in Abu Dhabi, for a synagogue, a mosque, and a church all on the same site, to be completed in 2022. All of this is truly unbelievable. I had to keep pinching myself that everything I was hearing and observing is actually happening.
It was particularly important for me to meet more locals. I found out that the city walk is the place to do exactly that. My first encounter was outside a perfume shop. As I turned around to exit the shop, I saw seven women dressed in the traditional black garb, with only their eyes revealed. "Saalam," I said quickly, after catching my breath, and asked if they normally come to this shop, which led into a conversation, where we introduced ourselves as me being from Israel and them from Abu Dhabi. That was powerful and somewhat out of my comfort zone. However, this gave me the confidence to then find a well-known restaurant where the locals hang out: The Secret Garden. This was an amazing experience. As I took photos around the room of all the flowers, I noticed the hands of one of three young Emirati women sitting together, deep in conversation. Her arms and hands were covered in Henna. I had never seen such detailed Henna. I asked if I would be able to take a photo of her arms, and the lady kindly agreed.
This photo moment was the beginning of a two-and-a-half-hour conversation between us. These women, Amna, Mariam and Rabha, all dressed in the traditional garb, invited my husband Harvey and me to sit and have coffee and cake with them. Our conversation was enlightening both for us Jews and for them. Until meeting us, they had never met a Jew or an Israeli. We learnt so much from these three open-minded, intelligent, 30 to 38-year-old single women. They all live at home, and are either studying at university or working. They were very honest with us about the lives they lead, how their families accept them as being more modern and less traditional than them. We all felt extremely comfortable with one another. In fact, Rabha said that she felt like she had known me for years. There was total comfort between two religions. We invited them to our home for Shabbat dinner and they promised to come to Israel when corona will be under control. This was the direct type of encounter I had been hoping for.
I decided to do something else out of my comfort zone. First I drove an all-terrain vehicle on the clean, wild sand dunes. I had the entire area to myself as I sped up, down and around, totally in control. Then I went sand surfing down the steep dune, also on my own. It was thrilling. After that I had a different type of ride – on a camel. Most people continue their desert experience in a tent where the locals prepare food and a show. My second breathtaking experience was having a helmet on my head attached to an oxygen tank that allowed me to go to the bottom of the largest aquarium in the world (it is the size of four Olympic swimming pools and utterly magnificent). As I walked on the bottom I had sharks, stingrays and every spectacular fish in the world swimming around me.
The Rebuilding Abraham's Tent: Historic kinship, future alliances event in Dubai at the Crossroads of Civilizations Museum was an unforgettable evening. The warmth and excitement was felt by everyone. H.E. Ahmed Obaid al Mansoori, the founder of the museum, set the tone, and the mutually respectful atmosphere amongst the many distinguished Israeli and Emirati officials was palpable. The first guest speaker was the Deputy Mayor of Jerusalem, Fleur Hassan-Nahoum, who referred to the common heritage of our two peoples. This monumental event has hopefully initiated a new relationship between Israelis and Arabs. The highlight was the announcement of the plan to open the Heritage Center for Middle East and North African Jewry, to be built in Jerusalem, which will document the history of Jews in Arab countries. This is the first time an Arab country has acknowledged the Jews who were expelled.
I have never had such hope for future generations and the fulfillment of friendship between Arabs and Israelis. I returned home to Israel elated. I met wonderful people who are making great changes in our world, and I'm grateful that I had the privilege to witness and hear about such outstanding progress in the Arab world between Jews and citizens of the UAE.
Comments
No comments made yet. Be the first to submit a comment