Meet the Jerusalem African Community Center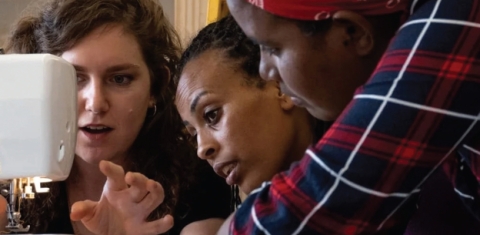 By Ma'ayan Rubin and Omer Tadmor
Translated from Hebrew by Norman Silbert
About 3,500 asylum seekers from Eritrea, Sudan and Ethiopia currently live in Jerusalem. The Jerusalem African Community Center (JACC) is the only organization for asylum seekers and stateless persons in the city that offers humanitarian, educational, employment and financial assistance to the community's families, adults and children. Many receive no state assistance. The aim of JACC is to serve as a hub for members of the community who are in distress. Since they hold temporary residence visas, based on psychological or societal profiles following migration and PTSD, JACC tries to assist them to cope and to provide access to information that could help minimize or treat the symptoms as far as possible. This article outlines the organization's work in Jerusalem and demonstrates its philosophy through the presentation of real cases.

JACC Activities
As an alternative to welfare or national insurance services, which are not available to either holders of temporary residence visas or asylum seekers, JACC provides assistance in two key areas: utilizing available rights, and addressing psychosocial situations. The first assists asylum seekers with issues concerning employment, health and residence status. (There are several categories of residence visas based on the circumstances surrounding arrival in Israel; each category is associated with different rights and each is valid for a different duration.)The second provides emotional and practical support (food, money, milk substitutes for babies and diapers) to both individuals and groups.
In addition, JACC provides training for adults, allowing them to widen their employment possibilities. Some of the areas covered by the training include language and computer skills, carpentry, sewing and hairdressing. In cooperation with the Jerusalem municipality, JACC also runs a youth club and learning center. The learning center recognizes that the pupils' parents have poor Hebrew language skills and so provides the children with assistance in understanding and preparing homework, remedial teachers, emotional support and even a hot meal since most of the parents work at more than one job and are away from home much of the time. There are also additional projects available to the children of the community. One of our key initiatives is the orchestra, where they are taught to play string instruments by student volunteers from the Jerusalem Academy of Music and Dance.
A day in the life of JACC

To capture the spirit of JACC we have chosen to present two examples of what we do. One describes our work with the individual, and the other with the community and the public.
"Jennifer": A few months ago, a woman in the advanced stages of her pregnancy arrived unexpectedly at my office carrying a small suitcase, on her way to give birth by C-section at a hospital in Jerusalem. She came to JACC because there was no one to accompany her to the hospital since her partner had been diagnosed with Corona and was at home taking care of their daughter. She realized she would be unable to negotiate the hospital bureaucracy because her Hebrew was poor. One of the women of the JACC team immediately left the meeting, accompanied her to the hospital and assisted her to have a safe birth by ensuring she had the appropriate medical care.
Asylum seekers: JACC also works toward improving the quality of life for asylum seekers in general. For example, in the early days of Corona, asylum seekers experienced problems in obtaining a Green Pass, even after having been vaccinated. This was the result of a technical problem caused by the fact that they held residence visas and not ID cards.In order to solve the problem, the JACC department responsible for asylum seekers' rights worked tirelessly for several months together with MDA (one of the bodies providing vaccination services) in representing the asylum seekers during negotiations with the Health Ministry. As a result, many of them were able to receive the documents they were entitled to, thus allowing them to resume as normal a life as possible within the restrictions imposed due to Corona.
Comments
No comments made yet. Be the first to submit a comment