Marilyn Ronen 1937-2019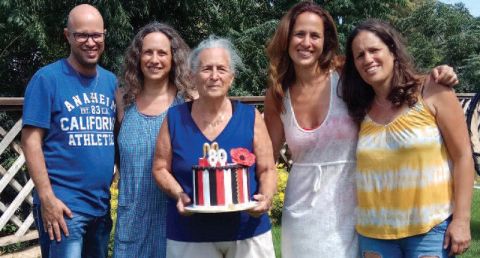 You were born in Brooklyn to Jack and Curlie who, unfortunately, I never knew. We saw many photographs, and even movie clips, of your childhood; a sweet, beautiful child, dancing with a hula-hoop in the garden; a little girl standing with a huge dog on her right and a small dog to her left. Your love for dogs almost certainly started at a young age. There was also a movie with your father climbing out the river near your summer house after a quick dip. Once, when you came to visit me while I was living in the US, we took a trip to see this enchanted place which you used to go to every summer. Far from the city, surrounded by nature … in fact, so was the whole of New Jersey.
In time, the area became a trailer park, but in the eyes of a child it remained a magical place where you had fun with your cousins. You told us that you, your parents and your cousins used to go to the same place every summer. Every family had its own house. Some of the parents would go to work in the city every morning while others remained with the children. But, it was chiefly all about having fun with your cousins in a place where there was a grassy field (for playing baseball, obviously) and a river nearby where you went to escape from the heat. Once, that was all children needed to have fun.
Your cousins were almost like brothers and sisters to you, possibly because you were an only child. We also knew your cousins and they were the only glimpse we ever had into your life at that time, because you didn't talk much about it. You also never talked about what it was like growing up in your parents' home. We should have asked more, but it was something we never spoke about at home; perhaps because that period ended so tragically. When you were 16 or 17 your mother died, and a few years later, your father.
You continued your studies and worked as a teacher in the US. However, when you were a little over twenty, you decided you wanted to spend time traveling the world. You told us the place you most wanted to visit was Japan. But the tour was already full so you joined a tour to Israel. After the first trip, you returned to the US although soon afterward you decided to make aliyah. You met my father and began a family. I am sure it was not easy in Israel – certainly not in the beginning. Who wants to be an immigrant who barely speaks the language and doesn't understand the mentality? But, in time, Israel became your home. More than once you told me that, at first, your cousins asked why you didn't go home to the US and you would say irritably: "What is it with them? There's nothing for me in the US. My home is here now."
Having a large family was important to you, a real family - and here we are, four siblings. We were all very close and as a child I always had the feeling of 'us against the whole world.'
We have lived in many places all over the world and have been to the far-flung corners of the earth; a mother, father (not always) and four children. Not long ago, when we celebrated your eightieth birthday, we recalled some unforgettable stories from those trips: how we, a mother and four children, were stranded at the border between Zimbabwe and Zambia. After the taxi dropped us on one side of the border, we crossed the bridge on foot carrying our suitcases and the African policeman on the other side told us, "Yes, your hotel is not far, only a few kilometers. You can walk there!" What were a mother and four children with their luggage supposed to do with that piece of information? We really saw the world and experienced a lot together, but in the end we always came home to Israel.
You never lost the adventure bug, neither while we were growing up nor after the divorce. You organized trips for your friends in ESRA as well as archeological trips. You were planning to go on a cruise with those friends next month, and even your last moments were on a trip with your family.
Our relationship was complex and we never actually spoke about it. However, lately I got the feeling that a light had begun shining through a crack in the wall. We recently had a chance to meet and talk more, especially when Omri was living with you. I was filled with amazement, not to mention shock, at how the path you had chosen was so far from that of a "classic grandmother" who cooks, feeds and fusses. In fact you were the exact opposite. Omri came to you at a good time. He came at a point when things were not easy and day after day I saw him getting stronger, coming out of his shell, starting to talk with you, and then, with everyone. I saw your calm and your belief that he would find his own way, and how that all helped him to recover. I will always remember that gift you gave me.
This is just another example of how, in your unique way, you touched us all. You raised a close family. We are all here today, your four children, their partners and nine grandchildren. We have all come to take our leave of you as you set out on your final journey.
Rest in peace. You are home.
Translated from the Hebrew by Norman Silbert
Comments
No comments made yet. Be the first to submit a comment