Let's Go Shuking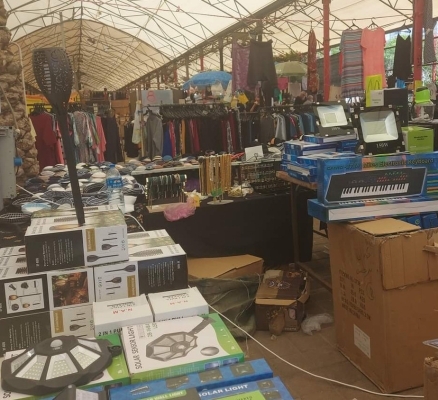 Confession...I hate Israeli shopping malls.
(Actually, I abhor malls abroad too, so my distaste is hardly surprising.)
Cookie-cutter replicas of each other - if you've seen one branch of Fox, McDonald's or Laline, you've seen them all. There's little I resent more than being forced to trawl these concrete hamster-wheels, and I actually enjoyed COVID-times, when only supermarkets and pharmacies remained open.
Israeli shuks, however, first captured my heart when I pounded Tel Aviv pavements as a passionately Zionistic teenager, and these remain my shopping destination of choice.
Unlike the seemingly cloned 'kanyonim', every shuk has its own, entirely unique personality, with Rosh Ha'ayin shuk taking the title of my all-time favorite shuking experience.
Situated in the industrial node of the city, nestled between the highway and a largely religious Yemenite neighborhood, this colorful outdoor market is unashamedly brash and entirely timeless.
While both Tel Aviv's Shuk HaCarmel and Jerusalem's Machaneh Yehuda now boast sushi stations and gourmet cheese shops, trendy pubs, upscale coffee stands, and designer homeware, Rosh Ha'ayin Shuk resists all attempts at gentrification.
Oh how grateful I am for this.
Whenever I have a Friday morning free - the market is open only on Fridays till around 1.00 pm - I head east for my Rosh Ha'ayin fix and occasionally act as tour guide to shell-shocked friends.
While shade-cloths and too-few water-forced fans are the only recent concession to ensuring shoppers' comfort, the shuk is still brutally hot in summer, and wet and muddy in winter.
I barely notice the weather.
Instead, I immerse myself in selecting the most beautiful costume jewelry from the long-haired stall owner who sells everything for NIS 3, and is always happy to engage in conversation.
I stock up on the most amazing dishwasher and microwave-safe storage containers available only here, and add yet another wooden board to my serving collection.
I pick up NIS 10 toys for our little granddaughter - on my last visit I found a battery-operated pigeon that took precedence over all her other, far more expensive birthday gifts - and chewy snacks for our granddog.
Unlike other, largely food-oriented shuks, Rosh Ha'ayin offers just a single row of fruit and vegetable stands, and I prefer it that way.
Instead of fresh produce which is freely available everywhere, the shuk is an Aladdin's Cave of shopping opportunities, delivering bed linen, handbags, footwear, underwear, cleaning materials, costume jewelery and scarves, cellphone accessories, hardware, make-up and more.
Overwhelmingly crowded when the weather isn't too harsh, I regularly suspect that I'm the only Anglo shopper amongst the hordes, but I feel entirely at home.
"How long have you had a stand here" I asked my favorite kitchen towel vendor who's easy to spot amidst the chaos as he always wears a faded, cowboy hat.
"You and I have grown up here," he responded with a broad smile.
And so we have.
Relationships at the shuk are that much more personal, and here too it differs from the predictable mall experience.
Just recently, I stood patiently in line waiting to pay at my regular nut and spice stand, only to hear the stall owner call out to me: "You've been coming here for how long....and you STILL haven't learned to push!"
I guess I wear my polite South African label on my forehead.
Next Friday, instead of yet another predictable mall excursion, embark on an unforgettable adventure.
The Rosh Ha'ayin shuk personifies all the reasons I made aliyah. I hope you too find true shuk-style love.


Comments
No comments made yet. Be the first to submit a comment