Kfar Saba Pride House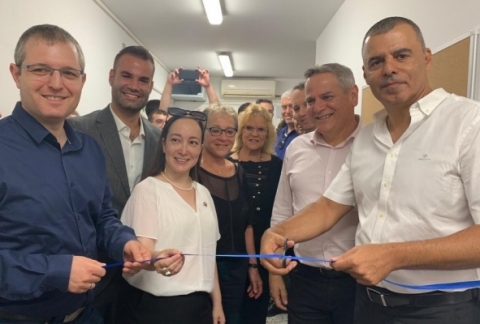 Kfar Saba's Pride House, the first in the Sharon to serve as a center for LGBTQ activities, was formally opened in a festive ceremony, recently during the International Pride Month.

The ceremony was attended by a host of officials, including Minister of Health Nitzan Horowitz, MK Yorai Lahav-Hertzano, MK Gilad Kariv, Kfar Saba Mayor Rafi Saar, Kfar Saba Deputy Mayor Ilai Hasgor Hendin, City Council Member Plia Kettner and Kfar Saba Pride Forum heads Rachel Boaz and Lee Yam Gabai. Also present were LGBTQ members from all over the country.
What is the connection to ESRA?
The shelter, where the center opened, has been ESRA Kfar Saba's home for many years where it held regular activities, a lending library and in recent years, the office of ESRA Magazine volunteer administrator Neville Friedland. Now, thanks to ESRA, Kfar Saba's Pride House is to share the space, an attractive and tastefully renovated quarters, on Nachshon Street in Kfar Saba.
As one speaker remarked, "A home gives security and a sense of belonging." This is as true for ESRA as it is for the new Pride House, and we in ESRA are pleased and proud to share our home.
Comments
No comments made yet. Be the first to submit a comment