How the Pandemic Stopped One Dream and Started Another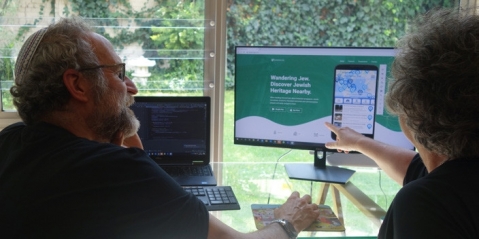 This is a story about how a trip to Australia, cancelled due to the pandemic, led to creating Wandering Jew - a Jewish heritage travel app.

My husband Mark and I retired at the beginning of last year. Our dream was to travel the world and our first destination was Australia. Upon arrival, we rented a campervan for six months. The plan was to do a big loop around the country, starting in Tasmania, an island in the south of Australia. We were on our way!
Three weeks into our trip, at the end of March, we woke up to see the news headline, "Tourists, out!" Due to the Covid pandemic, the Governor of Tasmania declared that tourists were no longer welcome and had 48 hours to leave the island. At that point we realized we needed to go back home to Israel. Most airports were already locked down and returning from Australia was an adventure in itself (and not the fun kind). After several stressful days and nights, we ended up coming back to Israel on the historic El Al rescue flight directly from Melbourne to Tel Aviv. (That's a whole other story.)
Once back home, we eventually understood that we would not get back to Australia anytime soon – or anywhere else for that matter. To use our time productively, we started working on something we always wished we had when we were traveling: an easy way to find Jewish heritage sites anywhere in the world.
Wherever we travel, we like to seek out nearby synagogues, Jewish museums, cemeteries, and if there is one, a Holocaust memorial that we could visit and pay tribute to. Maybe you do the same.
Since Mark is a vegan, when we travel, we are also always searching for vegan restaurants. To find these, we use a smartphone app called "Happy Cow," which we highly recommend. Wherever we are, we go into the app, and it conveniently shows us all the nearby vegan restaurants.
This led us to ponder: What if there were a Happy Cow-type app for finding Jewish heritage sites? Instead of displaying restaurants, it would easily show the user the Jewish heritage sites in the area, no matter where one happened to be visiting around the world. So that was the start of the concept – having a mobile app that would help anyone easily locate the local Jewish sites they would like to visit. We rolled up our sleeves and got to work turning our vision into reality and created the travel app, "Wandering Jew."
A bit about us. Mark is a software engineer and I worked in the marketing department of a high-tech company. Between the two of us, we felt we had the skill sets needed to develop the app. Mark does the programming and I handle the content and marketing. I think I have the harder part of the job, and he thinks he does.
We started working on the app last June, in the midst of the Covid pandemic. As we worked on it and became more knowledgeable about what we were doing, we decided that the app should have three basic objectives: Locate, learn, and update.
How would you use the app to locate the heritage sites? The Wandering Jew app on your mobile phone automatically knows your location, so if you were in Budapest, for example, when you open the app, you would see all nearby Jewish heritage sites in Budapest, both on a map and in a list. If you were interested in visiting one of the places shown, the Take Me There-button would give you precise directions on how to get there. There are different options, including the ability to see additional sites that are off the beaten track and less well-known.
Once you select a site, the app provides links to relevant websites to learn more about the place. This supplemental information might include stories about the people who once lived there or videos from people who had visited the area previously. We spend hours researching each location, and the results of this effort are shown in an easy-to-use, organized manner.
The app also lets people add their own discoveries, which enriches the list of sites in the app. For example, a few summers ago while on a trip to France, we were walking around a beautiful small town, full of narrow lanes and stone houses. We spied a plaque on the side of a house that explained that the family who lived in this house had hid two Jewish families, and even included the names of the families and the dates. Due to their efforts, the two Jewish families survived the war. We looked at this plaque on a house in the middle of nowhere in a small town in southwest France – and history came alive. It is not something you would drive out of your way to see, but if you were in the area, you might like to know it is there and visit. The app makes it easy for anyone to add these places to the data.
We know it is important to keep the app vibrant, relevant, and expanding, and we expect that working on the app will keep us busy in our retirement years as we continuously add more countries. On our web site, wanderingjew.info, we update information about the app, including which countries are now available. The Android version is already on the Google Play Store and we are now working on the iPhone version. The app is available for everyone free of charge. If anyone would like to join our efforts, such as helping with internet research, supplying photos or verifying the GPS locations of the Jewish heritage sites, it would be greatly welcomed. We can be contacted through the website.
What does Wandering Jew mean to us personally? First, it gave us an opportunity to use the pandemic time productively – to turn lemons into lemonade, as they say. Second, in doing the research, we have learned so much more and even further strengthened our ties to our heritage. And finally, we hope we are leaving a legacy for our children and grandchildren – something that will live beyond us and continue to portray our strong connection to the Jewish people and its history.
Our dream is still to travel the world, which we hope to be able to do again soon. Next time, we plan to do it with the Wandering Jew app in-hand.
Comments
1 Very cool app that Lara and I look forward to using!!