How I Climbed Mount Kilimanjaro in My 7th Decade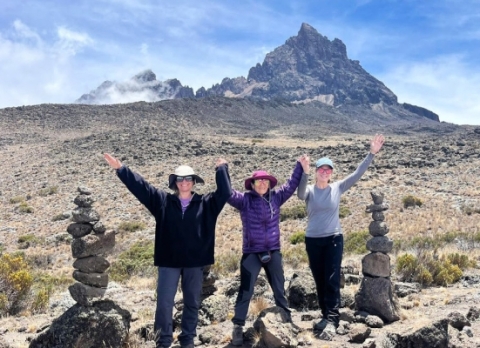 5,895 meters, 7 days, 75 years....
It's midnight, pitch black and well below freezing. The six of us are standing with our head flashlights on, waiting to start the final ascent to "The Big S", and I'm wondering – however did I get into this?

It started with an idle thought twenty years ago. I had seen a presentation by a couple of ESRA members who had attempted the climb up Mount Kilimanjaro, with only one succeeding. I didn't imagine in my wildest dreams that I would actually have the chance to do it myself.
I found myself talking to Perry Sugarman, of PJS Challenges, about the small Kosher groups that he leads and, after having received the encouragement of my husband and children, I jumped at the chance. When I began to tell my friends and more distant family, the opinion was approximately 50% that I was crazy!
Six months later, after scouring the hiking shops, climbing equipment websites and AliExpress to collect all the equipment I needed, and after being examined, prodded, certified fit and injected with a wide variety of vaccinations, I arrived at Ben Gurion airport with my backpack and vastly oversize travel bag. First mistake. Although arriving in plenty of time, due to the oversize luggage line taking almost two hours to drop off my bag, I had 30 minutes to catch my Ethiopian Airways flight to Addis Ababa. A quick wave to my husband, and I dashed to the security check and my boarding gate.
After a five-hour layover at Addis Ababa, it was onto Kilimanjaro International Airport in Tanzania. A 90-minute passage through immigration with very friendly staff and I met up with most of my fellow climbers and Perry, and we were off to the town of Moshi and the lodge where we would be based.
We settled in, and the following day met up for lunch and a very interesting talk by a local Rabbi who heads a congregation in the nearby town of Arusha. This was the last place I expected to find a local Jewish community, and it follows Yemenite traditions.
I had brought an awful lot of of equipment, as per the list plus, and Perry helped us all sort things out, preparing our backpacks, the bags the porters would carry for us (15 kg max), and the items we'd leave at the lodge for our return.
The next day, after breakfast, we travelled by minibus to Rongai Gate where we were to start our climb. On the way we stopped at the most amazing and colourful fruit market, presenting a great photo opportunity, then onward to the other side of Mount Kilimanjaro.
On arriving at the Rongai Gate, we met the 29 porters who would be escorting us almost up to the peak, and had a short briefing from Perry of what to expect during the seven-day climb. The porters would be climbing ahead of us, carrying our 15 kg bags. They would set up the camp and have a hot meal waiting for us. We also met Shimon, our Maskiach, who would ensure the kashrut of the dining tent and meals. I know, 29 porters may sound a lot, but each one had a job that would ensure our comfort, a safe climb and descent.
We set off on our first 9 km hike towards Simba Camp through easy Montane Forest, hoping to see a glance of some wildlife. They must have seen us coming, as after more than four hours we had only seen one monkey in the bush. The camp was already set up for us and we had great views over the Kenyan plains. I entered the tent and sleeping bag, pleased that I had ordered the optional camp bed with larger tent and didn't have to sleep on a mat on the floor.
We awoke to the sound of Felix, one of the porters, making a great impersonation of a cockerel, and a hot cup of tea in the tent, both becoming part of our morning routine for the whole climb. We were also provided with a bowl of warm water to wash in, but no showers for a week though.
A hot breakfast was served in the dining tent, then we set out on the day's 17 km climb across moorland towards Mawenzi Peak and onto Kikelawa Camp at 3,600 meters. The altitude was beginning to be felt now. I had taken altitude tablets at the beginning of the climb, and that certainly reduced the severity of altitude sickness. At Kikelawa camp everything was ready for us, including a hot nutritious meal, and we slept well.
After Felix's morning call and a good breakfast we set off at a slow pace, in a single line towards Mawenzi turn hut. We were climbing up through grassy slopes. It could best be described as a steady plod, because we had to conserve our energy as we scrambled up slopes and crossed a desert-like valley under the huge pointed rock formation of Mawenzi Peak. Fortunately, we didn't encounter snow or driving freezing rain, but it was beginning to get very cold as we climbed.
After we arrived we had lunch, rested, then came candle lighting and Kabbalat Shabbat followed by Friday night dinner in a tent perched on a high plateau on Mount Kilimanjaro, far from home.
Shabbat was spent resting, walking up to one of the lower peaks and looking at the amazing views, staring down at the clouds surrounding us that looked just like a snowy blanket as far as the eye could see.
The team of six, and Perry our leader, had really bonded by this time and we were really a mixed bunch. Elan and Sam were French/Israeli from Tel Aviv, Saul was Brit/Israeli from Raanana, Meredith and Joni from Connecticut, USA, and myself, another Brit/Israeli from Raanana. Our ages had a spread from 28 years to myself at 75 years.
We were at 4,330 meters now, and had one more day before we were to begin our midnight climb to the highest peak in Africa, Uhuru Peak, at 5,895 meters.
Sunday morning came, and we slowly climbed the final 8 km across alpine desert, and up to 4,695 meters, arriving at Kibo Huts, our starting point for the final ascent. Here we rested and made the final preparations after a short briefing by Perry. We had an early night and awoke at 11.00 pm, had a light meal and were ready to set off exactly at 12:00 pm midnight.
All of us had put on our warmest clothes, neck warmers, two pairs of gloves, thermal hats with head flashlights and especially thick summit jackets over as many layers as we could muster.
Kilimanjaro is a dormant volcano and we were going to climb Kibo Mount, then traverse the rim, slowly reaching higher points until we reached Uhuru Peak.
It was pitch black, and extremely cold. We all stood in a line with our head flashlights on, looking like a group of lost coal miners. Then we were off in a slow line following Julius the guide, our heads down against the cold and watching the boots of the person in front. Climbing over rocks and stones, we pushed on as we wanted to see the sunrise near the top. We had a few rest stops, then plodded on through the dark.
As we climbed, it slowly became lighter and we stopped near the rim to watch an amazing orange/red sun burst through the carpet of clouds on the horizon. Breathtaking is too mild a word. The warmth of the sun rejuvenated us, and after a rest, we continued on our climb.
We were so lucky that we didn't encounter snow storms or driving rain, but as it was, it was bitterly cold and we stopped regularly to recover from shortness of breath. When we stopped, we could wonder at the white fluffy blanket of clouds well below us, and stretching out towards the horizon was an amazing view of a huge square-edged glacier in the distance.
It was fully light when we arrived at our first summit point, Gilman's Point at 5,861 meters. After another two hours hiking we passed Stella Peak and finally reached our target of Uhuru Peak at 5,895 meters, the highest point in Africa.
After resting and taking a few photos, we began our descent on to the other side of Kilimanjaro. We climbed down to Kibo Huts for lunch, then on to Horombo Huts for dinner and overnight.
The following morning, the porters gave us a celebratory dance and said their farewells, then we carried on down to meet the truck that took us back to our lodge. The last ascent and descent had been 36 km of hard terrain up and down, so we were tired and desperately in need of a shower and change of clothes.
After freshening up, we gathered for a celebratory meal. The chef had made a special cake in my honor as the oldest member of the team. The cake had off-white icing and due to the lack of materials the message "Yvonne – 5896 meters – 75 years old" was written in ketchup! The following day I was taken to the airport and began my journey home with enough amazing memories to last a lifetime.
It was an amazing trip and I made some great friends. I cannot thank Perry Sugarman, of PJS Challenges, enough for an excellently organised adventure and for his great support. He tells me that he also leads groups to Mount Everest.
Comments
1 I so enjoyed reading your story, Yvonne. I remember you from Ranaana. What a great adventure! Well done!
I so enjoyed reading your story, Yvonne. I remember you from Ranaana. What a great adventure! Well done!