Gymnastic Great - Agnes Keleti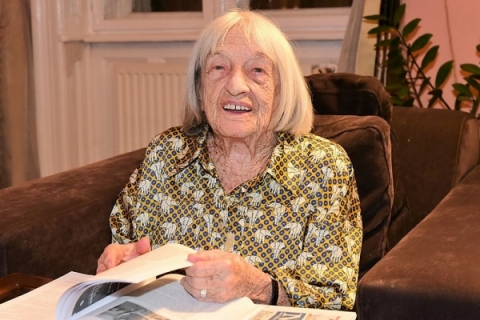 The following article was published in ESRA Magazine in April 2012 when Agnes Keleti was 91 years old. This year she celebrated her 100th birthday. She is now living in Budapest, Hungary and was featured in the Tokyo Olympics opening ceremony as the oldest living Olympian.
The Olympic Games will be held in London this year, 64 years since they were last staged there. Looking back with nostalgia on those Games of 1948 is Agnes Keleti of Herzliya - the most successful Jewish sportswoman ever and among the all-time greats in the history of world gymnastics.
Agnes celebrated her 91st birthday at the start of this year, at her home of 35 years in Herzliya Pituach. There, among dozens of other trophies, are ten Olympic medals, five of them gold, won by her when she was representing Hungary in the Games that were held in Helsinki and Melbourne in 1952 and 1956 respectively. Prior to that she was in London for the first postwar Olympics, and although she was the Hungarian national champion in gymnastics, she could not compete because of injury. After that disappointment, she swept all before her winning gold medals on the beam, parallel bars and floor exercises.
Agnes was one of two daughters born in Budapest to a well established family. At the age of four she showed an unusual talent as a gymnast, and started to train at the VAC Jewish Sport Club.
Her father, Ferencs Klein, was a keen mountain climber and rower. He encouraged his daughter's sporting activities, but it was her mother's influence that developed Agnes's intellectual pursuits. She was an outstanding student, a singer and a cellist - and she also learnt the fur trade.
She was saved from the mass deportation of Hungarian Jewry in 1944 by working as a household help in the countryside whilst holding false documents in the name Piroshka. Her father and other members of her family perished at Auschwitz, but her mother and sister Vera escaped with papers issued by Raoul Wallenberg, the Swedish diplomat in Budapest who rescued thousands of Jews.
After the war, Agnes returned to the beam and parallel bars and with hard training emerged stronger and more accomplished than ever. She became the oldest gymnast ever to win an Olympic medal, at the age of 31.
Whilst in Melbourne for the 1956 Olympic Games, the abortive Hungarian Uprising took place. She remained in Australia as did many other Hungarian athletes, and a year later came to Israel for the 5th Maccabiah Games where she met Robie Biro, a handsome physical training teacher of Hungarian background. They set up home together in Israel.
Not surprisingly, Agnes was offered a coaching job at the Wingate Institute of Sport, then in its infancy in Netanya, and she stayed there for 33 years. She also became the national team coach for Israel's gymnastic team.
Agnes and Robie had two sons, Danny, a university lecturer in finance, and Rafi, an internationally renowned fashion designer. Seven years ago, Robie collapsed and died while playing tennis at the Accadia courts.
Although now 91, Agnes is no slouch. Weather permitting, her morning swim covers 40 lengths in a 25 meter pool. No one seeing her striding out energetically in her daily two-hour walk will believe this lady to be anywhere near her real age. And when at the poolside she sees a young girl doing somersaults, she does not hesitate to correct her posture.
Agnes loves to travel. In Budapest they give her honors, but she is also no stranger in Paris, Rome, London, Rio de Janeiro or New York - places where she loves to roam around museums. In Israel, she has a subscription to Habimah.
"I love life. I make my own breakfast and I clean my own flat. I get to places on foot and I don't need a car. Moving is what keeps you young," says a wonderfully fit Agnes Keleti with a broad smile.
Comments
No comments made yet. Be the first to submit a comment