Gvahim - Get it Right in Israel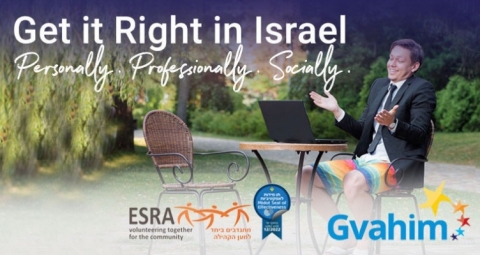 Remember when you made aliya and had to figure everything out on your own?
ESRA & Gvahim is a new and unique collaboration between two established NGOs that share the same values and commitment to aiding the integration of olim, encouraging aliyah, and providing olim with a single source for solutions to today's challenges. In short, ESRA & Gvahim are combining their complementary services, professional expertise, and resources, to offer a one-stop-shop with relevant opportunities and options ensuring that olim get on track and stay on track in their new home.
Anyone, from anywhere can enter the new ESRA & Gvahim website at a click, getitrightinisrael.org.il, to find opportunities for olim to engage with community life, broaden their social network, find career options and entrepreneurship, volunteering opportunities, and personal support.
Help share this initiative! Share and distribute to our fellow olim, to family and to friends here and abroad.
Comments
No comments made yet. Be the first to submit a comment