Golfer Mark Beats the Odds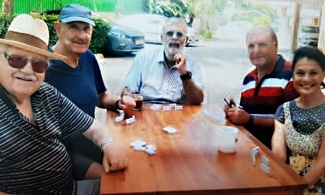 His work ethic culminated in a victorious triumph in the Ulster Boys Championship of 1966, with full international honors. By 1970, the Irish Amateur Close Championship invited Bloom to appear in this prestigious event. His golfing expertise propelled him to fame in golf circles, and his future looked promising as a noted professional in his field. At this same time, due to unforeseen events, Mark Bloom's life suddenly lay parallel to the mythological Icarus, who soared upward to the sun, only to discover that the harsh brightness of the blazing star had singed his wings, plummeting downward in a hapless realization of ruin.
During a practice session for a tournament, Mark's right hand became paralyzed with pain. On the advice of his colleagues, he let his arm rest, only to wake the next day with even more debilitating pain.
Fate was unbelievably harsh. Up until this pivotal point, he had made his way into the Irish International Golf Team, which cleared the way for viable hopes and dreams to pursue a career as a professional golfer.
As the proverbial saying goes, "Man plans and G-d laughs." It was soon to be a too familiar adage in Mark Bloom's life. Having to deal with a real handicap with his hand, he was involved in a car accident so horrific that he had to be pried from the crumpled mass of glass and metal, by "the jaws of life". His injuries were numerous, affecting both his hips and his neck, and he required a wheelchair to assist in his daily routine. The mental and physical pain weighed heavily on his mind and body. But it was not Mark's nature to wallow in self-pity. He immersed himself in the family business – the furrier trade. Up until this unfortunate turn of events, Mark's father was more like a brother to him. He was like a shadow, traveling with Mark on each of his tournaments, offering him morale, confidence and influence in the golf community. In fact, his father, being an avid golf enthusiast, co-founded with his son the prestigious Bloom Cup, to which Mark recently returned as Master of Ceremonies. His family legacy lives on, although the senior Bloom is gone.
Now it was Mark's turn to feel useful, to create a life beyond the years of grueling, painful physical therapy, to become a pillar to the family in times of success and failure, which ominously lurked just around the corner. The family enjoyed a few years of prosperity until the obliteration of the fur trade.
That was the era of Animal Rights Consciousness, and it spread internationally. No longer was owning a fur a sign of prestige and status; it was viewed as the product of indescribable horror and inhumane slaughtering conditions. In fact, an American TV personality led a band of anti-fur boycotters, unlawfully entered a prestigious Madison Avenue fur boutique, and spray-painted with red each of the store's premier furs. In a short time, Bloom's family fur business plummeted; not only his immediate family, but his aunt and uncle, who were co-founders of their fur enterprise, lost their two collective family homes, valuables and possessions; their only goal was to keep food on the table. If that were not enough to endure, Mark's mother, no stranger to schizophrenia, earnestly tried to commit suicide in three separate attempts. Within just three short months, he lost his father, aunt and uncle, for whose deaths he blames the stress and struggle to recapture some semblance of normal life. The trauma affected the family so deeply, they collectively died of a broken heart.
Mark was married at the time, but his then wife could not adjust to their new lifestyle. The constant tension of finances strained their marriage right into divorce. He has one son and two grandchildren.

A miracle fell from Heaven and landed in Mark's lap. And once again, this mortal Phoenix rose from the ashes and embraced a new, unexpected opportunity as a golf teacher. He became a qualified member of the European Golf Teachers' Association; and in the Dublin community, people remembered and respected the former golf protégé's rising success. As a golf teacher, Bloom garnered national acclaim. But through the astounding success of one of his students, Sebastian White, Mark Bloom once again gained international attention and press coverage. One of his younger students, twelve-year-old Sebastian White, from Edmondtown, made national headlines when he won forty-two points to win the Leinster section of the McGuirk Gold Junior Tournament. This was a proverbial feather in Bloom's golf cap, as mentor to the young winner. In fact, Bloom was more thrilled at Sebastian's Golf coup than the humble young winner seemed to be. White's victory seemed incredible, given that his first encounter with golf was playing with his aunt's golf clubs! Bloom was akin to a metaphysical cheerleader, sans pom-poms. He was thrilled to see the results of his patience, guidance and nurturing confidence. He provided his student with strategic tips, which he himself attributed to the generosity of fellow golf pros and colleagues he had trained with – names like Peter O'Connor, Martin O'Brien, Tom Craddock, David Sheahan, and Oliver Gough, to name a few. But the one consistent and amazing trait they all had in common, whether professional or amateur, was their willingness to treat him as an equal and share their own expertise with the then fledgling Mark Bloom.
Fast forward to Netanya, Israel. After attaining his license to teach golf, Bloom made aliyah in 2012, and based on his international reputation as both professional player and acclaimed teacher, he landed a job at the Israeli Golf Club in Gaash. The year at Gaash was not a pleasurable one for Mark; the owners seemed to be interested only in monetary numbers and had no interest or pride in the welfare of the sport. He then worked at the prestigious Wingate Sports Center, where he taught golf. But the management decided that it would be more economically feasible to rent the golf space out to motor bike events.
In 2015, Mark dejectedly returned to Ireland, as he didn't consider Israel could offer opportunities for a professional golf teacher such as himself. However, in 2018, the extreme cold, which affected his physical health, forced him to return to the milder temperatures and mostly sunny skies of Netanya, Israel.
It turned out to be a fortuitous move. While praying at a local synagogue, an elderly couple in their seventies approached Mark. She introduced herself as Nora Lelczuk Goldfinger. She and her husband are the founders of a nonprofit association, based in Buenos Aires, Argentina, where the couple reside. They have devised a highly successful Golf Therapy Program for people with special needs. Its special focus is children, as the couple have one daughter with Down's Syndrome. In a quote by Master Roberto De Vicenzo: "The progress achieved by these kids in golf is amazing; they spontaneously learn to execute swings by listening to music and singing songs (both created by the students themselves). I believe it is a brilliant teaching method, which gives, as a result, very precise shots." The Goldfingers had travelled all the way to Netanya, in recognition of Bloom's reputation as a prolific golf teacher, to join forces in a new enterprise, using this same model.
To date, there are four such schools in Argentina and two in Uruguay. And, with Mark Bloom's dedication, expertise, and relentless enthusiasm, a new golf therapy facility was launched on December 20th , together with a reception at its inauguration, with food, Irish music and very short speeches.
I don't remember how or when Mark came to play dominoes with us at the Nitza Street Café (with Uncle Earle, Heshy, Shimon, Michael, Frank, Ronnie and myself), and he became a regular. Our only rule for winning is that you must sing the first five words of any song before you lay the winning tile down, no repeats. If you can't think of one, then that's a penalty and you must pass. And Mark Bloom is a contender!
Although he presently lives alone in Hadera, he drives the distance to take his seat at the dominoes table almost every morning, with a smile that translates into: "Top of the mornin' to ya."
Comments
No comments made yet. Be the first to submit a comment