Get It Right in Israel – Personally, Professionally and Socially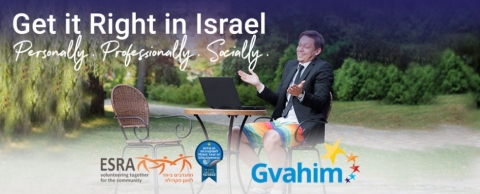 NEW for Olim: ESRA & Gvahim – Your go-to support in Israel!
A one-stop-shop offering community life, entrepreneurship and career options, volunteering opportunities, and personal support.
Day-to-day practical challenges and cultural differences make it difficult for English-speaking new olim to feel at home in Israel. The emotional challenges of acclimating and integrating into a new environment only exacerbate the problem. Today, with the challenges of COVID, these difficulties have significantly increased. Many English-speaking olim have lost their jobs and/or need to reinvent themselves while dealing with loneliness and social distancing.

The new ESRA and Gvahim website, getitrightinisrael.org.il, is a one-stop-shop, at a click from anywhere, where olim can find opportunities to engage with community life, broaden their social network, find entrepreneurship and career options, volunteering opportunities, and personal support.
ESRA & Gvahim is a new and unique collaboration between two established NGOs that share a commitment to aiding the integration of olim, encouraging aliyah, and providing olim with a single source for solutions to today's challenges. In short, ESRA & Gvahim are combining their complementary services, professional expertise, and resources to help olim "Get It Right in Israel – personally, professionally and socially."
Rooted in a strong tradition of volunteering and community work, ESRA and Gvahim share the same beliefs, values, and deep understanding of the challenges that come with making aliyah. Together, they offer a one-stop-shop providing relevant opportunities and options to ensure that olim can get on track and stay on track in their new home.
Sunny Marshansky, CEO of ESRA, explains: "When I made aliyah, I felt like a stranger here. We want to make sure that our olim have a better experience by providing relevant and useful solutions to help them establish themselves in Israel, personally, professionally and socially."
Juan Taifeld, CEO of Gvahim adds, "Our goal is to welcome our Olim home. Like a large family, we are united and share in our commitment to helping each Ole feel safe, secure, and right at home in Israel".
About Gvahim:
Gvahim is committed to encouraging aliyah, and to providing olim with the tools, advice, and guidance to manage their professional and business success, as well as their integration in Israel. Gvahim's career and entrepreneurial arms provide olim with lectures and workshops, ongoing mentorship, networking opportunities, alumni benefits, and more.
About ESRA:
ESRA, founded over 40 years ago with the aim of aiding integration of olim, is Israel's largest English speaking community network providing social and cultural activities, personal, financial, and emotional support, and opportunities to volunteer in the community, while running education and welfare projects in aid of weaker sectors of Israeli society.
Click here to visit our new website: getitrightinisrael.org.il
Comments
1 This is a fantastic newsletter— and an impressive organization!!!
The personal stories, combined with the organizational mission and its programs are both here, without boasting. Kol Hakavod! Heidi Goldsmith
This is a fantastic newsletter— and an impressive organization!!! The personal stories, combined with the organizational mission and its programs are both here, without boasting. Kol Hakavod! Heidi Goldsmith