Flood of the Century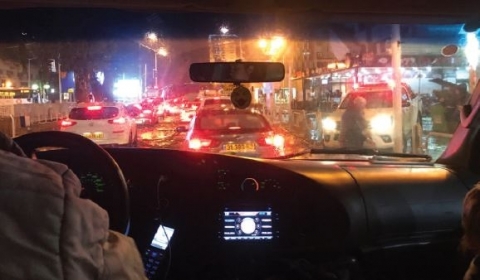 It is Sunday, January 5, 2020, around 20:00.
Returning from a late doctor's visit to Haifa, I am on the last train that would be allowed into Nahariya for some time.
It was raining steadily in Haifa and my backpack, filled with two sweaters I had purchased earlier, is soaked and heavy. Also, I have partial paralysis of the left leg so I have to use crutches, and on my right ankle is a fair-sized orthopedic device to assist my gait.
Upon arriving in Nahariya, as soon as I stepped outside the station, I saw one or two inches of rain on the ground and wondered where I could catch a taxi.
Suddenly I heard screams. I looked toward the Ga'aton River and saw a huge wall of water pour beach-ward from the highway intersection. People were screaming and scattering. I realized that I had to get out of there immediately. I recognized it was a flash flood, something I had only seen on TV or heard about.
At the same time the vision of drowning victims flashed before my eyes because, during my many years in the Emergency Room, I had the tragic misfortune of pronouncing the death of many victims who had drowned.
Instantly, I knew that I was in great peril.
The Ga'aton River is in the center of Nahariya and the main street, known as Ga'aton Boulevard, was built along the two banks of the river. The river is old and is mentioned in 2nd century rabbinic writings (Sifrei on Deuteronomy 11:24).
The city was built around it during the early 1900s as part of an agricultural venture.
As I stood in panic it was certain that I had to escape.
With great difficulty, I staggered away from the main street trying to calculate what to do. Hobbling as fast as I could, I wound around the back of the bus station and came to Herzl Street where I thought I would redirect. Just meters away I saw the cascading waters sweep away a young motorcycle rider.
I must continue backward! Somehow I managed to reach the back porch of the Penguin Restaurant, an establishment which fronts along the Ga'aton. The staff saw my obvious predicament and the appearance of a frightened old man; they quickly led me to comfort. A few calls were made, and an oversized van with huge tires pulled up. I was sort of lifted into it.
Sitting in the first of three rows of seats, I noted the driver's two teenage daughters, who were assisting with phone calls and signals. Over a forty-minute period, they would pick up and then drop off nearly a dozen people.
The various officers manning roadblocks and directing traffic would recognize the driver immediately, and quickly make way and assist him. Finally, I was dropped off at my home.
Over the next several days the rain and flooding continued with varying degrees of intensity. The news reports wound up stating that this was the worst flooding and storm series on record for 70 years; that would make it the flood of our century.
In the news, there was a lot of public anxiety and several deaths were the result of floodwaters, including that of a young hero who drowned attempting to pull someone from a submerged car.
In the middle of the week, returning from work, my wife's bus was marooned several kilometers from the drop-off point and a similar private rescue vehicle brought her home. As we followed the news and talked to people it became obvious that there is a large civilian volunteer force in Nahariya. They have no uniforms or titles but are equipped with experience, empathy, and skills.
Our neighbors seem well attuned to crisis; it is evident and one can easily presume that their military training contributes to their valor and abilities.
Comments
No comments made yet. Be the first to submit a comment