First Hebrish, now Fun-glish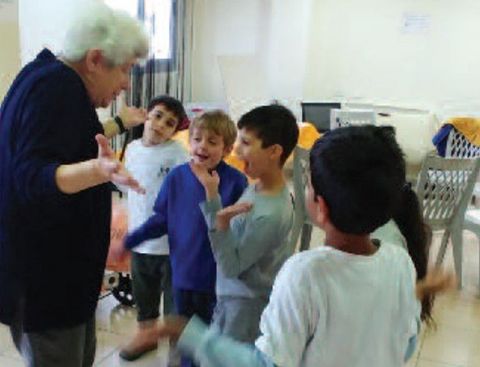 A common stumbling block among Anglo immigrants – whether new or veteran – is attaining proficiency in Hebrew. Many of us manage just enough over the years to be able to speak "Hebrish", a motley mix of Hebrew and English accompanied by avid hand movements to get our point across. Similarly, many Israelis from all walks of life speak a kind of "Engrew"; while they learn English in school, they don't have a chance to practice it (television programs and the hi-tech era notwithstanding) with the result that their staccato English is a sticking point.
ESRA's niche and strength, in addition to its broad volunteering programs, varied social activities and worthy projects around the country, is our mother-tongue, English. In keeping with the lofty ideals of ESRA to assist the Israeli community where needed and promote integration among immigrants and Israelis, we created our own kind of "English Ulpan" (boot on the other foot so to speak), but with a huge difference. We made it FUN TO LEARN English. (How wonderful if our Hebrew ulpans would do the same thing….)
The brainchild of creative English teacher, Sandra Apperman, and with some tweaking by yours truly, we introduced ESRA's "Fun-glish" to the community in Modiin in November 2017. Fun-glish offers participants the opportunity to learn the language through games, stories, drama, music and specific topics such as family, travel, nature and science. Everyone gets a chance to speak while others listen and absorb the language for an hour to an hour-and-a-half each week.
Fun-glish has proved to be an excellent educational and social activity tool. Many students, now in their second year, have gained confidence to speak a much-improved English without fear. Students ages run from 5-years to pensioners, and this year, 10 different classes are in progress (up from 6 last year) both in Modiin and in the surrounding towns.
Since the aim of the program is to improve the level of spoken English in a fun and enjoyable way, classes are "unorthodox" in both teaching method and delivery. All students participate actively, and enthusiastically endorse that ESRA's Fun-glish is indeed a FUN – and no less importantly – effective way to learn a language.
We have been approached by other communities in Israel wishing to adopt the program because it is truly a win-win situation that fulfills ESRA's ideals to promote integration and assist the needs in our communities, while raising important funds to support our welfare projects. At the same time, by providing an outstanding service to our community, we are also expanding membership to ESRA, since members receive a significant reduction in the cost of the eight-month program (NIS 500 as opposed to NIS 650).
For further information regarding Fun-glish, please contact

Sandra Apperman at This email address is being protected from spambots. You need JavaScript enabled to view it., 052 384 7983.
Comments
No comments made yet. Be the first to submit a comment