Extending the Hand of Friendship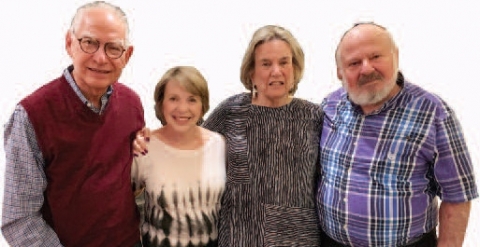 New friends are silver, old friends are gold. All of us have said it or heard it. Some of us may even believe it. I don't, anymore.

For the last three years I have been commuting between Israel and Chicago where my lady friend Judy lives. Other than my son Dan and his family I didn't know a soul in that city. But I have found that one can make good new friends at any age, even at mine, if only we try.
I met Ed in an adult education class called the African American Intellectual Tradition. In one of our classes Ed mentioned that he was originally from Boston. After class I approached him and told him that I too was from Boston. It turned out we had a lot in common. We were both graduates of Boston Latin School and chose to become "men of the cloth", I a Conservative rabbi and he a Protestant minister. Boston Latin School, because of its reputation and location, is known as a feeder school to Harvard College and I was one of the lucky ones to be accepted. Gingerly I asked Ed if he also attended the college that begins with the letter H. Yes, he answered, Howard, the country's foremost traditionally black university located in Washington, D.C. Ed lives in downtown Chicago and I live in the northernmost reaches of the city but we make it a point to meet over coffee once a month. A year ago Ed was our special guest in our congregation for Succot services. We are fortunate to have such a warm and lovely relationship.
I met Shlomo on my first Shabbat in Chicago. Shlomo was ordained at the Jewish Theological Seminary of America, as was I. A former rabbi of the congregation to which Judy and I belong, he and his wife Annabel are now honorary members there. When Shlomo heard that I was a JTS alumnus he took a special interest in me. He and Annabel kindly invited Judy and me to join their monthly chavurah, encouraged us to take part in the monthly Sunday afternoon meetings of the retired Chicago rabbis and their spouses, and introduced us to their many friends in the congregation. I like to joke that Shlomo and Annabel adopted us when we were old, but that is pretty much the case. They have become our closest friends in Chicago.
I met Stu, a retired political science professor, at another adult education class called Films and Aging. In discussion time Stu mentioned that he had a second home in Jerusalem. I turned around and whispered, "We have to talk". Stu met his wife Ora in Berkeley, California where they were both graduate students. Ora is a graduate of the Hebrew University who came to America to work on an advanced degree. The apartment in Jerusalem is Ora's inheritance from her parents. We have met for dinner in restaurants and at our home. I hope to continue this lovely friendship.
Friendships are formed in all kinds of ways. I was sure that finding new friends in a new city and at my age would be difficult. But it wasn't so. What I have learned is that one can find new friends at any age and, unexpectedly, those friends can seem like gold.
Comments
No comments made yet. Be the first to submit a comment