ESRA Is Getting Better all the Time!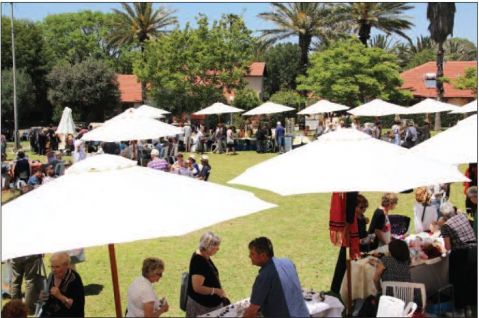 ESRA held its 40th Anniversary Celebration on 14th May. The event had been advertised as a "Spectacular Day Out"… and was it ever!

Held in the events garden of Kibbutz Shefayim, comfortably accommodating over 500 attendees, the expansive lawn was ringed by a wide array of wares taking part in the event's Crafts Fair. Items ranged from books to ceramics, clothes, hats and bags to jewelry, handmade quilts to housewares, and even palm reading! The fair was delightfully accompanied by a jazz band of young musicians with velvety smooth renditions of old favorites.
The indoor part of the event opened with inspiring remarks from ESRA National Chairman, Baruch Tanaman, Founder and Life President, Merle Guttmann, and ESRA Co-Vice Chair, Terry Morris, interspersed with two excellent short films about ESRA's founder and the organization's growth, activities and projects.
Next on the agenda was a panel of renowned speakers. Melanie Phillips, journalist, and Yaakov Katz, Editor of The Jerusalem Post, with moderator Steve Linde, Editor of The Jerusalem Report, provided the audience with their astute insights into subjects from Jewish education in the diaspora, to anti-Semitism and the dangers facing democracy.
Lunch break was an opportunity for socializing and more browsing of the crafts fair out in the day's glorious weather, all with musical accompaniment.
The next indoor session included award-winning Israeli author A.B. Yehoshua, who spoke on 'Who is a Jew, what is a Zionist, and what it means to be Israeli', providing listeners with thought-provoking new understandings of such very basic questions.
The day's grand finale was a performance of The Magical Mystery Tour Band treating the audience to an hour of Beatles songs, with some other 1960s hits thrown in. Their music was so irresistible that aside from singing along, most of the audience left their seats to dance in the aisles. It was a grand finale indeed, and everyone agreed – it was a spectacular day out.
Kol hakavod to ESRA and may it continue to go from strength to strength.
Comments
No comments made yet. Be the first to submit a comment