Elections: This Would Get My Vote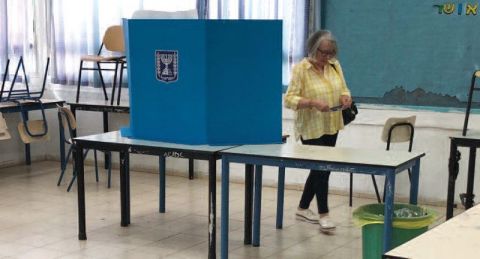 So come September 17 and we've got another Israeli general election – hot on the heels of the last one.
But what a peculiar voting system we've got in this hot, unforgiving country.
I'm talking about the ridiculous slips of paper which await voters when they enter the voting booth.
There they are, piled neatly in a large selection box of your least favorite chocolates. It looks like an elaborate new board game: perhaps a successor to Trivial Pursuit (appropriate, don't you think?).
And this time, with close to 50 parties, how do you find the slip of paper with your choice on it? It's like searching for a needle in a haystack. Meanwhile, you're under pressure because only one person can vote at a time and your dilly-dallying could be holding up the rest of the neighborhood, as residents queue for their turn to exercise their democratic right.
And there's another problem – this prehistoric paper system is so open to abuse.
One warning on-line a day before the election advised voters to check the back of the slip of paper they chose before putting it in the envelope. If it had been marked in any way it would be considered invalid when it came to the count.
Another person complained at their polling station that there was no piece of paper for the party they wanted to vote for. The reason? It turned out that a voter before them had covered up that selection with a piece of paper from an opposing party. How infantile and malevolent can you get?
And what about all the man hours this process takes? The cutting up of bits of paper and slotting them into their correct positions in the 'selection box'.
Have you ever wondered how many spare bits of paper each polling station has for each party in case they run out before voting ends at 10pm? I have. It's a thought that keeps me awake at nights.
I hate to say this, but if they want to improve this archaic and downright primitive system of democracy they should look no further than the country that is the home of parliaments – the UK.
Yes, I know that sounds rather hollow at the moment, what with the Brexit referendum and its horrendous aftermath. But putting that aside, voting there couldn't be simpler.
For a start, when voters go into a polling station in the UK and hand over their voting cards, they are given a piece of paper with all the candidates' names and parties listed in a row, with an empty box alongside each. All the voter has to do when he or she goes into the polling booth is put a 'cross' alongside their choice with a chubby pencil that's provided.
That means it's impossible for those voting papers to have been tampered with, because they're not hanging about in the voting booth.
UK voters then fold the paper twice and drop it into a black metal box which is later locked before being taken away for the count. (The Israeli equivalents are blue cardboard boxes that look like they'd be good for storing matza).
This means there are no envelopes involved, which must double the work when it comes to counting the votes in Israel, since clerks must rip each envelope open to get to the voting slip. And how much waste does that produce when we are so keen to go paperless? Shame on Israel for that one.
In the UK, more than one person can vote at a time. The 'stall' where you stand usually has room for at least two voters standing side by side, separated by a partition – a mechiza, if you like.
When my wife and I went to vote, we waited at least 10 minutes until the half-dozen people in front of us had had their turn.
And why is election day in Israel almost classed as a public holiday? Can't people both go to work and vote between 7am and 10pm? Giving them the day off is the perfect excuse to go to the beach or have a picnic. As a result, they don't have the time to vote. Ridiculous.
Comments
No comments made yet. Be the first to submit a comment