Create Your Own Capsule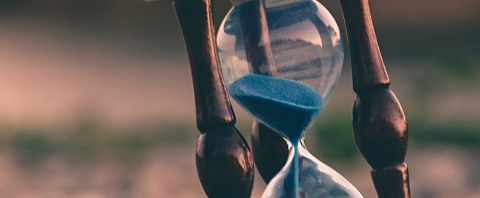 I have a yellowed, newspaper supplement carefully folded up amidst my box of keepsake photographs and birthday cards.

"The Day That Changed The World" it proclaims loudly. And that fateful September 11th New York morning did just that. I kept this ageing insert to share with my children and grandchildren one day as, just as digital photographs lack the substance of printed pictures, digital news is so fleeting. (You don't even get to line the bottom of a birdcage with it.)
Fast forward to today and everyone gets their information online. How then will we ever remember what it truly felt like to live through a global pandemic? Just like the pain of childbirth, we have largely forgotten the enormity of Covid, the virus that also changed the world.
The fact that ESRA is one of the few organizations that still prints its carefully edited content means that we have this opportunity to save this page - and the memories it contains - for future generations.
Let's look back on the sheer lunacy that was.
I'll bet you've already forgotten many of these did-it-really-happen moments.
Remember when:
When lockdown was announced, there was a massive surge in toilet paper sales, with certain stores restricting purchase.
If you'd shopped at the Raananim Mall on Election Day 2020 - which was right at the start of the pandemic - then you had to go into immediate 2-week quarantine after news broke that someone who'd shopped there that day was positive for Covid.
Passengers on an entire cruise ship - the Diamond Princess - were all put in quarantine in their rooms and not allowed to disembark.
When returning from abroad you had to go into a 10-day quarantine, and police would check up on you regularly, and instruct you to come to your window to prove that you were at home. This, obviously, was while airlines were flying. The skies were later completely closed.
Food deliveries soared but shoppers didn't allow their orders to be brought inside. Instead, wearing a mask and gloves, the recipient would sit outside the doorway and wipe tins and bottles with sterile swabs before unpacking. Anyone who left the house to go shopping would immediately shower and change clothing on their return.
Hairdressers and beauticians were closed for months and it was now that so many women learned to embrace their natural grey. When they reopened, nail ladies were forced to work behind a perspex screen, with a window cut out just to slip your hands through.
Remote working from home was almost immediately put in place with Zoom an everyday reality.
Zoom schooling from home was implemented too which led to many awkward moments. When my niece's young daughter's laptop appeared to freeze, she brought it to her mother to try to fix it, only she was naked in the shower at the time and the laptop wasn't frozen at all. Let's also not forget how many people went to the toilet with their phones with them and didn't realize they hadn't turned off their cameras.
People carried little sticks in their handbags, or on keyrings, and used these to press the elevator buttons to avoid touching them.
Guest numbers at events were severely limited - when events were even allowed - and little bottles of hand sanitizer were given as party favor gifts.
Sidewalks and sidewalk gardens were unattractively strewn with discarded masks and gloves.
The only stores allowed open in entire malls were supermarkets, pharmacies, and stores like hardware shops that sold essential goods.
Before public transport ceased completely, bus drivers sat behind a barrier, and would not accept potentially germ-ridden cash. Passengers had to enter and exit from the back of the bus.
Hours before the skies closed, Israel sent numerous rescue flights to Peru and India, bringing young Israeli travelers safely home at no cost to their families
Covid tests were administered in parking lots by testers wearing full hazmat suits. You were asked to fractionally open your window, leaving just enough room to be poked in the nose and throat with a swab, and then you waited anxiously in isolation at home for results.
Staff were employed to stand at the entrances of supermarkets and malls taking temperatures with a laser gun and customers were required to sanitize their hands on entering.
Undercover mask police fined anyone out on the street not wearing a mask and checked stores for mask adherence. If a customer was found on the premises without a mask, he or she was charged, and the store was fined NIS 5,000 for failing to adhere to mask regulations.
Beaches were entirely off limits and police broadcast warnings from helicopters and sent out personnel on jet-skis to arrest swimmers.
A maximum of 10 people were allowed at funerals and everyone else attended on Zoom.
Where-to-stand arrows were stuck on the floor at cash desks ensuring that people in line to pay stood 2 meters apart.
When a Covid-positive Netanya resident went surfing, he was reported to police, who dispatched a police helicopter to Poleg beach. Once he'd been ordered out of the water, an ambulance drove across the sand dunes, and he was promptly arrested by hazmut-suited medics.
New olim were taken directly from the airport to a quarantine hotel where they were locked up with their families in a single room for 12 days.
As city streets and parks were deserted, wild boars wandered through Haifa suburbs, while foxes strolled through Tel Aviv parks in broad daylight. In Cape Town's Simonstown, penguins strutted along empty sidewalks.
Certain countries with high Covid rates were declared completely red and permission to fly was only granted to travelers needing to attend the funeral of a parent.
When a vaccine was found, this was administered to the elderly and at risk first, causing panic among the rest of the community wanting a vaccine too. People would hang around at vaccine stations, hoping there would be extra vials at the end of the day, enabling them to get their protection earlier. I clearly remember my daughter hearing there were a few vials left at a local station, and we sped through entirely deserted streets to get there, and held our breath as she sprinted through the parking lot in a race with others who'd got the same message. A faster runner beat her to the nurse by milliseconds and was given the last vaccine of the day.
Unemployment in Israel rocketed from 2% pre-Covid to 26% within weeks.
Outdoor gyms and kids' playgrounds were cordoned off and you weren't allowed to be more than 500 meters from your home. On several occasions, my friends and I would sneak into our local outdoor gym by climbing over a locked gate, but panicked when there was a police raid and everyone had to run away.
Essential workers like supermarket staff or medical workers had to carry a document stating that they had permission to work and roadblocks were set up checking documentation.



What memories could you add to this list?
Jot them down now while they are still fresh in your mind and keep this page somewhere safe. There had to be some benefit to living through a global pandemic and sharing these bizarre recollections will one day give you maximum crowd-pulling appeal.

To good health always!

Covid taught us to appreciate family, friends and personal freedom.

Comments
No comments made yet. Be the first to submit a comment