Around The World in 79 Days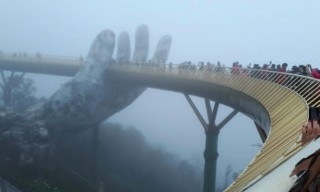 I always dreamt of repeating the feat of Phileas Fogg in Jules Verne's classic "Around the World in Eighty Days". The opportunity arose when Judit, my wife, retired and we were planning to attend the bar mitzvah of one of our grandchildren in Philadelphia. Why not extend our trip while we were at it?

There are two major air alliances that offer Round-the-World tickets: OneWorld and Star Alliance. Both offer different programs but all are based on one-way tickets. We selected OneWorld Explorer which bases their ticket price on how many continents you visit and the number of stops you can fly, as their member airlines seemed to best fit our plans. (Other programs base their ticket price on the maximum number of miles).
It took almost two months to plan the itinerary using an intuitive but slow internet tool (rtw.oneworld.com). We also found a cruise around New Zealand that we included in our plans. In order to save on flight durations, we added a few local flights when we ventured outside the direct flight destinations of the member airlines. Since we observe Shabbat and keep kosher, we planned the itinerary around synagogues and Chabad houses, at least for Shabbat.
The trip took us to USA, New Zealand, Australia, Bali in Indonesia, Kuala Lumpur in Malaysia, Vietnam, and Taiwan. At the end of the trip we had planned to visit several cities in China but due to the Corona virus outbreak, we had to change our plans during the trip to instead include Seoul, South Korea and Tokyo, Japan.
Each stop lasted between five and nine days, but I will only report on some highlights of the trip, emphasizing the more exotic places – we have more than 900 pictures, a Lupa picture book and several videos as mementos.
We landed in Auckland, NZ on a direct flight from Los Angeles, a day before the start of the cruise on the Norwegian Jewel cruise ship. In Auckland, we had enough time to visit several places, among them a free walking tour of the city and the National Museum, which featured a live performance of Maori warriors. The cruise took us around New Zealand with five stops for day excursions. A week before the cruise, the White Island volcano had erupted so we had to skip that point, but could see the smoke billowing up from the volcano while passing at a safe distance. At Tauranga we climbed Mt Maunganui for a magnificent view, and on the way down saw a really cool graffiti on a water cistern .

The highlights were when we passed through the Fiordland with the Dusky, Doubtful and Milford Sounds with their steep snow-clad mountains. They were impressive, but to our Scandinavian minds didn't really match the Norwegian fjords. The cruise ended in Sydney, Australia.
Australia
The cruise port lay opposite the Sydney Opera House, so that became our first visit. The next day we took a tour to the Blue Mountains, which is really something to recommend. Visibility was a bit limited due to raging bushfires, but the cable car ride provided for some spectacular views and we could clearly see The Three Sisters, a famous rock formation.

In Brisbane we stayed at a hotel close to the main synagogue, to be within walking distance on Shabbat. The city is enriched by the Brisbane River, winding through the city center with extensive parks. It is the longest river in South-East Queensland. A day trip to Surfers Paradise on the Gold Coast ended up being disappointing, maybe because we are no surfer freaks. Climbing the Coot-tha mountain provided a magnificent view over Brisbane and nature, while the Lone Pine Koala Sanctuary put us in touch with the local wildlife of koalas, wallabies, wombats, and Tasmanian devils. We were even allowed to feed the wallabies ..
Cairns, our next stop, is located in north Queensland in a magnificent natural environment. We stayed at Trinity Beach, located on the northern beaches. Wallabies were hopping around freely on the resort's garden. We took day tours to the Great Barrier Reef, where we met Wally, the big friendly fish, during snorkeling. On another day we took the Cable Car to the Kuranda rain forest, where a special power train, originally built for mining purposes, took us on a steep ascent around the rain forest. Another short train ride featured the world's steepest railway.
Melbourne was next on our itinerary. We stayed at a hotel in the Docklands area, which has been developed with many new high-rises and marinas as well as a giant Ferris wheel. It also has a special art gallery called ArtVo, where you can take really cool pictures of yourself within a 3D-artwork.
A day tour to Phillip Island, to see the amazing tiny penguins coming ashore at sunset, included several interesting stops on the way at Brighton Beach and an animal sanctuary. For Shabbat we moved to the only kosher hotel, Kimberley Gardens, to be near the Jewish area. For the Shabbat observant they provide you with a hotplate for the precooked food. One synagogue was conveniently located next door and was built to resemble the famous 770 Chabad House in Crown Heights, New York, but there were numerous other synagogues and multiple kosher eateries close-by.
Bali, Indonesia
We hadn't planned to stay over Shabbat, but once we found out there was a Chabad House there too, we decided to stay the entire week. We brought kosher wine as a gift, since that is difficult to obtain in a country with customs rules limited by Muslim Sharia law. We divided the stay into two main regions of the large island, Ubud and Semaniyak. Around the Ubud inland area there are many interesting places to visit, among them the Monkey Forest and the Batur Lake and Volcano.

From Bali our plan was to fly to Hanoi in Vietnam, but since none of the Oneworld airline members had direct flights, we decided to make a stop-over in the capital of Malaysia, Kuala Lumpur. It is an impressively modern city with many special buildings, among them the famous Petronas Twin Towers housing the World Bank and the Petronas Oil company HQ among others. We visited the factory of the world's foremost name in quality pewter, Royal Selangor, which features a Guinness World Record size ale mug made of pewter at the entrance to the Visitor Centre. The city features one of the world's largest Hindu Murugan statues, 42m high, at the Batu Caves, built by Indian immigrants. There is no Chabad House in Malaysia, so we had brought food from Melbourne and Bali for the short stay. There is an old Jewish cemetery in Penang, a peninsula and famous vacation spot a few hours from Kuala Lumpur.
Vietnam
To make optimal use of our time in Vietnam, we had ordered a private limousine to take us directly from Hanoi airport to the mountain town of Sa Pa. Usually, Israeli backpackers take a bus costing only $10-20 that takes 6 hours and arrives in the middle of the night, or a night train which takes 8-10 hours. Our limousine had us at the mountain hotel by 9pm after a four-hour drive inclusive of pit stops. Around Sa Pa we took walking tours with a local guide to the villages of the Hmong tribe and their rice terraces. The tribal women make colorful dresses and scarves that were magnificent and inexpensive. We climbed over 200 steps to find a beautiful Orchid Garden in the center of the small town. Since it was the Vietnamese New Year, there was an open-air fruit-tree market – it is considered auspicious and to bring luck to have a tree with many fruits, so all the locals bought trees, carrying them home on whatever transportation they could find – a car, a scooter, a bicycle or carrying a tree on their back.

We traveled back to Hanoi on a so-called Sleeping Bus, equipped with spacious beds and individual television screens. It was supposed to be a VIP version of the way backpackers travel. The bus was relatively modern but its computerized controller broke down three times on the way, and every time we had to wait for 15-45 minutes. Eventually we made it back to Hanoi for a wonderful Shabbat with some 90 other people, mostly Israeli backpackers, at the Chabad House.
On Sunday we were picked up for a two-day cruise on Ha Long Bay, a fascinating geological phenomenon with mountaintops and caves emerging from the sea . After the cruise we were taken directly to the airport by the travel agent, Rose Travel, who caters for Israeli tourists with amazing service. We were destined for the coastal city of Da Nang, only a one-hour flight or so southward, and from there by local taxi to the nearby ancient city of Hoi An.
This was a very special place. We took the cable car up 1,493 meters to Ba Na Hills outside Da Nang where the French had built the Golden Bridge, an architectural wonder with figurative hands holding up the swirling bridge. A Flower Festival was built around the French ancient village, built of medieval fortresses and houses, as well as fun spots for the kids. Hoi-An also sports a Chabad operated restaurant which is open daily from 9am to 9pm, catering to the many Jewish backpackers touring this ancient city.
Taiwan
In Taipei, the capital of the Republic of China (ROC), as Taiwan is officially called, there are many interesting architectural buildings, among them Taipei 101 which once was the tallest building in the world, nowadays delegated to #8. An alternative way to see the view of the city besides from the top of Taipei 101 is to take the Gondola to the Maokong mountaintop, which features a stunning city view, beautiful tea terraces and many hiking trails. Other special buildings are the Chiang Kai-chek Memorial Hall and the National Palace Museum, where the museum artifacts spirited out of China during the civil war in 1947-48 are displayed. Around 6,000 pieces are on display at any given time and the content is changed every six months. It takes 32 years before everything in storage has been displayed.

A must when visiting Taiwan is to take one or two days to visit Hualien, a city 60 minutes away by Hi-Speed train. From there you can take tours to Taroko Gorge, the "Grand Canyon of the East" . Other must spots are the Yehliu Geopark, a nature reserve with scenic rock formations and Jiufen, a picturesque mountainside village.
Seoul, South Korea
We discovered that Rabbi Litzman, the Chabad Shaliach, was the son of a classmate of mine from the small town in Sweden where I grew up. The Chabad House provides kosher meals which can be ordered online and sent to any hotel or picked up. We visited several royal palaces, among them the imposing Gyeongbokgung Palace. The Olympic Park was another impressive location now being used for recreation by local citizens. They still had all the flagpoles up, including Israel's. A trip to Nami Island provided an enticing look at this culturally independent island with a symbolic immigration booth, even having their own stamp issues. The trip ended with a visit to the enchanting Garden of Morning Calm, where trees, flowers and buildings from children stories are lit up in a spectacular way.
Tokyo Japan
Tokyo was totally different from the rest of Asia, with its crowded, high-rise city. We saw the Shibuya Scramble Crossing, the busiest intersection in the world in terms of pedestrian crossings, and visited the Canon Camera Visitor Center at Shinagawa, where all the latest optical technology was on display. We also walked in the beautiful surroundings of several Japanese gardens, including the Imperial Palace gardens. A very special experience was visiting the teamLab Planets sensory experience – you are asked to take off your shoes since the tour involves sensory experience of all kinds of senses – water, light, darkness, mirrors and sound. As an encore, we visited the Samurai Museum which featured not only real samurai weapons and costumes, but also a simulated samurai fight, and a chance to try out samurai dresses.

After 79 days, we returned home with endless memories but proud of having beaten Phileas Fogg's famous record. We felt lucky to have been able to complete the trip before the world-wide outbreak of the Corona pandemic, although we had to enter 14 days of self-quarantine upon our return.
Comments
No comments made yet. Be the first to submit a comment