Angels & Tahina: 18 Lessons from Hiking the Israel Trail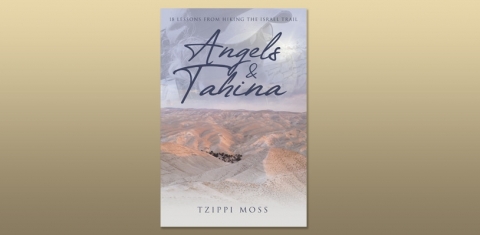 Goat Path Publications, available from Amazon

233 pages
By Tzippi Moss
Some years ago, inspired by the enthusiasm of friends who had undertaken to walk the Israel Trail, my husband and I decided to sign up for one of the programs that involve walking one day a week over three years to complete the trail. We got as far as the registration desk, and then, daunted by the effort it actually entailed, we chickened out.

I was more than impressed, then, by the story of Allan Rabinowitz, a tour guide from Jerusalem, and his wife Tzippi, a therapist and life coach, who not only walked the complete trail from top to bottom with their teenage son Ezra, but did it in one go. It took them two months, during which they left their home and work, and in the case of their son, a chunk of his final high school year. The aim was not only to see and enjoy Israel, but also to raise money for ALS research.
The Israel National Trail is a hiking path that was inaugurated in 1995. It crosses the entire country of Israel from Dan, near the Lebanese border in the north, to Eilat at the southernmost tip of Israel, a length of 1,015 km. It was named by National Geographic as one of the 20 best epic hiking trails in the world and, every year, thousands of Israelis walk it.
"Angels & Tahina" is an account of the family's adventure. The title refers to their standard menu item, tahina, and to the so-called Trail Angels, generous folk along the way who volunteer to provide places to stay, a place to shower, emergency supplies including water, and transportation in emergencies. It also refers to the belief some hold that giving to others creates a metaphorical angel.
Tzippi has taken a rather quirky approach to telling their story. Rather than the standard travelogue which unfolds chronologically and geographically, this book is topical, centered around life lessons learned. These lessons include both practical ones ("Invest in your Gear", "Use Hiking Poles") and philosophical ones ("Move Inwards, Move On", "Spread Your Wings") and are often linked to biblical parallels. Their tent, for example, is reminiscent of a succah in giving emotional as well as physical shelter.
Of course, the trip was not always easy. Tzippi writes, "Our commitment to the campaign and to one another got us through bad weather, unpleasant fights and incredible fatigue" as well as exhilaration.
Usually, they would wake at 4:30 am and spend 11 hours on the trail. Among the things Tzippi says she learned is that a little hunger isn't a bad thing, that owning too much stuff is unnecessary, and that impatience with keeping to a time schedule can be draining. The trip made her aware of her own flaws and tolerant of those of others – "I asked myself how many moments with others, even the loved ones I traveled with, had I wasted in anger, self-righteousness, or just an inner busyness." Even boredom had its upside – it increased awareness. And finally, she learned to live in the moment and to be grateful for it all.
The walk became part of the age-old tradition of walkers, dreamers and visionaries attracted to this land, starting from Abraham.
This book is not just a good read, but an inspiring read. It highlighted, for me, a renewed respect for Israel's varied landscapes, and for people like the Rabinowitz family, who love and savor it.
Comments
No comments made yet. Be the first to submit a comment