Abundance and Beyond ...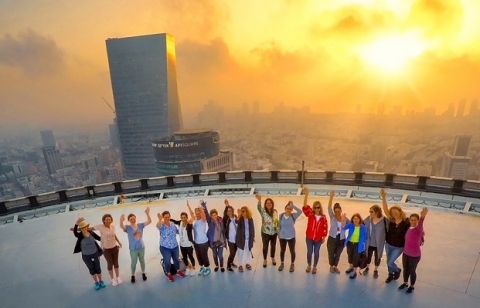 It's hard to believe that although I've already been living in Israel for eight years, I still discover incredible flavors, become inspired by new people, and travel to new areas of the country, all the while feeling the permanence of home. A native Canadian, I picked up my life at the age of 43 and, together with my husband and three boys, arrived in Raanana for a family year abroad. I realized quite quickly how little I knew about this place despite all the missions and teen tours I had done. Each day provided a new opportunity to experience newness. I cherished each and every outing.

The more of these experiences I have, the more I want to experience. They are infectious. And I'm blessed to have the opportunity to share my collection of treasured spots with a small and intimate group of women each year through the Shefa Journey. During this nine-day trip, we travel as a sisterhood through the country, breaking bread with local women who make meaningful and impactful contributions to society, while surrounding ourselves with the stunning views, flavors, and biblical stories that seem to come to life before our eyes. In Hebrew, Shefa means "abundance", which is apparent throughout the trip, in each visit, each activity, each interaction throughout the week.
Already in its fourth year, Shefa Journey brings together 18 diverse women from all ages and faraway places who opt in to a collective experience. From the moment we step off the bus, we delve deep into neighborhoods to experiment, learn, ride, cook, dance, taste, feel and process together this beautiful place called Israel. Each day is curated to spark curiosity and joy and to ultimately create lasting memories with new women friends. How often can you Gaga dance in the center of Tel Aviv with the dancers from the Batsheva Dance Company, cook maqluba together with Arab Israeli women in Akko, or sip Chardonnay at Bat Shlomo Winery, made from locally grown grapes and harvested by at-risk youth who are learning about responsibility through a social business?
Shefa is run through a boutique travel agency in Kfar Saba called Via Sabra. It is not a nonprofit organization.
Israel is a modern country steeped in a rich history and a vessel for multiple peoples, each sharing a love for the land and a connection to peoplehood. During Covid the country lost its bounce without the multitude of visitors who frequent this country not just for fun but for connection and grounding. How can one explain the many trips people take to visit this tiny, miraculous country that continues to astound and to surpass all measures?
Hadas is just one of the many pioneer women who uprooted herself in her early 40s as a single mom from her corporate urban life in Tel Aviv to move chutz mercaz (outside of the center) to Mitzpe Ramon to the dry desert to return to basics and preserve her soul. Without realizing it, Hadas unleashed a creative nerve and provides artisanal breads and pastry to her community she now calls home. It is where we knead bread as a collective.
Mirit, born in Herzliya to a family that emigrated from Thessaloniki to Israel, joined Habonim Dror and with other Zionists founded an Urban Kibbutz in Akko. There she devotes her time enmeshed in building community from within to galvanize the many different sectors in this
mixed city. Programming is endless to bridge differences and to create harmony for the many immigrant groups that live in Akko.
I believe that the people who continuously choose to love and make Israel a part of their life in either a full-time or part-time capacity is what contributes a special light to the country. Intention is powerful and so many people from all parts of the world connect to this ancient land that has few natural resources except the most basic one of the capacity to plug in and belong. It is clear to me the magic technique is "giving back" that simultaneously nourishes our soul while continuing to do the Tikkun and participate in the growth of our unique country.
For more information visit: https://viasabra.com/
"Spill the Bird Feeder" Crackers
An easy, healthy recipe

1 cup rolled oats
1 cup spelt or rye flour (OR 1/2 cup almond meal and 1/2 cup spelt or wholewheat flour)
3/4 cup whole flax seeds
1/2 cup sunflower seeds
1/2 cup sesame seeds
2 Tbsp pumpkin seeds
2 Tbsp Chia seeds
1.5 Tsp kosher salt
2 tsp Nigella seeds, optional
1 Tbsp Zaatar spice mix or dried rosemary
1 Tbsp molasses or maple syrup
2 Tbsp olive oil
2 cups water
Preheat oven to 400 degrees F (204 degrees C)
Mix all the ingredients into a medium-sized bowl. Box together with a fork to make sure to "unclump" any flour pockets. The mixture will look very wet.
Line two sheet pans with edges with parchment paper. Divide dough into two. With an offset spatula or knife spread the loose batter to the edges of each pan. The thinner the better - don't be afraid that it is too thin.
Place both trays in preheated oven. Bake for 10 minutes and then remove from oven.
With a pizza cutter cut the crackers into your desired shape. This is very important: if you don't do this now, it will be one big cracker board which you can later just crack by hand.
Lower the temperature to 325 F (196 degrees C). Put back into the oven and continue baking for around thirty minutes until caramel looking and cooler and crisp. They should now have dried up.
Cool on rack, crack and enjoy!
Comments
No comments made yet. Be the first to submit a comment