A Beaded Journey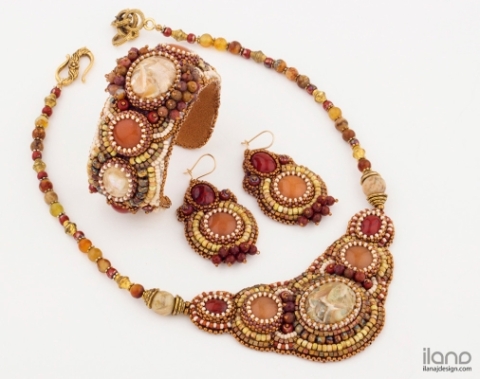 Beadwork is the art or craft of attaching beads to one another and arranging them to create patterns and images for diverse ornamentation and/or depiction. The art of creating and utilizing beads is ancient, and ostrich shell beads discovered in Africa can be carbon-dated to 10,000 BCE. It is evident that beyond being merely decorative, beadwork has played an important role in both ceremonial celebration and personal adornment.

How fortunate we are to have in our midst a talented and inspired bead artist whose beadwork has gained international recognition. Ilana Joselowitz, born in Zimbabwe and a longtime resident of Raanana, is just such an individual.
Ilana has worked as a fashion and textile designer for over 40 years both in Israel and in South Africa. "I was born into the fashion industry and my late father was a clothing manufacturer," she relates. "There was never a time in my childhood that my hands were not busily occupied drawing, painting, knitting, or sewing and there was not a craft that I did not try. Both my parents had magic hands, both were perfectionists and happily my sister and I both inherited those genes. Growing up in Zimbabwe was unique: we grew up with a great love of nature and Southern Africa's breathtaking scenery, its wide-open spaces, the sounds of the bush, and the culture, art, and music of the African people."
Ilana made aliyah in 1984 and has travelled extensively in her longtime career as a fashion designer. "During each trip abroad, I tried to build in an extra few hours to be able to reward myself with a visit to either a museum, art gallery, flea-market or bazaar and this provided me with endless inspiration. I was never happier than when I returned home triumphant with a new addition to my ever-growing collection of hand-crafted ethnic beads and flea-market finds. No trip to Paris was complete without a visit to the Museum of Decorative Arts, where I would see the original collections of the great French Couture Houses, many of them richly embellished with beadwork. The Metropolitan Museum in New York and the Victoria and Albert Museum in London enthralled me with their displays of richly beaded and embroidered historic attire. The Jewish Museum in Rome inspired me with its collection of magnificently beaded and embroidered parochets and Torah Mantles."
Propelled by her growing fascination with beads and beadwork, she began to research their history and hidden meaning.
"I discovered that over centuries and across continents, people have used the language of beadwork to make their voices heard by creating intricately beaded articles and decorations for purposes of adornment or ritual," Ilana explains. "Beyond their decorative and great aesthetic value, beadwork has played an important role in honoring traditions and ideologies throughout history. Beadwork can also create its own 'language' and can be a source of information about the wearer or used as a method of interpersonal communication. For example, the language of beaded Zulu love letters is actually a system in which colors, patterns and items of beaded apparel convey specific messages. I discovered that every bead and every stitch tell a story and that it was time for me to learn the art of beadwork and embroidery so that I could tell a story of my own. Finding someone who could teach me the art of haute couture bead-embroidery was 'mission impossible', so I settled for a basic course of bead-weaving offered by Iryat Raanana and I never looked back."
Ilana's initial projects were to create custom-made beaded jewelry from an eclectic fusion of glass seed beads, polished semi-precious gemstones and hand-made ethnic beads that she had collected during her travels. In creating these pieces, she utilized many aspects of her skills and background as a fashion designer, as well as her profound technical expertise. Frequently her designs were responsive to specific requests from her customers for decorative jewelry incorporating specific colors or motifs. Yet other designs were inspired by ancient historic sites in Israel such as the floor mosaics in Tsipori. (See illustration Galilee Princess.)
Jewelry was just the beginning, and more recently Ilana has been investing her awesome intelligence, talents and vision into the creation of Judaica.
"Beyond designing beaded jewellery, I have focused on creating beaded Judaica. Much of my creativity centers around the beauty and meaning of objects used in Jewish ritual and the concepts that are fundamental in Jewish art. One is the idea of הידור מצוות literally the 'beautification of the mitzvot'. Another is the concept of לעלות בקודש literally 'elevation in holiness', signifying the transformation of a mundane object into a ceremonial and sacred one."
The shape, color and textures of the decorated Seder plate clearly suggest the escape from Egyptian enslavement into the desert. (See illustration).
The Purim grogger intimates the joy and festivity associated with that holiday by incorporating bold, vivid colors while an undeniable influence of traditional African beadwork is reflected in its design. (See illustration).
Interviewing Ilana is an exhilarating experience of its own. She radiates her profound sensitivity and her enthusiasm for her work and her heritage.
If you would like to view her work for yourself, A BEADED JOURNEY which is an exhibition of her work will be shown in Raanana from September 7th to October 17th at Yad L'Banim.
Comments
No comments made yet. Be the first to submit a comment